 Bridge of Four Lions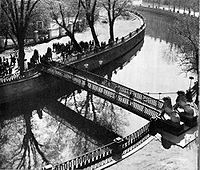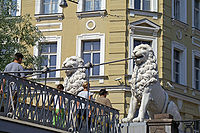 Bridge of Four Lions
is a 28-metre-long
pedestrian bridge
Pedestrian separation structure
A pedestrian separation structure is any structure that removes pedestrians from a vehicle roadway. This creates a road junction where vehicles and pedestrians do not interact.This can be considered a type of grade separation structure on the road....
over the
Griboedov Canal
Griboedov Canal
Griboyedov Canal or Kanal Griboyedova is a canal in Saint Petersburg, constructed in 1739 on the basis of the existing river Krivusha. In 1764–1790, the canal was deepened, and the banks were reinforced and covered with granite....
in St Petersburg, connecting L'vinyi Drive to Malaya Podyacheskaya Street. Its abutments are crowned with four cast-iron sculptures of
lion
Lion
The lion is one of the four big cats in the genus Panthera, and a member of the family Felidae. With some males exceeding 250 kg in weight, it is the second-largest living cat after the tiger...
s, which give the bridge its name. The structure, suspended by
cable
Cable
A cable is two or more wires running side by side and bonded, twisted or braided together to form a single assembly. In mechanics cables, otherwise known as wire ropes, are used for lifting, hauling and towing or conveying force through tension. In electrical engineering cables are used to carry...
s emerging from the mouths of lions, was constructed in 1825 to a design by two well-established bridge builders, Wilhelm von Traitteur and Basil Christianowicz.