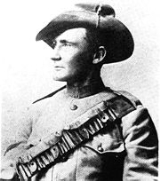 Breaker Morant
Harry 'Breaker' Harbord Morant
(9 December 1864 – 27 February 1902) was an
Anglo-Australian
English Australian
English Australians, also known as Anglo-Australians are Australians of English descent, are the single largest ethnic group in Australia and the largest 'ancestry' identity in the Australia Census after "Australian"...
drover
Drover (Australian)
A drover in Australia is a person, typically an experienced stockman, who moves livestock, usually sheep or cattle, "on the hoof" over long distances. Reasons for droving may include: delivering animals to a new owner's property, taking animals to market, or moving animals during a drought in...
,
horseman
Horseman
Horseman may refer to:* Horse rider; see Equestrianism* Wrangler , in the United States* Stockman , who works with horses rather than with cattle or sheep* Horseman, a 2003 Croatian film...
,
poet
Poet
A poet is a person who writes poetry. A poet's work can be literal, meaning that his work is derived from a specific event, or metaphorical, meaning that his work can take on many meanings and forms. Poets have existed since antiquity, in nearly all languages, and have produced works that vary...
,
soldier
Soldier
A soldier is a member of the land component of national armed forces; whereas a soldier hired for service in a foreign army would be termed a mercenary...
and convicted war criminal whose skill with horses earned him the nickname "The Breaker". The bulk of his published work appeared in
The Bulletin
The Bulletin
The Bulletin was an Australian weekly magazine that was published in Sydney from 1880 until January 2008. It was influential in Australian culture and politics from about 1890 until World War I, the period when it was identified with the "Bulletin school" of Australian literature. Its influence...
magazine.
During service in the
Second Boer War
Second Boer War
The Second Boer War was fought from 11 October 1899 until 31 May 1902 between the British Empire and the Afrikaans-speaking Dutch settlers of two independent Boer republics, the South African Republic and the Orange Free State...
, Morant participated in the
summary execution
Summary execution
A summary execution is a variety of execution in which a person is killed on the spot without trial or after a show trial. Summary executions have been practiced by the police, military, and paramilitary organizations and are associated with guerrilla warfare, counter-insurgency, terrorism, and...
of several
Boer
Boer
Boer is the Dutch and Afrikaans word for farmer, which came to denote the descendants of the Dutch-speaking settlers of the eastern Cape frontier in Southern Africa during the 18th century, as well as those who left the Cape Colony during the 19th century to settle in the Orange Free State,...
(
Afrikaner
Afrikaner
Afrikaners are an ethnic group in Southern Africa descended from almost equal numbers of Dutch, French and German settlers whose native tongue is Afrikaans: a Germanic language which derives primarily from 17th century Dutch, and a variety of other languages.-Related ethno-linguistic groups:The...
) prisoners and the killing of a German missionary, Daniel Heese, who had been a witness to the shootings.