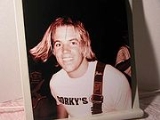 Bradley Nowell
Bradley James Nowell
was an
American
United States
The United States of America is a federal constitutional republic comprising fifty states and a federal district...
musician who served as lead singer and
guitar
Guitar
The guitar is a plucked string instrument, usually played with fingers or a pick. The guitar consists of a body with a rigid neck to which the strings, generally six in number, are attached. Guitars are traditionally constructed of various woods and strung with animal gut or, more recently, with...
ist of the
California
California
California is a state located on the West Coast of the United States. It is by far the most populous U.S. state, and the third-largest by land area...
n band
Sublime
Sublime (band)
Sublime was an American ska punk band from Long Beach, California, formed in 1988. The band's line-up, unchanged until their breakup, consisted of Bradley Nowell , Eric Wilson and Bud Gaugh . Michael "Miguel" Happoldt also contributed on a few Sublime songs, such as "New Thrash." Lou Dog, Nowell's...
. He died at the age of 28 from a
heroin
overdose shortly before the release of Sublime's
self-titled
Sublime (album)
Sublime is the third and final album released by ska-punk band Sublime. Originally intended to be titled Killin' It, the band and record label agreed to substitute an eponymous title due to lead singer Bradley Nowell's death prior to the album's release...
major label debut.
Raised in
Long Beach, California
Long Beach, California
Long Beach is a city situated in Los Angeles County in Southern California, on the Pacific coast of the United States. The city is the 36th-largest city in the nation and the seventh-largest in California. As of 2010, its population was 462,257...
, Nowell developed an interest in music at a young age. His father took him on a trip to the
Virgin Islands
Virgin Islands
The Virgin Islands are the western island group of the Leeward Islands, which are the northern part of the Lesser Antilles, which form the border between the Caribbean Sea and the Atlantic Ocean...
during his childhood, which exposed him to
reggae
Reggae
Reggae is a music genre first developed in Jamaica in the late 1960s. While sometimes used in a broader sense to refer to most types of Jamaican music, the term reggae more properly denotes a particular music style that originated following on the development of ska and rocksteady.Reggae is based...
and
dancehall
Dancehall
Dancehall is a genre of Jamaican popular music that originated in the late 1970s. Initially dancehall was a more sparse version of reggae than the roots style, which had dominated much of the 1970s. In the mid-1980s, digital instrumentation became more prevalent, changing the sound considerably,...
music.