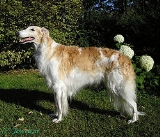 Borzoi
The
borzoi
(ˈbɔrzɔɪ, literally "fast") is a
breed
Dog breed
Dog breeds are groups of closely related and visibly similar domestic dogs, which are all of the subspecies Canis lupus familiaris, having characteristic traits that are selected and maintained by humans, bred from a known foundation stock....
of domestic dog (
Canis lupus familiaris
) also called the
Russian wolfhound
and descended from dogs brought to Russia from central Asian countries. It is similar in shape to a
greyhound
Greyhound
The Greyhound is a breed of sighthound that has been primarily bred for coursing game and racing, and the breed has also recently seen a resurgence in its popularity as a pedigree show dog and family pet. It is a gentle and intelligent breed...
, and is also a member of the
sighthound
Sighthound
Sighthounds, also called gazehounds, are hounds that primarily hunt by speed and sight, instead of by scent and endurance as scent hounds do.-Appearance:...
family.
The system by which Russians over the ages named their sighthounds was a series of descriptive terms, not actual names.