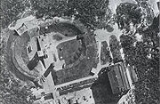 Bombing of Peenemünde in World War II
Operation Hydra
was a Royal Air Force attack on the Peenemünde Army Research Center on the night of 17/18 August 1943. It began the
Operation Crossbow
Operation Crossbow
Crossbow was the code name of the World War II campaign of Anglo-American "operations against all phases of the German long-range weapons programme—operations against research and development of the weapons, their manufacture, transportation and their launching sites, and against missiles in flight"...
strategic bombing campaign
Strategic bombing during World War II
Strategic bombing during World War II is a term which refers to all aerial bombardment of a strategic nature between 1939 and 1945 involving any nations engaged in World War II...
against
Nazi Germany
Nazi Germany
Nazi Germany , also known as the Third Reich , but officially called German Reich from 1933 to 1943 and Greater German Reich from 26 June 1943 onward, is the name commonly used to refer to the state of Germany from 1933 to 1945, when it was a totalitarian dictatorship ruled by...
's V-weapon programme. At a cost of 215 British aircrew members, 40 bombers, and hundreds of civilian deaths in a nearby concentration camp; the
air raid
Air raid
Air raid refers to an attack by aircraft. See strategic bombing or the smaller-scale airstrike.Air raid may also refer to:*Air Raid , by the improvisational collective Air...
killed 2 V-2 rocket scientists and delayed V-2 rocket test launches for seven weeks.
Cabinet Defence Committee (Operations)
British intelligence sources regarding the V-2 such as the
Oslo report
Oslo report
The Oslo Report was one of the most spectacular leaks in the history of military intelligence. Written by German mathematician and physicist Hans Ferdinand Mayer on November 1 and 2, 1939 during a business trip to Oslo, Norway, it described several German weapons systems, current and future.Mayer...
,
RAF Medmenham
RAF Medmenham
RAF Medmenham was a Royal Air Force station based at Danesfield House near Medmenham, in Buckinghamshire, England.Activities there specialized in photographic intelligence, and it was once the home of the RAF Intelligence Branch...
photo-reconnaissance photographs,
prisoner of war
Prisoner of war
A prisoner of war or enemy prisoner of war is a person, whether civilian or combatant, who is held in custody by an enemy power during or immediately after an armed conflict...
and
Polish intelligence
Home Army and V1 and V2
Aside from the military operations, the Polish Armia Krajowa was also heavily involved in intelligence work, including work done with regard to the German "Wunderwaffe" - the V-1 flying bomb and the V-2 rocket...
, culminated in a pivotal meeting on 29 June 1943 of the Cabinet's Defence Committee (Operations) in the
Cabinet War Room
Churchill Museum and Cabinet War Rooms
The Churchill War Rooms is a museum in London and one of the five branches of the Imperial War Museum. The museum comprises the Cabinet War Rooms, a historic underground complex that housed a British government command centre throughout the Second World War, and the Churchill Museum, a biographical...
.
Duncan Sandys
Duncan Sandys
Edwin Duncan Sandys, Baron Duncan-Sandys CH PC was a British politician and a minister in successive Conservative governments in the 1950s and 1960s...
MP
Member of Parliament
A Member of Parliament is a representative of the voters to a :parliament. In many countries with bicameral parliaments, the term applies specifically to members of the lower house, as upper houses often have a different title, such as senate, and thus also have different titles for its members,...
RA
Royal Artillery
The Royal Regiment of Artillery, commonly referred to as the Royal Artillery , is the artillery arm of the British Army. Despite its name, it comprises a number of regiments.-History:...
(and Churchill's son-in-law), appointed to the investigation in April, opened with an address about the rocket and introduced the aerial photographic reconnaissance images of
Peenemünde
Peenemünde
The Peenemünde Army Research Center was founded in 1937 as one of five military proving grounds under the Army Weapons Office ....
.
Professor Frederick Lindemann
Frederick Lindemann, 1st Viscount Cherwell
Frederick Alexander Lindemann, 1st Viscount Cherwell FRS PC CH was an English physicist who was an influential scientific adviser to the British government, particularly Winston Churchill...
followed and expressed weighty arguments regarding an 'elaborate cover plan' by the Germans and against the credibility of the reports and the existence of the suspected rocket. After Lindemann's counter-argument,
Winston Churchill
Winston Churchill
Sir Winston Leonard Spencer-Churchill, was a predominantly Conservative British politician and statesman known for his leadership of the United Kingdom during the Second World War. He is widely regarded as one of the greatest wartime leaders of the century and served as Prime Minister twice...
turned to
Reginald Victor Jones
Reginald Victor Jones
Reginald Victor Jones, CH CB CBE FRS, was a British physicist and scientific military intelligence expert who played an important role in the defence of Britain in -Education:...
with the words "Now Dr. Jones, may we hear the truth!"
who commenced to discredit each of Lindemann's points. The Committee recommended avoiding any further Peenemünde aerial reconnaissance flights, which might alert the Germans: "
Peenemünde is
…
beyond the range of our radio navigation beams

GEE (navigation)

Gee was the code name given to a radio navigation system used by the Royal Air Force during World War II.Different sources record the name as GEE or Gee. The naming supposedly comes from "Grid", so the lower case form is more correct, and is the form used in Drippy's publications. See Drippy 1946....


and … we must bomb by moonlight, although the German night fighters will be close at hand and it is too far to send our own. Nevertheless, we must attack it on the heaviest possible scale
" (Churchill, June 29). At 10 Downing St on 15 July, the Chiefs of Staff,
Herbert Morrison
Herbert Morrison
Herbert Stanley Morrison, Baron Morrison of Lambeth, CH, PC was a British Labour politician; he held a various number of senior positions in the Cabinet, including Home Secretary, Foreign Secretary and Deputy Prime Minister.-Early life:Morrison was the son of a police constable and was born in...
, Lindemann, and Churchill examined the bombing plan, and the attack was ordered for the earliest opportunity presented by moon and meteorological conditions.
Bomber Command Operation Order No. 176
The nature of the raid was not revealed to the aircrews; in their briefing (Operation order no. 176) the target was referred to as developing radar that "promises to improve greatly the German night air defence organization" . To scare aircrews into giving their all the first time around, Order 176 emphasized the importance of the raid: "If the attack fails...it will be repeated the next night and on ensuing nights regardless, within practicable limits, of casualties"
For precision, the crews would have to drop their bombs during a full moon from 8000 ft (2,438.4 m) instead of the normal altitude of 19000 ft (5,791.2 m). Additionally, Peenemünde was around 600 mi (965.6 km) from the most easterly British airbase and was spread over a wide area and was protected by smoke screens. In addition to committing the whole of Bomber Command to the raid, the RAF also conducted practice raids on areas similar to Peenemünde; margins of error of up to 1000 yd (914.4 m) were initially recorded — by the last this was down to 300 yd (274.3 m). The primary objective was to kill as many personnel involved in the
research and development
Research and development
The phrase research and development , according to the Organization for Economic Co-operation and Development, refers to "creative work undertaken on a systematic basis in order to increase the stock of knowledge, including knowledge of man, culture and society, and the use of this stock of...
of the V-weapons as possible by bombing the workers' quarters. The secondary objectives were to render the research facility useless and "destroy as much of the V-weapons related work and documentation as possible".
The aircraft from 5 Group had practised a timed run method for bombing which they would use on this occasion. This involved them noting a distinctive point and then releasing at a set time - and therefore distance - from that point. The H2S radar in use was at its best when it picked up contrasting areas of ground and open water, so the shoreline was chosen.
Operation Whitebait and other raids of that night
To divert German night fighters from Operation Hydra, a group of
Mosquito
De Havilland Mosquito
The de Havilland DH.98 Mosquito was a British multi-role combat aircraft that served during the Second World War and the postwar era. It was known affectionately as the "Mossie" to its crews and was also nicknamed "The Wooden Wonder"...
es concurrently conducted the small
Operation Whitebait
air raid on
Berlin
Berlin
Berlin is the capital city of Germany and is one of the 16 states of Germany. With a population of 3.45 million people, Berlin is Germany's largest city. It is the second most populous city proper and the seventh most populous urban area in the European Union...
. By imitating the typical Pathfinder marking of the target, it was expected that German nightfighter defences would initially be drawn to defence of the German capital. At 22:56 British Double Summer Time (scheduled for 23:00), the first Mosquito of Operation Whitebait was over Berlin. Each Mosquito was to drop eight marker flares and a minimum bombload.
Additional Operation Hydra related activities included two Long Range Intruder waves by 25 Sqn,
141 Sqn
No. 141 Squadron RAF
No. 141 Squadron of the Royal Air Force was formed on 1 January 1918 at Rochford, for home defence in the London Area. The Squadron moved to RAF Biggin Hill in February and giving up its mixed collection of types in favour of Bristol F.2 Fighters during March...
,
410 Sqn RCAF
No. 410 Squadron RCAF
410 Tactical Fighter Operational Training Squadron, nicknamed the "Cougars", is a Royal Canadian Air Force aircraft squadron currently located at Canada's primary training base for the CF-18 , at Cold Lake, Alberta...
,
418 Sqn RCAF
No. 418 Squadron RCAF
No. 418 "City of Edmonton" Squadron RCAF was a unit of the Royal Canadian Air Force, formed during World War II....
, and
605 Sqn
No. 605 Squadron RAF
No 605 Squadron was formed as an Auxiliary Air Force Squadron. Initially formed as a bomber unit, it was one of the most successful participants of the Battle of Britain. It also had the distinction of being active during World War II at two fronts at a time, when the squadron was split up between...
, which attacked Luftwaffe airfields (Ardorf,
Stade
Stade
Stade is a city in Lower Saxony, Germany and part of the Hamburg Metropolitan Region . It is the seat of the district named after it...
,
Jagel
Jagel
Jagel is a municipality in the district of Schleswig-Flensburg, in Schleswig-Holstein, Germany....
,
Westerland
Westerland (Schleswig)
Westerland lies on the North Sea island of Sylt and is Germany's northernmost town and a former municipality. Only the smaller communities of List, Wenningstedt and Kampen – none an incorporated town – lie farther north in Germany. Since 1 January 2009, it has been part of the municipality Sylt....
& Grove) and their fighters (e.g., at take-off/landing).
A concurrent mission used
Handley Page Halifax
Handley Page Halifax
The Handley Page Halifax was one of the British front-line, four-engined heavy bombers of the Royal Air Force during the Second World War. A contemporary of the famous Avro Lancaster, the Halifax remained in service until the end of the war, performing a variety of duties in addition to bombing...
es to supply
Resistance groups in Denmark
Danish resistance movement
The Danish resistance movement was an underground insurgency movement to resist the German occupation of Denmark during World War II. Due to the unusually lenient terms given to Danish people by the Nazi occupation authority, the movement was slower to develop effective tactics on a wide scale...
.
Operation Hydra
Throughout the attack, the Master Bomber (Group Captain J. H. Searby, CO of
No. 83 Squadron RAF
No. 83 Squadron RAF
No. 83 Squadron RAF was a Royal Flying Corps and Royal Air Force squadron active from 1917 until 1969. It was operative during both World War I and World War II.-Establishment and early service:...
) circled above and around the target to call in new
Pathfinder
Pathfinder (RAF)
The Pathfinders were elite squadrons in RAF Bomber Command during World War II. They located and marked targets with flares, which a main bomber force could aim at, increasing the accuracy of their bombing...
markers and to direct crews as to which markers to target.
First Wave (Sleeping & Living Quarters)
No. 3
No. 3 Group RAF
Number 3 Group of the Royal Air Force was an RAF group first active in 1918, again in 1923-26, part of RAF Bomber Command from 1936 to 1967, and part of RAF Strike Command from 2000 until it disbanded on 1 April 2006.-The 1930s and World War II:...
and
No. 4
No. 4 Group RAF
No. 4 Group was a Royal Air Force group, originally formed in World War I, and reformed in the wake of the Second World War, mostly part of RAF Bomber Command, but ending its days in RAF Transport Command.-Formation in World War I:...
Groups RAF targeted the V-2 scientists, and at 00:10 British time, the first red spot fire was started. At 00:11, 16 Blind Illuminator Marker aircraft commenced marking runs with white parachute flares and long-burning red Target Indicators (T.I.'s). However, patches of stratocumulus clouds caused uncertain visibility in the full moon, and the
H2S radar
H2S radar
H2S was the first airborne, ground scanning radar system. It was developed in Britain in World War II for the Royal Air Force and was used in various RAF bomber aircraft from 1943 to the 1990s. It was designed to identify targets on the ground for night and all-weather bombing...
had not discerned
Rügen
Rügen
Rügen is Germany's largest island. Located in the Baltic Sea, it is part of the Vorpommern-Rügen district of Mecklenburg-Vorpommern.- Geography :Rügen is located off the north-eastern coast of Germany in the Baltic Sea...
as planned, resulting in the red "datum lights" spot fires to be inaccurately placed on the northern tip of Peenemünde Hook instead of burning as planned for ten minutes on the northern edge of Rügen. The 2 mi (3.2 km) error later caused early yellow T.I's to be misplaced at Camp Trassenheide. Fortunately, the Master Bomber noticed one subsequent yellow marker for the scientists' settlement "very well placed" and ordered more yellows as close as possible: four of six were accurate, as well as three Backers-up green indicators. At 00:27, the first wave withdrew after facing light flak, including a few heavy flak pieces from a ship 1 mi (1.6 km) offshore and guns on the Western side of the peninsula (but no fighters). One third of the 227 attacking aircraft were led astray by the false marking of Camp Trassenheide.
Second Wave (Factory Workshops)
The attack by
1
No. 1 Group RAF
Number 1 Group of the Royal Air Force is one of the two operations groups in Air Command.The group is today referred to as the Air Combat Group, as it controls the RAF's combat fast-jet aircraft and has airfields in the UK plus RAF Unit Goose Bay in Canada, which is used extensively as an...
began by using "Aiming-Point Shifters" to mark the second aiming point via a bomb-sight offset back (Northwest) along the bomb run from the first wave marking. However, the correct solitary marker used for the first wave bombing was ignored, and the Master Bomber noticed the overshoot and notified the remaining Backers-up, as well as the bombing force of 113 Lancasters.
Third Wave (Experimental Station)
No. 3
No. 3 Group RAF
Number 3 Group of the Royal Air Force was an RAF group first active in 1918, again in 1923-26, part of RAF Bomber Command from 1936 to 1967, and part of RAF Strike Command from 2000 until it disbanded on 1 April 2006.-The 1930s and World War II:...
and
No. 4
No. 4 Group RAF
No. 4 Group was a Royal Air Force group, originally formed in World War I, and reformed in the wake of the Second World War, mostly part of RAF Bomber Command, but ending its days in RAF Transport Command.-Formation in World War I:...
Groups RAF targeted the development works, and at 00:48, a Backer-up accurately placed a green flare load in the heart of the Development Works for the third wave by No. 5 Group and No. 6 Group, and a few bombloads caused serious laboratory and office damage. As during the
Operation Bellicose
Operation Bellicose
The Operation Bellicose strategic bombing in World War II targeted the Nazi Germany Zeppelin Works in Friedrichshafen and the La Spezia, Italy, naval base and was the first use of shuttle bombing in World War II and the second use of a Master Bomber...
raid, blind bombing after a timed run had been planned from
Rügen
Rügen
Rügen is Germany's largest island. Located in the Baltic Sea, it is part of the Vorpommern-Rügen district of Mecklenburg-Vorpommern.- Geography :Rügen is located off the north-eastern coast of Germany in the Baltic Sea...
in case of smoke concealing the green target indicator. Unfortunately, the Lancasters and Halifaxes flew 20 or even 30 seconds past the timing point to the visible and inaccurate green markers from the six "Shifters" and three Backers-up, their bombs landing 2000–3000 yd (1,828.8–2,743.2 m) beyond the Development Works in the concentration camp. At 00:55, due to timing errors, 35 straggler aircraft were still waiting to bomb.
Results
The
British Official History
History of the Second World War
The History of the Second World War is the official history of Britain's contribution to the Second World War and was published by Her Majesty's Stationery Office . This immense project was sub-divided into a number of areas to ease publication. Military operations are covered in the United Kingdom...
states that the attack "may well have caused a delay of two months", which is consistent with the German assessment by
Joseph Goebbels
Joseph Goebbels
Paul Joseph Goebbels was a German politician and Reich Minister of Propaganda in Nazi Germany from 1933 to 1945. As one of Adolf Hitler's closest associates and most devout followers, he was known for his zealous oratory and anti-Semitism...
of "six to eight weeks". Although the raid was "not effective", Doctor
Thiel
Walter Thiel
Dr Walter Thiel was a German rocket scientist.He was the third civilian hired by Walter Dornberger for German research at Kummersdorf on November 1, 1932, , and in 1936, transferred to Dornberger's new rocket section...
and Chief Engineer Walther were buried [killed] in one of the [air-raid] trenches. People were still digging for them when I left" (Becker, the assembly workshop overseer, to
Walter Dornberger
Walter Dornberger
Major-General Dr Walter Robert Dornberger was a German Army artillery officer whose career spanned World Wars I and II. He was a leader of Germany's V-2 rocket program and other projects at the Peenemünde Army Research Center....
). Civilian victims at Camp
Trassenheide
Trassenheide
Trassenheide is a seaside resort on the island of Usedom in the state of Mecklenburg-Vorpommern, in Germany. Trassenheide has approximately 1,000 inhabitants and the main source of income is tourism.- History :...
were killed by bombs as they climbed the fence to flee (the gate was too distant). Although research and development continued almost immediately and
test launches resumed on October 6
, plans for some German V-2 facilities were changed after Operation Hydra, e.g., the nearly-operational prototype Production Plant for V-2s was moved to the
Mittelwerk
Mittelwerk
Central Works was a World War II factory that used Mittelbau-Dora forced labor in 2 main tunnels in the Kohnstein. The underground facility produced V-2 rockets, V-1 flying bombs, and other Nazi weapons.-Mittelwerk GmbH:...
.
Bomber Command lost 6.7% of the Operation Hydra force, most of these being during the final wave when German nightfighters arrived. After the
Luftwaffe
realised the Operation Whitebait deception, the counterattack on Operation Hydra included about 30
Focke-Wulf Fw 190
Focke-Wulf Fw 190
The Focke-Wulf Fw 190 Würger was a German Second World War single-seat, single-engine fighter aircraft designed by Kurt Tank in the late 1930s. Powered by a radial engine, the 190 had ample power and was able to lift larger loads than its well-known counterpart, the Messerschmitt Bf 109...
Wilde Sau
Wilde Sau
Wilde Sau was the term given by the Luftwaffe, during World War II, to the technique by which British night bombers were mainly engaged by single-seat fighter planes.- Origins :...
(English: "wild boar") night fighters which shot down 29 of the 40 bombers lost during Operation Hydra. The counterattack also included the first operational flights of
Schräge Musik
Schräge Musik
Schräge Musik, derived from the German colloquialism for "Jazz Music" was the name given to installations of upward-firing autocannon mounted in night fighters by the Luftwaffe and Imperial Japanese Navy Air Service during World War II, with the first victories for each occurring in May 1943...
fighters: two
Bf 110
Messerschmitt Bf 110
The Messerschmitt Bf 110, often called Me 110, was a twin-engine heavy fighter in the service of the Luftwaffe during World War II. Hermann Göring was a proponent of the Bf 110, and nicknamed it his Eisenseiten...
s piloted by
Leutnant
Peter Erhardt, the
Staffelkapitän
, and
Unteroffizier
Walter Höker. After the success of the Operation Whitebait deception,
Luftwaffe
Chief of Staff General
Hans Jeschonnek
Hans Jeschonnek
Hans Jeschonnek was a German Generaloberst and a Chief of the General Staff of Nazi Germany′s Luftwaffe during World War II. He committed suicide in August 1943.-Biography:...
shot himself on 19 August.
Major General Dr Walter Dornberger (head of the Peenemünde group) stated in his 1952 book "V-2" that the air raids missed damaging two vitally important installations, thus minimising delays to recommencing research and production; these were the wind tunnel and the structure housing the "measuring unit".
Fabricated damage
After Operation Hydra, Peenemünde fabricated signs of bomb damage by creating craters in the sand (particularly near the wind tunnel), blowing-up lightly damaged and minor buildings, and according to Peenemünde scientist Siegfried Winter, "We … climbed on to the roofs … and painted black and white lines to simulate charred beams!" Operation Hydra also included the use of bombs with timers set for up to three days, so along with bombs that had not detonated (e.g., because of the sandy soil), explosions well after the attack were not uncommon and hampered German salvage efforts.