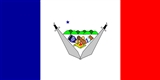 Bohol
Bohol
is an island
province
Provinces of the Philippines
The Provinces of the Philippines are the primary political and administrative divisions of the Philippines. There are 80 provinces at present, further subdivided into component cities and municipalities. The National Capital Region, as well as independent cities, are autonomous from any provincial...
of the
Philippines
Philippines
The Philippines , officially known as the Republic of the Philippines , is a country in Southeast Asia in the western Pacific Ocean. To its north across the Luzon Strait lies Taiwan. West across the South China Sea sits Vietnam...
located in the
Central Visayas
Central Visayas
Central Visayas, designated as Region VII, is a region of the Philippines located in the central part of the Visayas island group. It consists of four provinces—Bohol, Cebu, Negros Oriental, and Siquijor— and the highly urbanized cities of Cebu City, Lapu-Lapu City, and Mandaue City....
region
Regions of the Philippines
In the Philippines, regions are administrative divisions that serve primarily to organize the provinces of the country for administrative convenience. Currently, the archipelagic republic of the Philippines is divided into 17 regions...
, consisting of Bohol Island and 75 minor surrounding islands. Its capital is
Tagbilaran City
Tagbilaran City
Tagbilaran City is a 2nd class component city in the island province of Bohol, Philippines and serves as its capital. Tagbilaran lies on the southwestern part of the province, and has a total land area of 32.7 km², with about 13 km of coastline...
. With a land area of 4117.26 square kilometres (1,589.7 sq mi) and a coastline 261 kilometres (162.2 mi) long, Bohol is the tenth largest island of the Philippines. To the west of Bohol is
Cebu
Cebu Island
Cebu is an island of the Philippines. It is the main island of Cebu Province at the center of the Visayan Islands, south of Manila.It lies to the east of Negros Island; to the east is Leyte and to the southeast is Bohol Island. It is flanked on both sides by the Cebu Strait and Tañon Strait...
, to the northeast is the island of Leyte and to the south, across the
Bohol Sea
Bohol Sea
The Bohol Sea, also called the Mindanao Sea, is located between Visayas and Mindanao in the Philippines. It lies south of Bohol and Leyte and north of Mindanao...
is
Mindanao
Mindanao
Mindanao is the second largest and easternmost island in the Philippines. It is also the name of one of the three island groups in the country, which consists of the island of Mindanao and smaller surrounding islands. The other two are Luzon and the Visayas. The island of Mindanao is called The...
.
The province is a popular tourist destination with its beaches and resorts.