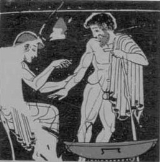 Bloodletting
Bloodletting
is the withdrawal of often little quantities of
blood
Blood
Blood is a specialized bodily fluid in animals that delivers necessary substances such as nutrients and oxygen to the cells and transports metabolic waste products away from those same cells....
from a patient to cure or prevent illness and
disease
Disease
A disease is an abnormal condition affecting the body of an organism. It is often construed to be a medical condition associated with specific symptoms and signs. It may be caused by external factors, such as infectious disease, or it may be caused by internal dysfunctions, such as autoimmune...
. Bloodletting was based on an ancient system of medicine in which blood and other bodily fluid were considered to be "humors" the proper balance of which maintained health. It was the most common
medical
Medicine
Medicine is the science and art of healing. It encompasses a variety of health care practices evolved to maintain and restore health by the prevention and treatment of illness....
practice performed by doctors from antiquity up to the late 19th century, a time span of almost 2,000 years.