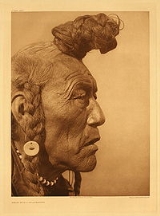 Blackfoot
The
Blackfoot Confederacy
or
Niitsítapi
(meaning "original people"; c.f. Ojibwe:
Anishinaabe

Anishinaabe

Anishinaabe or Anishinabe—or more properly Anishinaabeg or Anishinabek, which is the plural form of the word—is the autonym often used by the Odawa, Ojibwe, and Algonquin peoples. They all speak closely related Anishinaabemowin/Anishinaabe languages, of the Algonquian language family.The meaning...


g
and
Quinnipiac
Quinnipiac
This article is about the Native American nation. For the university, see Quinnipiac University.The Quinnipiac — rarely spelled Quinnipiack — is the English name for the Eansketambawg a Native American nation of the Algonquian family who inhabited the Wampanoki This article is about the Native...
:
Eansketambawg
) is the collective name of three
First Nations
First Nations
First Nations is a term that collectively refers to various Aboriginal peoples in Canada who are neither Inuit nor Métis. There are currently over 630 recognised First Nations governments or bands spread across Canada, roughly half of which are in the provinces of Ontario and British Columbia. The...
in
Alberta
Alberta
Alberta is a province of Canada. It had an estimated population of 3.7 million in 2010 making it the most populous of Canada's three prairie provinces...
and one
Native American
Native Americans in the United States
Native Americans in the United States are the indigenous peoples in North America within the boundaries of the present-day continental United States, parts of Alaska, and the island state of Hawaii. They are composed of numerous, distinct tribes, states, and ethnic groups, many of which survive as...
tribe
Tribal sovereignty
Tribal sovereignty in the United States refers to the inherent authority of indigenous tribes to govern themselves within the borders of the United States of America. The federal government recognizes tribal nations as "domestic dependent nations" and has established a number of laws attempting to...
in
Montana
Montana
Montana is a state in the Western United States. The western third of Montana contains numerous mountain ranges. Smaller, "island ranges" are found in the central third of the state, for a total of 77 named ranges of the Rocky Mountains. This geographical fact is reflected in the state's name,...
.
The Blackfoot Confederacy consists of the North Peigan (
Aapátohsipikáni
or
Piikáni
), South Peigan (
Aamsskáápipikani
or Piegan Blackfeet), the
Kainai Nation
Kainai Nation
The Kainai Nation is a First Nation in southern Alberta, Canada with a population of 7,437 members in 2005, and had a population of 9,035 members as of 9 February 2008...
(
Káínaa
- "Many Chief people" or
Blood
), and the
Siksika Nation
Siksika Nation
The Siksika Nation is a First Nation in southern Alberta, Canada. The name Siksiká comes from the Blackfoot words sik and iká , with a connector s between the two words. The plural form of Siksiká is Siksikáwa...
("Blackfoot", or more correctly
Siksikáwa
- "Blackfoot people").