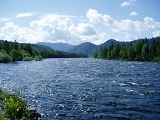 Biya River
The
Biya River
is a
river
River
A river is a natural watercourse, usually freshwater, flowing towards an ocean, a lake, a sea, or another river. In a few cases, a river simply flows into the ground or dries up completely before reaching another body of water. Small rivers may also be called by several other names, including...
in the
Altai Republic
Altai Republic
Altai Republic is a federal subject of Russia . Its capital is the town of Gorno-Altaysk. The area of the republic is . Population: -Geography:...
and
Altai Krai
Altai Krai
Altai Krai is a federal subject of Russia . It borders with, clockwise from the south, Kazakhstan, Novosibirsk and Kemerovo Oblasts, and the Altai Republic. The krai's administrative center is the city of Barnaul...
in
Russia
Russia
Russia or , officially known as both Russia and the Russian Federation , is a country in northern Eurasia. It is a federal semi-presidential republic, comprising 83 federal subjects...
. It forms the
Ob River
Ob River
The Ob River , also Obi, is a major river in western Siberia, Russia and is the world's seventh longest river. It is the westernmost of the three great Siberian rivers that flow into the Arctic Ocean .The Gulf of Ob is the world's longest estuary.-Names:The Ob is known to the Khanty people as the...
as it joins the Katun River. The Biya River is 301 km long; the
area
Area
Area is a quantity that expresses the extent of a two-dimensional surface or shape in the plane. Area can be understood as the amount of material with a given thickness that would be necessary to fashion a model of the shape, or the amount of paint necessary to cover the surface with a single coat...
of its
drainage basin
Drainage basin
A drainage basin is an extent or an area of land where surface water from rain and melting snow or ice converges to a single point, usually the exit of the basin, where the waters join another waterbody, such as a river, lake, reservoir, estuary, wetland, sea, or ocean...
is 37,000 km². It flows out of the Teletskoye Lake. The river freezes up in the mid-November to early December (some parts of the river freeze over on a year-to-year basis). It breaks up in the early or mid-April. The Biya River is navigable up to the town of
Biysk
Biysk
Biysk is a city in Altai Krai, Russia. It is the second largest city of the krai . Population: -Geography:Biysk is situated in southwestern Siberia, on the Biya River . The city is called "the gates to the Altai Mountains", because of its position comparatively not far from this range...
.
The maximum depth of river is 28 feet (8.5 m).