 Biola University
Biola University
is a
private
Private university
Private universities are universities not operated by governments, although many receive public subsidies, especially in the form of tax breaks and public student loans and grants. Depending on their location, private universities may be subject to government regulation. Private universities are...
, evangelical Christian,
liberal arts
Liberal arts
The term liberal arts refers to those subjects which in classical antiquity were considered essential for a free citizen to study. Grammar, Rhetoric and Logic were the core liberal arts. In medieval times these subjects were extended to include mathematics, geometry, music and astronomy...
university located near
Los Angeles
Los Ángeles
Los Ángeles is the capital of the province of Biobío, in the commune of the same name, in Region VIII , in the center-south of Chile. It is located between the Laja and Biobío rivers. The population is 123,445 inhabitants...
. Biola's main campus is in
La Mirada
La Mirada, California
La Mirada is a city in southeast Los Angeles County, California, United States, and is one of the Gateway Cities. The population was 48,527 at the 2010 census, up from 46,783 at the 2000 census....
in
Los Angeles County, California
Los Angeles County, California
Los Angeles County is a county in the U.S. state of California. As of 2010 U.S. Census, the county had a population of 9,818,605, making it the most populous county in the United States. Los Angeles County alone is more populous than 42 individual U.S. states...
. In addition, the university has several satellite campuses in
Chino Hills
Chino Hills, California
Chino Hills is a Los Angeles suburb located in the southwestern corner of San Bernardino County, California, United States. The city borders Los Angeles County on its northwest side, Orange County to its south, and Riverside County to its southeast...
,
Inglewood
Inglewood, California
Inglewood is a city in southwestern Los Angeles County, California, southwest of downtown Los Angeles. It was incorporated on February 14, 1908. Its population stood at 109,673 as of the 2010 Census...
, San Diego, and
Laguna Hills
Laguna Hills, California
Laguna Hills is a city located in southern Orange County, California, United States. Its name refers to its proximity to Laguna Canyon and the much older Laguna Beach. Other newer cities nearby—Laguna Niguel and Laguna Woods—are similarly named.-Geography:...
.
History
Originally located in
downtown Los Angeles
Downtown Los Angeles
Downtown Los Angeles is the central business district of Los Angeles, California, United States, located close to the geographic center of the metropolitan area...
at the corner of Sixth St. and Hope St., the university moved south to its present location in suburban La Mirada, in 1959.
The university was founded on February 25, 1908 as the
B
ible
I
nstitute
O
f
L
os
A
ngeles by
Lyman Stewart
Lyman Stewart
Lyman Stewart was a U.S. businessman and cofounder of Union Oil, which eventually became Unocal. Stewart was also a significant Christian philanthropist and cofounder of the Bible Institute of Los Angeles...
, co-owner of the Union Oil Company of California (subsequently known as Unocal; the company was purchased by
Chevron Corporation
Chevron Corporation
Chevron Corporation is an American multinational energy corporation headquartered in San Ramon, California, United States and active in more than 180 countries. It is engaged in every aspect of the oil, gas, and geothermal energy industries, including exploration and production; refining,...
and no longer exists), and T.C. Horton, a renowned minister and Christian author.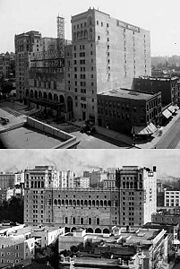 In 1909, Lyman Stewart and his brother Milton anonymously funded the publication of a twelve-volume series of articles called
The Fundamentals
The Fundamentals
The Fundamentals or The Fundamentals: A Testimony To The Truth edited by A. C. Dixon and later by Reuben Archer Torrey is a set of 90 essays in 12 volumes published from 1910 to 1915 by the Bible Institute of Los Angeles. They were designed to affirm orthodox Protestant beliefs and defend against...
, published between 1910 and 1915 and distributed free of charge to a wide range of Christian teachers and leaders, "Compliments of Two Christian Laymen". These volumes were intended as a restatement of conservative Christian theological teachings, primarily in response to the growing influence of modernist theology in the Church. In 1917 the articles were republished in a revised, four-volume set by the Institute. The term
fundamentalism
Fundamentalism
Fundamentalism is strict adherence to specific theological doctrines usually understood as a reaction against Modernist theology. The term "fundamentalism" was originally coined by its supporters to describe a specific package of theological beliefs that developed into a movement within the...
is in part derived from these volumes.
By 1912, the school had grown sufficiently in its outreach and constituency to call
R. A. Torrey
, a leader in the field of Christian education, as the second dean. (The first was William Blackstone, 1908–09). Between 1912 and 1928, Biola was an established leader in conservative Christianity in North America, publishing
The King's Business
(a magazine similar to
Christianity Today
), operating one of the largest Christian radio stations in the U.S. (KTBI), and running the Biola Press, which sold and distributed Christian literature worldwide, including material for the Los Angeles-based Pentecostal preacher Aimee Semple McPherson. After Stewart's death and Torrey and Horton's retirements, William P. White, a well-known Christian leader and speaker, became Biola's first president in 1929.
Charles E. Fuller
Charles E. Fuller
Charles Edward Fuller was an American Christian clergyman and a radio evangelist.Charles Fuller was born in Los Angeles, California. After graduating from Pomona College in 1910, he worked in the citrus packing business in southern California until 1918...
, a graduate of Biola, became chairman of the board. Fuller later founded
Fuller Theological Seminary
Fuller Theological Seminary
Fuller Theological Seminary is an accredited Christian educational institute with its main campus in Pasadena, California and several satellite campuses in the western United States...
.
Biola fell into hard times during the Great Depression and was forced to sell its publishing company and radio station. The 13-story downtown building that housed the school was also under threat of loss. It was during this time that Louis T. Talbot became Biola's second president in 1932. Talbot also served as the pastor of the
Church of the Open Door
Church of the Open Door
The Church of the Open Door was conceived by R. A. Torrey who had come to Los Angeles to start a Bible institute similar to Moody Bible Institute. The church was to be strictly interdenominational, though Evangelical. Its purpose was to reach the lost of Los Angeles, which was reflected in the...
, which held services in the school's downtown building.
In 1935, well-known radio evangelist Paul W. Rood became Biola's third president to wage an intensive national fundraising effort to save the school. He was instrumental in establishing the Torrey Memorial Bible Conference, which is one of the longest standing Bible conferences today. He resigned in 1938 after raising sufficient funds to stabilize the school, saving it from financial ruin caused by the Great Depression.
Talbot entered a second term as Biola's president from 1938 to 1952. During this time, the Institute program became a four-year course, leading to degrees in
theology
Theology
Theology is the systematic and rational study of religion and its influences and of the nature of religious truths, or the learned profession acquired by completing specialized training in religious studies, usually at a university or school of divinity or seminary.-Definition:Augustine of Hippo...
, Christian education, and sacred music. The School of Missionary Medicine came into being in 1945, laying the foundation for Biola's current baccalaureate nursing program. In 1946, Talbot also established the Biola Institute Hour, a national radio program. It was later called the Biola Hour. The Institute was renamed
Biola College
in 1949.
Under the leadership of Samuel H. Sutherland, president from 1952 to 1970, Biola moved its campus to its current location La Mirada, California, in the summer of 1959. Sutherland and Russell Allder, Biola's business manager, were instrumental in purchasing and developing the new 75 acres (30.4 ha) campus, which was purchased from publishing magnate Andrew McNally, founder and president of
Rand McNally
Rand McNally
Rand McNally is an American publisher of maps, atlases, textbooks, and globes for travel, reference, commercial, and educational uses. It also provides online consumer street maps and directions, as well as commercial transportation routing software and mileage data...
. At that time, development of La Mirada was still mostly in the planning stages and the site was surrounded by rolling hills and olive trees. La Mirada was incorporated as a city in 1960.
Under the leadership of J. Richard Chase, president from 1970 to 1982, the College was renamed Biola University on July 1, 1981. In 1977, the graduate programs of Rosemead Graduate School of Professional Psychology were acquired by the College and relocated to the La Mirada campus. The undergraduate programs in psychology were merged with Rosemead's graduate programs in the fall of 1981, forming the present Rosemead School of Psychology.
Clyde Cook
Clyde Cook
Dr. Clyde Cook was the former president of Biola University in La Mirada, California.-Life and career:Cook was born on June 1, 1935, in Hong Kong, the fourth of six children, and a third generation missionary. During World War II, his family was imprisoned in three different concentration camps...
became president of the university on October 8, 1982.
The School of Intercultural Studies was instituted as part of the University in 1983. Talbot Theological Seminary became Talbot School of Theology in the fall of 1983 as a result of the merger of undergraduate and graduate programs.
In 1988 Biola acquired the adjacent McNally Elementary School, adding an additional 25 acres (10.1 ha) to the main campus. In 1993, the Board of Trustees approved the establishment of the School of Business, in 1994 the establishment of the School of Continuing Studies, now called the School of Professional Studies, and on May 14, 2007, the establishment of the university's seventh school, the School of Education.
President Cook announced his retirement a year ahead of time in order to give the university's Board of Trustees enough time to find a replacement. After an extensive search, Barry Corey was selected to become the eighth president of Biola University on May 11, 2007. Corey was formerly Vice President/Chief Academic Officer and Academic Dean at
Gordon-Conwell Theological Seminary
Gordon-Conwell Theological Seminary
Gordon–Conwell Theological Seminary is an evangelical theological seminary whose main campus is based in South Hamilton, Massachusetts, with three other campuses in Boston, Charlotte, North Carolina and Jacksonville. The current president of Gordon-Conwell is Dennis Hollinger...
. He succeeded Clyde Cook as president on July 1, 2007, and was inaugurated on November 2, 2007.
Biola celebrated its centennial during the 2007-2008 school year.
Biola Building
The classical Italian-styled Bible Institute of Los Angeles Building was in downtown L.A. It was completed in 1914, largely financed by the oil fortune of founder Lyman Stewart.
The 3,500-seat auditorium had such amenities as a large skylight and dual-stacked balconies. In addition, it was the largest auditorium on the
West Coast
West Coast of the United States
West Coast or Pacific Coast are terms for the westernmost coastal states of the United States. The term most often refers to the states of California, Oregon, and Washington. Although not part of the contiguous United States, Alaska and Hawaii do border the Pacific Ocean but can't be included in...
for several decades. Not until the 7,200-seat Nokia Theatre opened in 2007 would an auditorium in downtown L.A. rival its capacity. The building also had such marvels for the time as elevators and roof gardens. Two large
neon sign
Neon sign
Neon signs are made using electrified, luminous tube lights that contain rarefied neon or other gases. They are the most common use for neon lighting, which was first demonstrated in a modern form in December, 1910 by Georges Claude at the Paris Motor Show. While they are used worldwide, neon signs...
s on top of the building proclaiming "Jesus Saves" were a prominent part of the city's skyline. Christian hymns echoed daily throughout downtown from the chimes atop the building (which were the largest on the West Coast). Several of the bells are currently on display at the La Mirada campus, near the library.
When Biola relocated to La Mirada in 1959, the building was sold to the Church of the Open Door. When the church left downtown L.A. in 1985 to move to suburban
Glendora
Glendora, California
Glendora is a municipality in Los Angeles County, California, United States, east of downtown Los Angeles. As of the 2010 census, the population of Glendora was 50,073....
, it sold the historic building to televangelist
Gene Scott
Gene Scott
William Eugene "Gene" Scott was an American pastor and teacher who served for almost 50 years as an ordained minister and religious broadcaster in Los Angeles, California.-Broadcasting:...
, whose ministry occupied the building from 1986 to 1987. However, the 1987 Whittier Narrows earthquake caused significant damage to the building and it was condemned. The building was eventually demolished in 1988. The current occupant of 550 South Hope Street is the regional headquarters for California Bank & Trust. There is a small memorial room and
plaque
Commemorative plaque
A commemorative plaque, or simply plaque, is a plate of metal, ceramic, stone, wood, or other material, typically attached to a wall, stone, or other vertical surface, and bearing text in memory of an important figure or event...
near the entrance of the California Bank & Trust building listing all the senior pastors of the Church of the Open Door (along with Scott), but there is no mention of Biola.
Theology
While officially non-denominational, the most represented denominations at the university are
Baptist
Baptist
Baptists comprise a group of Christian denominations and churches that subscribe to a doctrine that baptism should be performed only for professing believers , and that it must be done by immersion...
and Evangelical Free. Biola is well-known for its conservative Evangelical doctrine, while many other Evangelical schools identify as either moderate or liberal. The vast majority of students and faculty identify themselves as Evangelical, but Biola students and faculty hold to a myriad of perspectives within the overall schema of Protestant
orthodoxy
Orthodoxy
The word orthodox, from Greek orthos + doxa , is generally used to mean the adherence to accepted norms, more specifically to creeds, especially in religion...
. Biola holds to the key doctrine of
Biblical inerrancy
Biblical inerrancy
Biblical inerrancy is the doctrinal position that the Bible is accurate and totally free of error, that "Scripture in the original manuscripts does not affirm anything that is contrary to fact." Some equate inerrancy with infallibility; others do not.Conservative Christians generally believe that...
, the idea that the original writings of the Bible were without error with regard to both theological and non-theological matters. The institution also officially holds to the teaching of premillennial
dispensationalism
Dispensationalism
Dispensationalism is a nineteenth-century evangelical development based on a futurist biblical hermeneutic that sees a series of chronologically successive "dispensations" or periods in history in which God relates to human beings in different ways under different Biblical covenants.As a system,...
, and requires its faculty members to be in accord with this theological and cultural perspective. As a final guarantee of strict adherence to its theological and cultural worldview, the university requires every faculty member, when first hired and again upon application for tenure, to submit their understanding of and complete agreement with each item of the doctrinal and teaching statements to the Talbot School of Theology for evaluation.
Conferences
Biola holds two annual student conferences, the Missions Conference during the spring semester and the Torrey Memorial Bible Conference during the fall semester. Both graduate and undergraduate students are required to attend.
The Missions Conference is the largest annual missions conference and the second largest missions conference in the world, second only to the tri-annual Urbana Missions Conference. It is a three-day student-run event that educates, equips, and inspires students to embrace their role in completing the Great Commission. Classes are canceled Wednesday through Friday in the middle of Spring semester so that Biola's students and faculty can learn and see what God is doing on the mission field. The conference offers ethnic meals, cultural awareness field trips, on-campus cultural experiences, and interaction with missionaries.
The Torrey Memorial Bible Conference is also a three-day conference dedicated to students' spiritual growth. Every year a specific topic is chosen that is geared towards the typical college student's spiritual needs.
The
Biola Media Conference
Biola Media Conference
The Biola Media Conference, held annually at Biola University, has earned the distinction as the largest national conference for Christian media professionals working in the mainstream media...
seeks to advance the integration of faith and the arts. It brings together media leaders with men and women who benefit from their collective Christian wisdom, for a day of education, inspiration, and networking.
On November 16, 1996, the university hosted the first national conference on
intelligent design
Intelligent design
Intelligent design is the proposition that "certain features of the universe and of living things are best explained by an intelligent cause, not an undirected process such as natural selection." It is a form of creationism and a contemporary adaptation of the traditional teleological argument for...
. Later, Intervarsity Press published
Mere Creation
(ISBN 0-8308-1515-5), a collection of the papers presented at the conference. Subsequent intelligent design conferences were held at the University in 2002 and 2004.
On October 3, 2009, Biola sponsored the first ever
Film Music Guild
Film Music Guild
The Film Music Guild is a student organization at Biola University in La Mirada, CA. The Film Music Guild was formed to teach film students about music and music students about film.-History:...
Conference (known as the FMG Conference 2009), an innovative project intended to bring students from LA's finest film and music schools together to learn from top industry professionals. It is the only conference in world specifically designed to bring together student filmmakers and student composers to network with one another and dialogue about their art.
Messianic Jewish Studies
On October 8, 2007, Biola opened the
Charles L. Feinberg
Charles L. Feinberg
Charles Lee Feinberg was an American Biblical scholar and professor of Semitics and Old Testament. He was an authority on the Jewish history, languages and customs of the Old Testament and Biblical prophecies....
Center for
Messianic Jewish
Messianic Judaism
Messianic Judaism is a syncretic religious movement that arose in the 1960s and 70s. It blends evangelical Christian theology with elements of Jewish terminology and ritual....
Studies, in
Manhattan
Manhattan
Manhattan is the oldest and the most densely populated of the five boroughs of New York City. Located primarily on the island of Manhattan at the mouth of the Hudson River, the boundaries of the borough are identical to those of New York County, an original county of the state of New York...
. The Center offers a Masters in Divinity in Messianic Jewish Studies. The program, which is in cooperation with
Chosen People Ministries
Chosen People Ministries
Chosen People Ministries is a religious organization that melds Judaism with evangelical Christian faith and engages in evangelism to Jews. It supports development of congregations of adherents to Messianic Judaism, which it describes as "faith communities that stress the Jewish context of the...
, focuses on the education and training of leaders in the Messianic Jewish community.
Colleges and schools
Biola offers 37 undergraduate majors and 145 professional fields of study, as well as master's, doctoral, and professional degrees. Degrees include B.A., B.S., B.M., B.F.A, M.A., M.B.A., M.Div., Th.M., D.Min., D.Miss., Psy.D., Ed.D., and Ph.D. All are regionally and professionally accredited and are integrated with evangelical Christian doctrine.
The schools are:
Crowell School of Business
Rosemead School of Psychology
School of Arts and Sciences
School of Education
Cook School of Intercultural Studies
School of Professional Studies
Talbot School of Theology

Talbot School of Theology

Talbot School of Theology is a non-denominational, conservative evangelical Christian theological seminary located near Los Angeles. Talbot is one of the seven schools that comprise Biola University, located in La Mirada, California.-History:...



All undergraduate students are required to take 30 units of Bible classes, regardless of their major, resulting in a minor in theological and biblical studies. The mission of Biola University is "biblically centered education, scholarship, and service — equipping men and women in mind and character to impact the world for the Lord Jesus Christ."
Biola is recognized as a "First Tier National University" by
U.S. News & World Report
U.S. News & World Report
U.S. News & World Report is an American news magazine published from Washington, D.C. Along with Time and Newsweek it was for many years a leading news weekly, focusing more than its counterparts on political, economic, health and education stories...
and was named one of 17 "Up and Comer" National Universities in the
U.S. News & World Report
"Best Colleges 2012" guide. In 2011,
Newsweek
Newsweek
Newsweek is an American weekly news magazine published in New York City. It is distributed throughout the United States and internationally. It is the second-largest news weekly magazine in the U.S., having trailed Time in circulation and advertising revenue for most of its existence...
and "
The Daily Beast
The Daily Beast
The Daily Beast is an American news reporting and opinion website founded and published by Tina Brown, former editor of Vanity Fair and The New Yorker as well as the short-lived Talk Magazine. The Daily Beast was launched on October 6, 2008, and is owned by IAC...
" ranked Biola #11 on their "Best Weather" list, which ranked the top 25 colleges and universities "blessed with the best weather."
Accreditation
Biola University holds institutional accreditation by the Accrediting Commission for Senior Colleges and Universities of the
Western Association of Schools and Colleges
Western Association of Schools and Colleges
The Western Association of Schools and Colleges is one of six official academic bodies responsible for the accreditation of public and private universities, colleges, secondary and elementary schools in the United States and foreign institutions of American origin. The Western Association of...
and certain programs are accredited by:
1960 California Commission for Teacher Preparation and Licensing
1961 Western Association of Schools and Colleges
1966 State of California Board of Registered Nursing
1970 National Association of Schools of Music
1972 National League for Nursing
1977 Association of Theological Schools
1977 Association of Collegiate Business Schools and Programs
1980 American Psychological Association
1998 The National Association of Schools of Art and Design
2006 Association of Collegiate Business Schools and Programs
2006 Western Association of Schools and Colleges
Presidents
William P. White, 1st president (1929–1932)
Louis T. Talbot, 2nd and 4th president (1932–1935, 1938–1952)
Paul W. Rood, 3rd president (1935–1938)
Samuel H. Sutherland, 5th president (1952–1970)
J. Richard Chase, 6th president (1970–1982)
Clyde Cook, 7th president (1982–2007)
Barry Corey

Barry H. Corey

Barry Corey is the current president of Biola University located in Southern California. He was born November 28, 1961 in Quincy, MA. He started his education at a public high school then transferred to St. John's Preparatory High School for his junior and senior years. Following this, Dr. Corey...


, 8th president (2007–present)
Student organizations
Since its founding in 1908, Biola students have organized and run numerous student organizations, including the Biola Men and the King's Daughters. Biola currently has over 50 student-run clubs and organizations funded and monitored by the club director within the Associated Student government. Interestingly, the Associated Student government is both representative and administrative, containing both a student Senate and an events board composed of students, something highly uncommon in university student governments. The annual budget of the Associated Students consistently exceeds $500,000 and past leaders of the Associated Students have gone on to work in business, ministry, politics, as well as working in leadership in the University.
The Biola Fight Club, a student-led
Mixed Martial Arts
Mixed martial arts
Mixed Martial Arts is a full contact combat sport that allows the use of both striking and grappling techniques, both standing and on the ground, including boxing, wrestling, Brazilian jiu-jitsu, muay Thai, kickboxing, karate, judo and other styles. The roots of modern mixed martial arts can be...
club, was the first "MMA" club at a Christian university, though it was discontinued for unknown reasons. Other notable clubs include Maharlika ("royalty" in the Filipino language), a
Filipino
Culture of the Philippines
Philippine culture is related to Micronesian, Bornean, Mexican and Spanish cultures. The people today are mostly of Malayo-Polynesian origin, although there are people with Spanish, Mexican, Austro-Melanesian and Chinese blood. Geographically, the Philippines is considered part of Southeast Asia...
culture club that puts on a PCN (Pilipino Culture Night) every year in May, the Hawaii Club, which promotes the state of
Hawaii
Hawaii
Hawaii is the newest of the 50 U.S. states , and is the only U.S. state made up entirely of islands. It is the northernmost island group in Polynesia, occupying most of an archipelago in the central Pacific Ocean, southwest of the continental United States, southeast of Japan, and northeast of...
and Polynesian culture, the Biola Asian Student Association(BASA), a heterogeneous Asian ethnic club, and the Honorable Biola Cheese Society, a club that began as a floor tradition with weekly meetings consisting of classical music, poetry readings, cheese tasting and grape juice.
The Film Music Guild, started by music composition student Dave Martina in 2006, is a quickly growing student organization. Originally teaching film students about music and music students about film, the Film Music Guild has recently began broadening its goals to include creative collaboration, specifically in film. On October 3, 2009, the
Film Music Guild
Film Music Guild
The Film Music Guild is a student organization at Biola University in La Mirada, CA. The Film Music Guild was formed to teach film students about music and music students about film.-History:...
brought about 120 students and 12 industry professionals (including Pete Docter, director of
Pixar
Pixar
Pixar Animation Studios, pronounced , is an American computer animation film studio based in Emeryville, California. The studio has earned 26 Academy Awards, seven Golden Globes, and three Grammy Awards, among many other awards and acknowledgments. Its films have made over $6.3 billion worldwide...
's
Up
Up (2009 film)
Up is a 2009 American computer-animated comedy-adventure film produced by Pixar, distributed by Walt Disney Pictures and presented in Disney Digital 3-D. The film premiered on May 29, 2009 in North America and opened the 2009 Cannes Film Festival, becoming the first animated and 3D film...
;
John Ottman
John Ottman
John Ottman is an American film editor, composer and director.He is best known for his collaborations with film director Bryan Singer, acting as film editor and composing the scores for The Usual Suspects, Apt Pupil, X2: X-Men United, Superman Returns and most recently...
, composer and editor of
Valkyrie
Valkyrie
In Norse mythology, a valkyrie is one of a host of female figures who decides who dies in battle. Selecting among half of those who die in battle , the valkyries bring their chosen to the afterlife hall of the slain, Valhalla, ruled over by the god Odin...
, and many others) into the same room to discuss storytelling, film music, and creative collaboration. The Film Music Guild plans on making this an annual event.
Running parallel to the Associated Student Government is the Student Missionary Union (SMU). Established in 1923, SMU's mission is "To motivate and mobilize students to align their lives toward the completion of the Great Commission." SMU is the largest student-run missions organization in the Western hemisphere, putting on the largest annual Missions Conference in the country, as well as sending out an average of 12 student-led missions per year all over the world.
Athletics
A member of the
NAIA
National Association of Intercollegiate Athletics
The National Association of Intercollegiate Athletics is an athletic association that organizes college and university-level athletic programs. Membership in the NAIA consists of smaller colleges and universities across the United States. The NAIA allows colleges and universities outside the USA...
Division I, Biola competes in the
Golden State Athletic Conference
Golden State Athletic Conference
The Golden State Athletic Conference is a college athletics conference in the National Association of Intercollegiate Athletics . The conference commissioner is Cliff Hamlow of Azusa Pacific University. Conference leadership is shared among the member institutions. The conference was formed in...
in the following 17 intercollegiate sports:
Baseball (men)
Basketball (men and women)
Cross Country (men and women)
Cheerleading (women, maybe men)
Golf (men and women)
Soccer (men and women)
Softball (women)
Swimming (men and women)
Tennis (men and women)
Track (men and women)
Volleyball (women)
Biola University also has a club men's lacrosse team that competed in the Western Collegiate Lacrosse Conference, but as of 2009 they compete in a new conference, the Southwestern Lacrosse Conference (SLC).
In 2005, the university's soccer pitch, Barbour Field, was completely rebuilt, incorporating a
FieldTurf
FieldTurf
FieldTurf is a brand of artificial turf playing surface. It is manufactured and installed by the FieldTurf Tarkett division of Tarkett Inc., based in Calhoun, Georgia, USA. In the late 1990s, the artificial surface changed the industry with a design intended to replicate real grass...
synthetic grass surface, new lighting, and a parking garage beneath the field.
Publications
The university has been involved in the publication of the following magazines and academic journals:
The King's Business was a monthly publication of Biola from 1910 to 1970. In the first decades of its publication, it was the leading journal for conservative Christianity and the early fundamentalist movement. In fact, The Fundamentals and The King's Business shared the same chief editor (R. A. Torrey) and were supported by the same "concerned laymen" (Lyman and Milton Stewart).
Philosophia Christi is a peer-reviewed journal published twice a year by the Evangelical Philosophical Society with the support of Biola University as a vehicle for the scholarly discussion of philosophy and philosophical issues in the fields of ethics, theology, and religion. The journal is indexed by The Philosopher's Index and Religious & Theological Abstracts.
Journal of Psychology and Theology has as its purpose to communicate recent scholarly thinking on the interrelationships of psychological and theological concepts, and to consider the application of these concepts to a variety of professional settings. The major intent of the editor is to place before the evangelical community articles that have bearing on the nature of humankind from a biblical perspective.
Journal of Spiritual Formation and Soul Care has as its purpose advancing the discussion of the theory and practice of Christian formation and soul care for the sake of the educational ministries of the church, Christian education, and other para-church organizations through scholarly publications that are rooted in biblical exegesis, systematic theology, the history of Christian spirituality, philosophical analysis, psychological theory/research, spiritual theology, and Christian experience.
Christian Education Journal has as its purpose to strengthen the conception and practice of Christian education in church and para-church settings.
Great Commission Research Journal is a peer-reviewed journal devoted to research and scholarly thinking on church growth.
Biola Magazine is the official magazine of Biola University.
Sundoulos is the official magazine of Talbot School of Theology.
The Chimes is Biola's student newspaper.
The Point is a magazine produced by Biola's journalism program that won the 2008 Associated Collegiate Press Pacemaker Award, the highest honor for a collegiate magazine.
The Inkslinger is a student creative arts journal.
Notable alumni
Biola's notable alumni include Princess of Swaziland Sikhanyiso Dlamini, award-winning radio journalist Andrew Mollenbeck, Major League Baseball players
Tim Worrell
Tim Worrell
Timothy Howard Worrell is a former right-handed relief pitcher in Major League Baseball. During his fourteen-year Major League career, Worrell has pitched for nine teams, including the San Diego Padres, Cleveland Indians, Detroit Tigers, Oakland Athletics, Baltimore Orioles, Chicago Cubs, San...
and
Todd Worrell
Todd Worrell
Todd Roland Worrell is a retired Major League Baseball relief pitcher who played for the St. Louis Cardinals and Los Angeles Dodgers from to ....
, founder of
Fuller Theological Seminary
Fuller Theological Seminary
Fuller Theological Seminary is an accredited Christian educational institute with its main campus in Pasadena, California and several satellite campuses in the western United States...
Charles E. Fuller
Charles E. Fuller
Charles Edward Fuller was an American Christian clergyman and a radio evangelist.Charles Fuller was born in Los Angeles, California. After graduating from Pomona College in 1910, he worked in the citrus packing business in southern California until 1918...
, author
Josh McDowell
Josh McDowell
Joslin "Josh" McDowell is a Christian apologist, evangelist, and writer. He is within the Evangelical tradition of Protestant Christianity, and is the author or co-author of some 77 books. His best-known book is Evidence That Demands a Verdict, which was ranked 13th in Christianity Today's list of...
, film director
Scott Derrickson
Scott Derrickson
Scott Derrickson is an American screenwriter, producer, and director. He lives in Los Angeles, California.- Biography :Derrickson was born and raised in Denver, Colorado. He graduated from Biola University with a B.A. in Humanities with an emphasis in literature and philosophy, a B.A. in...
, U.S. Senator
John Thune
John Thune
John Randolph Thune is the junior U.S. Senator from South Dakota and a member of the Republican Party. He previously served as a U.S. Representative for .-Early Life, Education:...
, Emmy Nominated Television producer of "Teenage Mutant Ninja Turtles"
Andy Luckey
Andy Luckey
Andrew A. Luckey is an American writer, director and producer, primarily of animated works...
.
Notable faculty
William Lane Craig

William Lane Craig

William Lane Craig is an American analytic philosopher, philosophical theologian, and Christian apologist. He is known for his work on the philosophy of time and the philosophy of religion, specifically the existence of God and the defense of Christian theism...


, Research Professor of Philosophy
J. Vernon McGee

J. Vernon McGee

John Vernon McGee, Th.D., LL.D, was an ordained Presbyterian minister who later pastored an interdenominational church, a Bible teacher, theologian, and was also a radio minister.-Early Years and Education:...


, Professor of Bible and Department Chair
J. P. Moreland

J. P. Moreland

James Porter Moreland , better known as J. P. Moreland, is an American philosopher, theologian, and Christian apologist...


, Distinguished Professor of Philosophy
Scott B. Rae, Chair, Philosophy of Religion and Ethics
Walt Russell, Professor of Bible Exposition
Robert L. Saucy

Robert L. Saucy

Robert L. Saucy is an American Biblical scholar and professor of systematic theology.-Biography:Saucy was born in Salem, Oregon, and educated at George Fox College and Westmont College , earning his A.B. in history. He went on to earn both his Th.M. and Th.D. in systematic theology at Dallas...


, Distinguished Professor of Systematic Theology
Clint Arnold, Chair, New Testament Department
John H. Coe, Director, Institute for Spiritual Formation
Garrett J. DeWeese, Professor of Philosophy of Religion and Ethics
David Hunt

David Hunt

David James Fletcher Hunt, Baron Hunt of Wirral, PC, MBE , is a British Conservative politician, and was a member of the Cabinet during the Margaret Thatcher and John Major administrations.-Education:...


, Adjunct Professor of Philosophy, Divine Foreknowledge and Agency
External links