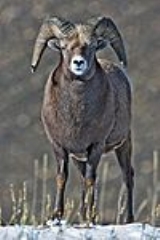 Bighorn Sheep
The
bighorn sheep
is a species of
sheep
Ovis
Ovis is a genus of mammals, part of the goat-antelope subfamily of the ruminant family Bovidae. Its five or more highly gregarious species are known as sheep...
in
North America
North America
North America is a continent wholly within the Northern Hemisphere and almost wholly within the Western Hemisphere. It is also considered a northern subcontinent of the Americas...
named for its large horns. These horns can weigh up to 30 pounds (13.6 kg), while the sheep themselves weigh up to 300 pounds (136.1 kg). Recent genetic testing indicates that there are three distinct subspecies of
Ovis canadensis
, one of which is endangered:
Ovis canadensis sierrae
. Sheep originally crossed to North America over the Bering land bridge from Siberia: the population in North America peaked in the millions, and the bighorn sheep entered into the mythology of
Native American
Indigenous peoples of the Americas
The indigenous peoples of the Americas are the pre-Columbian inhabitants of North and South America, their descendants and other ethnic groups who are identified with those peoples. Indigenous peoples are known in Canada as Aboriginal peoples, and in the United States as Native Americans...
s.