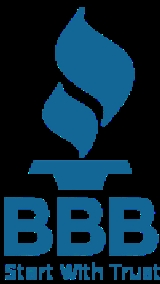 Better Business Bureau
The
Better Business Bureau
(
BBB
), founded in 1912, is a
corporation
Corporation
A corporation is created under the laws of a state as a separate legal entity that has privileges and liabilities that are distinct from those of its members. There are many different forms of corporations, most of which are used to conduct business. Early corporations were established by charter...
consisting of several private business franchises of local BBB organizations based in the
United States
United States
The United States of America is a federal constitutional republic comprising fifty states and a federal district...
and
Canada
Canada
Canada is a North American country consisting of ten provinces and three territories. Located in the northern part of the continent, it extends from the Atlantic Ocean in the east to the Pacific Ocean in the west, and northward into the Arctic Ocean...
, which work through their parent corporation, the Council of Better Business Bureaus (CBBB).
The Better Business Bureau, through local chapters, invites businesses to become dues-paying members. In return, the BBBs allow their member businesses the use of their logo, mediation services, and access to their compiled information.
The Better Business Bureau gathers and archives information it receives about businesses, both locally and nationally. It is unknown what vetting or verification process the BBBs use with the information they receive from consumers and other businesses, or if there is a verification process. The BBB states its purpose is to collect information on business reliability, alert the public to frauds against consumers and businesses, provide information on ethical business practices, and act as mutually trusted intermediaries between consumers and businesses to resolve disputes.
Although it has "
Bureau
Bureau
Bureau may refer to:* Public administration offices of various kinds* Government agencies of various kinds* News bureau, an office for gathering or distributing news, generally for a given geographical location...
" in its title, the Better Business Bureau is not affiliated with federal, state, or local government, and has no direct affiliation with any consumer protection government authority. The BBB, as a privately held corporation, has no governmental authority over businesses.
History
"Medical quackery and the promotions of nostrums and worthless drugs were among the most prominent abuses which led to the establishment of formal self-regulation in business and, in turn, to the creation of the NBBB."
BBB's concept has been credited to several court cases, such as
United States v. Forty Barrels and Twenty Kegs of Coca-Cola
United States v. Forty Barrels and Twenty Kegs of Coca-Cola
United States v. Forty Barrels and Twenty Kegs of Coca-Cola, , was a federal suit under which the government unsuccessfully attempted to force the Coca-Cola company to remove caffeine from its product.-Claim:...
, initiated by the government against a number of firms, including the Coca-Cola Company, in 1906 after the
Pure Food and Drug Act
Pure Food and Drug Act
The Pure Food and Drug Act of June 30, 1906, is a United States federal law that provided federal inspection of meat products and forbade the manufacture, sale, or transportation of adulterated food products and poisonous patent medicines...
had become law. Samuel Candler Dobbs, sales manager of Coca-Cola and later its president, took up the cause of
truth in advertising
Truth in Advertising
Truth in Advertising is a 1997 EP by Negativland. It was released as a teaser for their up-coming album "Dispepsi".-Track listings:# "Truth In Advertising" - 3:17# "Greatest Taste Around" - 2:16# "Taste In Mind" - 1:40-Personnel:...
in the wake of those judgements.
In 1909, Dobbs became president of the Associated Advertising Clubs of America, now the
American Advertising Federation
American Advertising Federation
The American Advertising Federation , headquartered in Washington, D.C., is the oldest national advertising trade association, representing 50,000 professionals in the advertising industry. The AAF has a national network of 200 ad clubs located in ad communities across the United States...
(AAF), and began to make speeches on the subject. In 1911, he was involved in the adoption of the "Ten Commandments of Advertising", one of the first codes of advertising developed by groups of advertising firms and individual businesses. Similar organizations in succeeding decades, such as the National Better Business Commission, Inc. of the Associated Advertising Clubs of the World (1921), and the National Association of Better Business Bureaus, Inc. (1933) merged to become the Association of Better Business Bureaus, Inc in 1946. In 1970, the Council of Better Business Bureaus, Inc. (CBBB) was established.
Structure and funding
The 112 regional BBBs are independently governed by their own boards of directors, but must meet international BBB requirements, which are monitored and enforced by the CBBB on a continuous basis. The CBBB is governed by leaders of local BBBs, as well as by senior executives from major American corporations, and community leaders such as academics and legal experts. A study by a business school dean at Marquette University found that ninety percent of BBB board members are from business.
Each BBB entity is run separately. Businesses that move from one BBB jurisdiction to another may need to apply for BBB Accreditation in the new BBB location unless they have a system-wide accreditation. BBB entities are chiefly funded by member businesses. The national CBBB receives franchise fees, which amounted to $131 million in 2007. CBBB also receives funding from corporate partners and sponsors.
Dispute resolution procedures
The organization's dispute resolution procedures are established by the Council of the Better Business Bureaus, and implemented by local BBBs. Usually, disputes can be resolved through mediation; when appropriate, low or no-cost arbitration may also be offered and provided through the BBB. The BBB acts as a neutral party when providing dispute resolution services.
Complaints about the practice of professions like medicine, law and accounting are usually not handled by the BBB and are referred to associations regulating those professions. The BBB does not handle complaints that have gone to court or in the process of going to court. It significantly reduces a scope of complaints that can be reported by consumers because very often serious complains and disputes in one way or another involve a court action.
If a BBB receives a consumer dispute, the BBB contacts the business in question and offers to mediate the dispute. A criteria for mediating the dispute, is for the business to become a member of the BBB. However, if a company chooses not to join the BBB(and pay their dues) a decreased score will be given for "failure to provide information." This has caused complaints that the BBB compiles scores based upon their ability to collect their money from businesses, and not entirely upon business performance.
Rating system and accreditation
Until 2008, the BBB rated companies "satisfactory" or "unsatisfactory". On June 1, 2009, the BBB moved to a new system based on a school-style A-F rating system. The 16 factors have been posted on each business review since the programs inception (http://www.bbb.org/business-reviews/ratings/) and the details on the points awarded as well(http://www.bbb.org/business-reviews/ratings/overview.html). Initially there was a 17th factor worth 4 points for businesses that were Accredited and paid a fee to BBB. That process was changed in November 2010 in response to criticism in the media and from the Connecticut attorney general which accused BBB of using 'pay to play' tactics. There are currently over 625,000 companies rated "A+" that are not accredited and pay no fees to BBB and almost 300,000 accredited firms with an "A+" rating that are paying annual fees. One unanswered complaint can cause a smaller business to receive an "F".
If a business chooses not to provide detailed information for reasons of protecting information considered largely private, the BBB will give them a very low rating. A low rating due solely to a company not providing information would read: "BBB does not have sufficient background information on this business."
A BBB official says that the new rating system gives businesses more incentive to make improvements. Traffic on BBB websites increased by double-digits. The Attorney General of Connecticut has demanded that the BBB stop using the system, calling it "potentially harmful and misleading" to consumers.
Criticism
In 2010,
20/20
, an ABC network news magazine, reported in a segment titled 'The Best Ratings Money Can Buy' about the irregularities in BBB ratings. They reported that a man created two dummy companies which received A+ ratings as soon as he had paid the membership fee. They also reported that business owners were told that the only way to improve their rating was by paying the fee. In one case a C was turned to an A immediately after a payment and in another case a C- became an A+. Chef
Wolfgang Puck
Wolfgang Puck
Wolfgang Johannes Puck is an Austrian-American celebrity chef, restaurateur, businessman and occasional actor. Wolfgang Puck restaurants, catering services, cookbooks and licensed products are run by Wolfgang Puck Companies, with three divisions...
said that some of his businesses receive Fs because he refuses to pay a fee. Ritz Carlton, which does not belong either, also receives Fs for not responding to its complaints.
In response, the president of the Council of Better Business Bureaus has stated the BBB ratings system will cease awarding points to businesses for being BBB members. The national BBB's executive committee took several steps to address the public's perception of the ratings system. The BBB ratings system no longer gives additional points to businesses who pay accreditation fees. They also implemented a system to handle complaints about BBB sales practices and planned a review of their accreditation process.
In Canada, the CBC News reported in 2010, that Canadian BBBs were downgrading the ratings scores of businesses who stopped paying their dues. For example, a moving business who had an A rating and had been a BBB member for 20 years, dropped to a D-minus rating when they allegedly no longer wanted to pay dues.
BBBs have been accused of unduly protecting companies. The BBB responds by, at a minimum, notating complaints on the "Reliability Report" section of its web sites. If a branch does not act reasonably on behalf of a consumer, a complaint may be filed with the
Federal Trade Commission
Federal Trade Commission
The Federal Trade Commission is an independent agency of the United States government, established in 1914 by the Federal Trade Commission Act...
. However, recent reports have suggested that the Austin chapter of the Better Business Bureau refused to resolve complaints against companies if customers do not pay a $70 "mediation fee".
Because of its requirement that businesses pay dues and tribute, this has engendered complaints that the BBB compiles scores based upon their ability to collect money from businesses, and not upon business performance.
Even though complaints can be resolved, a higher volume of satisfactorily resolved complaints can incrementally lower a company's rating. The BBB does not give consideration to the validity of complaints. The incremental decrease to a business's BBB rating are not based on the percentage of that company's customers that complained, but rather an algorithm that clumps businesses of dissimilar size together.
Criticism on case resolutions
It has been reported that the BBB encourages and solicits money from the very businesses they monitor, which again, raises the question of neutrality.
On December 22, 2010, William Mitchell, CEO of the Los Angeles BBB, and originator of the BBB Letter Grading System, resigned as a result of an internal investigation conducted by the CBBB.
External links