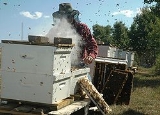 Beekeeper
A
beekeeper
is a person who keeps
honey bee
Honey bee
Honey bees are a subset of bees in the genus Apis, primarily distinguished by the production and storage of honey and the construction of perennial, colonial nests out of wax. Honey bees are the only extant members of the tribe Apini, all in the genus Apis...
s for the purposes of securing commodities such as
honey
Honey
Honey is a sweet food made by bees using nectar from flowers. The variety produced by honey bees is the one most commonly referred to and is the type of honey collected by beekeepers and consumed by humans...
,
beeswax
Beeswax
Beeswax is a natural wax produced in the bee hive of honey bees of the genus Apis. It is mainly esters of fatty acids and various long chain alcohols...
,
pollen
Pollen
Pollen is a fine to coarse powder containing the microgametophytes of seed plants, which produce the male gametes . Pollen grains have a hard coat that protects the sperm cells during the process of their movement from the stamens to the pistil of flowering plants or from the male cone to the...
,
royal jelly
Royal jelly
Royal jelly is a honey bee secretion that is used in the nutrition of larvae, as well as adult queens. It is secreted from the glands in the hypopharynx of worker bees, and fed to all larvae in the colony....
;
pollinating
Pollination
Pollination is the process by which pollen is transferred in plants, thereby enabling fertilisation and sexual reproduction. Pollen grains transport the male gametes to where the female gamete are contained within the carpel; in gymnosperms the pollen is directly applied to the ovule itself...
fruits and vegetables; raising queens and bees for sale to other farmers; and/or for purposes satisfying natural scientific curiosity. People who
keep bees
Beekeeping
Beekeeping is the maintenance of honey bee colonies, commonly in hives, by humans. A beekeeper keeps bees in order to collect honey and other products of the hive , to pollinate crops, or to produce bees for sale to other beekeepers...
are usually classified as hobby beekeepers, sideliners, or commercial operators, depending on the number of colonies maintained.
Beekeepers are also called honey farmers or
apiarists
(from
Latin
Latin
Latin is an Italic language originally spoken in Latium and Ancient Rome. It, along with most European languages, is a descendant of the ancient Proto-Indo-European language. Although it is considered a dead language, a number of scholars and members of the Christian clergy speak it fluently, and...
apis
,
bee
Bee
Bees are flying insects closely related to wasps and ants, and are known for their role in pollination and for producing honey and beeswax. Bees are a monophyletic lineage within the superfamily Apoidea, presently classified by the unranked taxon name Anthophila...
; cf.