 Beddgelert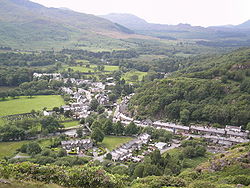 Beddgelert
, or in older English spelling often
Bedgellert
, (Gelert's grave) is a
village
Village
A village is a clustered human settlement or community, larger than a hamlet with the population ranging from a few hundred to a few thousand , Though often located in rural areas, the term urban village is also applied to certain urban neighbourhoods, such as the West Village in Manhattan, New...
and
community
Community (Wales)
A community is a division of land in Wales that forms the lowest-tier of local government in Wales. Welsh communities are analogous to civil parishes in England....
in the
Snowdonia
Snowdonia
Snowdonia is a region in north Wales and a national park of in area. It was the first to be designated of the three National Parks in Wales, in 1951.-Name and extent:...
area of
Gwynedd
Gwynedd
Gwynedd is a county in north-west Wales, named after the old Kingdom of Gwynedd. Although the second biggest in terms of geographical area, it is also one of the most sparsely populated...
,
Wales
Wales
Wales is a country that is part of the United Kingdom and the island of Great Britain, bordered by England to its east and the Atlantic Ocean and Irish Sea to its west. It has a population of three million, and a total area of 20,779 km²...
. It is reputed to be named after the legendary
hound
Hound
A hound is a type of dog that assists hunters by tracking or chasing the animal being hunted. It can be contrasted with the gun dog, which assists hunters by identifying the location of prey, and with the retriever, which recovers shot quarry...
Gelert
Gelert
Gelert is the name of a legendary dog associated with the village of Beddgelert in Gwynedd, northwest Wales. The story of Gelert is a variation on the well-worn "Faithful Hound" folk-tale motif, which lives on as an urban legend...
. Population 617.
History
Despite the presence of a raised mound in the village called Gelert's Grave, now a tourist attraction, there is absolutely no evidence for Gelert's existence. The "grave" mound is ascribed to the activities of a late 18th-century landlord of the Goat Hotel in Beddgelert, David Pritchard, who connected the legend to the village in order to encourage tourism. Similar legends can be found in other parts of Europe and Asia.
The village is probably named after an early
Christian
Christian
A Christian is a person who adheres to Christianity, an Abrahamic, monotheistic religion based on the life and teachings of Jesus of Nazareth as recorded in the Canonical gospels and the letters of the New Testament...
missionary
Missionary
A missionary is a member of a religious group sent into an area to do evangelism or ministries of service, such as education, literacy, social justice, health care and economic development. The word "mission" originates from 1598 when the Jesuits sent members abroad, derived from the Latin...
and leader called Celert (or Cilert) who settled here early in the 8th century. The earliest record of the name Beddgelert appears on a document dated 1258, and the name recorded is "Bekelert". In a document of 1269 it is recorded as "Bedkelerd".
Economy & Attractions
Beddgelert is a significant tourist attraction, its picturesque bridge crossing the
River Colwyn
River Colwyn
The River Colwyn is a small river in Gwynedd, north-west Wales, a tributary of the River Glaslyn....
just upstream of its
confluence
Confluence
Confluence, in geography, describes the meeting of two or more bodies of water.Confluence may also refer to:* Confluence , a property of term rewriting systems...
with the
River Glaslyn
River Glaslyn
The Afon Glaslyn is a river in Gwynedd, north-west Wales. Whilst not of great significance in terms of its length , it is one of Gwynedd's primary rivers, and has greatly influenced the landscape in which it flows....
. It is also the nearest village to the scenic
Glaslyn gorge
River Glaslyn
The Afon Glaslyn is a river in Gwynedd, north-west Wales. Whilst not of great significance in terms of its length , it is one of Gwynedd's primary rivers, and has greatly influenced the landscape in which it flows....
, an area of tumultuous river running between steep wooded hills. Much of the area is however becoming invaded by the alien plant,
Rhododendron ponticum
Rhododendron
Rhododendron is a genus of over 1 000 species of woody plants in the heath family, most with showy flowers...
which provides a covering of pink blossom in May and June, but which is slowly blanketing out the native flora. Attempts have been made to control its spread by cutting and burning.
River levels on the River Glaslyn in Beddgelert are constantly monitored by the
Environment Agency
Environment Agency
The Environment Agency is a British non-departmental public body of the Department for Environment, Food and Rural Affairs and an Assembly Government Sponsored Body of the Welsh Assembly Government that serves England and Wales.-Purpose:...
, in order to give advance warning of flood conditions lower down the valley.
Beddgelert has a range of
hotel
Hotel
A hotel is an establishment that provides paid lodging on a short-term basis. The provision of basic accommodation, in times past, consisting only of a room with a bed, a cupboard, a small table and a washstand has largely been replaced by rooms with modern facilities, including en-suite bathrooms...
s and guesthouses,
cafe
Café
A café , also spelled cafe, in most countries refers to an establishment which focuses on serving coffee, like an American coffeehouse. In the United States, it may refer to an informal restaurant, offering a range of hot meals and made-to-order sandwiches...
s,
restaurant
Restaurant
A restaurant is an establishment which prepares and serves food and drink to customers in return for money. Meals are generally served and eaten on premises, but many restaurants also offer take-out and food delivery services...
s and pubs. The car park in the village provides the easiest access route for climbing
Moel Hebog
Moel Hebog
Moel Hebog is a mountain in Snowdonia, north Wales which dominates the view west from the village of Beddgelert...
, the mountain which directly overlooks the village.
The
Welsh Highland Railway
Welsh Highland Railway
The Welsh Highland Railway is a long restored narrow gauge heritage railway in North Wales, operating from Caernarfon to Porthmadog, and passing through a number of popular tourist destinations including Beddgelert and the Aberglaslyn Pass. At Porthmadog it connects with the Ffestiniog Railway...
is currently rebuilding the former railway line, and in April 2009 reopened the
railway station
Beddgelert railway station
Beddgelert railway station is a railway station on the narrow gauge Welsh Highland Railway in North Wales.The rebuilt station was officially opened by Lord Elis-Thomas on 7 April 2009.-History:...
to the public, linking the village with
Caernarfon
Caernarfon
Caernarfon is a Royal town, community and port in Gwynedd, Wales, with a population of 9,611. It lies along the A487 road, on the east banks of the Menai Straits, opposite the Isle of Anglesey. The city of Bangor is to the northeast, while Snowdonia fringes Caernarfon to the east and southeast...
to the north. Once fully open, the line will also link with
Porthmadog
Porthmadog
Porthmadog , known locally as "Port", and historically rendered into English as Portmadoc, is a small coastal town and community in the Eifionydd area of Gwynedd, in Wales. Prior to the Local Government Act 1972 it was in the administrative county of Caernarfonshire. The town lies east of...
to the south.
Other local attractions include the
Sygun Copper Mine
Sygun Copper Mine
Sygun Copper Mine is a Victorian copper mine that was closed in 1903 and was renovated and reopened by the Amies family as a tourist attraction in 1986, focusing on audio-visual tours of the underground workings.- Location :...
.
The village is also linked with the
Rupert Bear
Rupert Bear
Rupert Bear is a children's comic strip character, who features in a series of books based around his adventures. The character was created by the English artist Mary Tourtel and first appeared in the Daily Express on 8 November 1920. Rupert's initial purpose was to win sales from the rival...
stories, as
Alfred Bestall
Alfred Bestall
Alfred Edmeades "Fred" Bestall, MBE , was the author and illustrator of Rupert Bear for the London Daily Express, from 1935 to 1965.-Early life:...
wrote and illustrated some of the stories whilst he lived in the village, in a cottage at the foot of Mynydd Sygun.
Local Bards
Renowned
bard
Bard
In medieval Gaelic and British culture a bard was a professional poet, employed by a patron, such as a monarch or nobleman, to commemorate the patron's ancestors and to praise the patron's own activities.Originally a specific class of poet, contrasting with another class known as fili in Ireland...
s who lived in the area in the 15th–16th centuries include
Dafydd Nanmor
Dafydd Nanmor
Dafydd Nanmor was a Welsh language poet born at Nanmor , in Gwynedd, north-west Wales. He is one of the most significant poets of this period....
,
Rhys Nanmor
Rhys Nanmor
Rhys Nanmor was a welsh language poet who lived in Nanmor, near Beddgelert in North Wales.Among his surviving work is a prophecy to Henry VII and an elegy on the death of Arthur, Prince of Wales, who died in 1502....
and
Rhys Goch Eryri
Rhys Goch Eryri
Rhys Goch Eryri , was a 15th century bard who lived at Hafod Garegog, near Beddgelert in North Wales. He was acquainted with Dafydd Nanmor, who lived in neighbouring Nantmor, and it is possible that Rhys Goch was a teacher to him...
. More recently in the 19th through to the 20th centuries both Glaslyn & Carneddog lived in
Nantmor
Nantmor
Nantmor is a hamlet which lies about 1½ miles to the south of the village of Beddgelert in Gwynedd, North Wales.The current spelling of the name Nantmor is more modern most old documents from the 16th to the 18th century record the name as Nanmor, although the Ordnance Survey map of 1558 records...
. Currently Nantmor is still home to poets, including Nia Powell & Cynan Jones.
External links