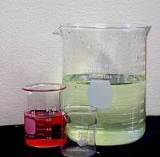 Beaker (glassware)
A
beaker
is a simple container for stirring, mixing and heating liquids commonly used in many laboratories. Beakers are generally
cylindrical
Cylinder (geometry)
A cylinder is one of the most basic curvilinear geometric shapes, the surface formed by the points at a fixed distance from a given line segment, the axis of the cylinder. The solid enclosed by this surface and by two planes perpendicular to the axis is also called a cylinder...
in shape, with a flat bottom. Most also have a small spout (or "beak") to aid pouring as shown in the picture. Beakers are available in a wide range of sizes, from one millilitre up to several litres.
Structure
Standard or "Low-form" beakers typically have a height about 1.4 times the diameter. The common low form with a spout was devised by
John Joseph Griffin
John Joseph Griffin
- Life :Griffin was born in 1802 in Shoreditch, London, the son of a bookseller and publisher. The family moved to Glasgow when he was young, and he studied at the Andersonian Institution. He also received training in chemistry at Paris and at Heidelberg....
and is therefore sometimes called a Griffin beaker. These are the most universal character and are used for various purposes - from preparing solutions and decanting supernatant fluids to simple reactions.
"Tall-form" (B) beakers have a height about twice the diameter. These are sometimes called
Berzelius
Berzelius
Berzelius is a secret society at Yale University named for the Swedish scientist Jöns Jakob Berzelius, considered one of the founding fathers of modern chemistry...
beakers. They are mostly used for titration.
Flat beakers (C) are often called crystallizers, because most are used to perform crystallization, but often it is also used as a vessel for use in hot-bath heating. These beakers usually do not have a flat scale.
A beaker is distinguished from a
flask
Laboratory flask
Laboratory flasks are vessels which fall into the category of laboratory equipment known as glassware. In laboratory and other scientific settings, they are usually referred to simply as flasks...
by having sides which are straight rather than sloping. The exception to this definition is a slightly conical sided beaker called a Phillips beaker.
A Beaker is a deep cup or glass with a wide mouth and usually a lip for pouring.
Materials
Beakers are commonly made of glass (today usually
borosilicate glass
Borosilicate glass
Borosilicate glass is a type of glass with the main glass-forming constituents silica and boron oxide. Borosilicate glasses are known for having very low coefficients of thermal expansion , making them resistant to thermal shock, more so than any other common glass...
), but can also be in metal (such as
stainless steel
Stainless steel
In metallurgy, stainless steel, also known as inox steel or inox from French "inoxydable", is defined as a steel alloy with a minimum of 10.5 or 11% chromium content by mass....
or
aluminium
Aluminium
Aluminium or aluminum is a silvery white member of the boron group of chemical elements. It has the symbol Al, and its atomic number is 13. It is not soluble in water under normal circumstances....
) or certain plastics (notably polythene,
polypropylene
Polypropylene
Polypropylene , also known as polypropene, is a thermoplastic polymer used in a wide variety of applications including packaging, textiles , stationery, plastic parts and reusable containers of various types, laboratory equipment, loudspeakers, automotive components, and polymer banknotes...
, PTFE). A common use for polypropylene beakers is gamma spectral analysis of liquid and solid samples.
Shape
Beakers are often
graduated
, that is, marked on the side with lines indicating the volume contained. For instance, a 250 mL beaker might be marked with lines to indicate 50, 100, 150, 200, and 250 mL of volume. These marks are not intended for obtaining a precise measurement of volume (a
graduated cylinder
Graduated cylinder
A graduated cylinder, measuring cylinder or graduate is a piece of laboratory equipment used to accurately measure the volume of a liquid. Water displacement can be used to find out the volume of a solid. Graduated cylinders are generally more accurate and precise for this purpose than flasks and...
or a
volumetric flask
Volumetric flask
A volumetric flask is a piece of laboratory glassware, a type of laboratory flask, used in analytical chemistry for the preparation of solutions. It is made of glass or plastic and consists of a flat bottomed bulb with a long neck, usually fitted with a stopper. The stopper is normally made in a...
would be a more appropriate instrument for such a task), but rather an estimation.
The presence of a lip means that the beaker cannot have a lid. However, when in use, beakers may be covered by a
watch glass
Watch glass
A watch glass is a circular, slightly convex-concave piece of glass used in chemistry as a surface to evaporate a liquid, to hold solids while being weighed, or as a cover for a beaker...
to prevent contamination or loss of the contents, but allowing venting via the spout.
See also
Further reading
ASTM E960 - 93 (2008) Standard Specification for Laboratory Glass Beakers