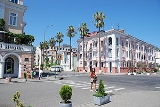 Batumi
Batumi
is a seaside city on the
Black Sea
Black Sea
The Black Sea is bounded by Europe, Anatolia and the Caucasus and is ultimately connected to the Atlantic Ocean via the Mediterranean and the Aegean seas and various straits. The Bosphorus strait connects it to the Sea of Marmara, and the strait of the Dardanelles connects that sea to the Aegean...
coast and capital of
Adjara
Adjara
Adjara , officially the Autonomous Republic of Adjara , is an autonomous republic of Georgia.Adjara is located in the southwestern corner of Georgia, bordered by Turkey to the south and the eastern end of the Black Sea...
, an
autonomous republic
Autonomous republic
An autonomous republic is a type of administrative division similar to a province. A significant number of autonomous republics can be found within the successor states of the Soviet Union, but the majority are located within Russia. Many of these republics were established during the Soviet...
in southwest
Georgia
Georgia (country)
Georgia is a sovereign state in the Caucasus region of Eurasia. Located at the crossroads of Western Asia and Eastern Europe, it is bounded to the west by the Black Sea, to the north by Russia, to the southwest by Turkey, to the south by Armenia, and to the southeast by Azerbaijan. The capital of...
. Sometimes considered Georgia's second capital, with a population of 121,806 (2002 census), Batumi serves as an important port and a commercial center. It is situated in a subtropical zone, rich in agricultural produce such as citrus fruit and tea. While industries of the city include shipbuilding, food processing, and light manufacturing, most of its economy revolves around tourism.
Batumi is located on the site of the
ancient Greek
Ancient Greece
Ancient Greece is a civilization belonging to a period of Greek history that lasted from the Archaic period of the 8th to 6th centuries BC to the end of antiquity. Immediately following this period was the beginning of the Early Middle Ages and the Byzantine era. Included in Ancient Greece is the...
colony in
Colchis
Colchis
In ancient geography, Colchis or Kolkhis was an ancient Georgian state kingdom and region in Western Georgia, which played an important role in the ethnic and cultural formation of the Georgian nation.The Kingdom of Colchis contributed significantly to the development of medieval Georgian...
called Bathus or Bathys – derived from the Greek phrase
bathus limen
or
bathys limin
meaning "deep harbour".