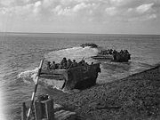 Battle of the Scheldt
The
Battle of the Scheldt
was a series of
military operation
Military operation
Military operation is the coordinated military actions of a state in response to a developing situation. These actions are designed as a military plan to resolve the situation in the state's favor. Operations may be of combat or non-combat types, and are referred to by a code name for the purpose...
s of the
Canadian 1st Army
First Canadian Army
The First Canadian Army was the senior Canadian operational formation in Europe during the Second World War.The Army was formed in early 1942, replacing the existing unnumbered Canadian Corps, as the growing number of Canadian forces in the United Kingdom necessitated an expansion to two corps...
, led by Lieutenant-General
Guy Simonds
Guy Simonds
Lieutenant General Guy Granville Simonds, CC, CB, CBE, DSO, CD was a Canadian Army officer who commanded the II Canadian Corps during World War II. He served as acting commander of the First Canadian Army, leading the Allied forces to victory in the Battle of the Scheldt in 1944...
. The battle took place in northern Belgium and southwestern Netherlands during World War II from 2 October-8 November 1944
By September 1944, it had become urgent for the
Allies
Allies of World War II
The Allies of World War II were the countries that opposed the Axis powers during the Second World War . Former Axis states contributing to the Allied victory are not considered Allied states...
to clear both banks of the
Scheldt
Scheldt
The Scheldt is a 350 km long river in northern France, western Belgium and the southwestern part of the Netherlands...
estuary
Estuary
An estuary is a partly enclosed coastal body of water with one or more rivers or streams flowing into it, and with a free connection to the open sea....
in order to open the port of
Antwerp
to Allied shipping, thus easing logistical burdens in their supply lines stretching hundreds of miles from
Normandy
Normandy
Normandy is a geographical region corresponding to the former Duchy of Normandy. It is in France.The continental territory covers 30,627 km² and forms the preponderant part of Normandy and roughly 5% of the territory of France. It is divided for administrative purposes into two régions:...
eastward to the
Siegfried Line
Siegfried Line
The original Siegfried line was a line of defensive forts and tank defences built by Germany as a section of the Hindenburg Line 1916–1917 in northern France during World War I...
.