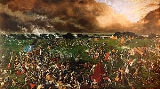 Battle of San Jacinto
The
Battle of San Jacinto
, fought on April 21, 1836, in present-day
Harris County, Texas
Harris County, Texas
As of the 2010 Census, the population of the county was 4,092,459, White Americans made up 56.6% of Harris County's population; non-Hispanic whites represented 33.0% of the population. Black Americans made up 18.9% of the population. Native Americans made up 0.7% of Harris County's population...
, was the decisive battle of the
Texas Revolution
Texas Revolution
The Texas Revolution or Texas War of Independence was an armed conflict between Mexico and settlers in the Texas portion of the Mexican state Coahuila y Tejas. The war lasted from October 2, 1835 to April 21, 1836...
. Led by General
Sam Houston
Sam Houston
Samuel Houston, known as Sam Houston , was a 19th-century American statesman, politician, and soldier. He was born in Timber Ridge in the Shenandoah Valley of Virginia, of Scots-Irish descent. Houston became a key figure in the history of Texas and was elected as the first and third President of...
, the
Texian Army
Texian Army
The Texian Army was a military organization consisting of volunteer and regular soldiers who fought against the Mexican army during the Texas Revolution. Approximately 3,700 men joined the army between October 2, 1835 during the Battle of Gonzales through the end of the war on April 21, 1836, at...
engaged and defeated General
Antonio López de Santa Anna
Antonio López de Santa Anna
Antonio de Padua María Severino López de Santa Anna y Pérez de Lebrón , often known as Santa Anna or López de Santa Anna, known as "the Napoleon of the West," was a Mexican political leader, general, and president who greatly influenced early Mexican and Spanish politics and government...
's
Mexican
Mexico
The United Mexican States , commonly known as Mexico , is a federal constitutional republic in North America. It is bordered on the north by the United States; on the south and west by the Pacific Ocean; on the southeast by Guatemala, Belize, and the Caribbean Sea; and on the east by the Gulf of...
forces in a fight that lasted just eighteen minutes. About 630 of the Mexican soldiers were killed and 730 captured, while only nine
Texans
Texas
Texas is the second largest U.S. state by both area and population, and the largest state by area in the contiguous United States.The name, based on the Caddo word "Tejas" meaning "friends" or "allies", was applied by the Spanish to the Caddo themselves and to the region of their settlement in...
died.
Santa Anna, the President of Mexico, was captured the following day and held as a prisoner of war.