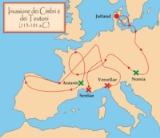 Military strategy
Military strategy
is a set of ideas implemented by
military organization
Military organization
Military organization is the structuring of the armed forces of a state so as to offer military capability required by the national defence policy. In some countries paramilitary forces are included in a nation's armed forces...
s to pursue desired
strategic goal
Strategic goal (military)
A strategic military goal is used in strategic planning to define desired end-state of a war or a campaign. Usually it entails either a strategic change in enemy's military posture, intentions or ongoing operations, or achieving a strategic victory over the enemy that ends the conflict, although...
s. Derived from the
Greek
Greek language
Greek is an independent branch of the Indo-European family of languages. Native to the southern Balkans, it has the longest documented history of any Indo-European language, spanning 34 centuries of written records. Its writing system has been the Greek alphabet for the majority of its history;...
strategos
Strategos
Strategos, plural strategoi, is used in Greek to mean "general". In the Hellenistic and Byzantine Empires the term was also used to describe a military governor...
, strategy when it appeared in use during the 18th century, was seen in its narrow sense as the "art of the
general
General
A general officer is an officer of high military rank, usually in the army, and in some nations, the air force. The term is widely used by many nations of the world, and when a country uses a different term, there is an equivalent title given....
", 'the art of arrangement' of troops. Military strategy deals with the planning and conduct of campaigns, the movement and disposition of forces, and the
deception
Military deception
Military deception is an attempt to amplify, or create an artificial fog of war or to mislead the enemy using psychological operations, information warfare and other methods. As a form of strategic use of information , it overlaps with psychological warfare...
of the enemy.
The father of modern
strategic study
Strategic studies
Strategic studies is an interdisciplinary academic field devoted to topics concerning the relationship between politics, geography and natural resources, economics, and military power, such as the role of intelligence, diplomacy and threats in the preparation and use of force...
,
Carl von Clausewitz
Carl von Clausewitz
Carl Philipp Gottfried von Clausewitz was a Prussian soldier and German military theorist who stressed the moral and political aspects of war...
, defined military strategy as "the employment of battles to gain the end of war." B.