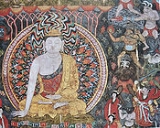 Cannon
A
cannon
is any piece of
artillery
Artillery
Originally applied to any group of infantry primarily armed with projectile weapons, artillery has over time become limited in meaning to refer only to those engines of war that operate by projection of munitions far beyond the range of effect of personal weapons...
that uses
gunpowder
Gunpowder
Gunpowder, also known since in the late 19th century as black powder, was the first chemical explosive and the only one known until the mid 1800s. It is a mixture of sulfur, charcoal, and potassium nitrate - with the sulfur and charcoal acting as fuels, while the saltpeter works as an oxidizer...
or other usually explosive-based propellents to launch a projectile. Cannon vary in
caliber
Caliber
In guns including firearms, caliber or calibre is the approximate internal diameter of the barrel in relation to the diameter of the projectile used in it....
, range, mobility, rate of fire, angle of fire, and firepower; different forms of cannon combine and balance these attributes in varying degrees, depending on their intended use on the battlefield. The word
cannon
is derived from several languages, in which the original definition can usually be translated as
tube
,
cane
, or
reed
.