 Bass Performance Hall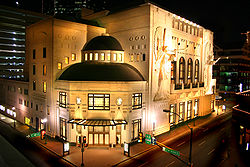 The
Nancy Lee and Perry R. Bass Performance Hall
in
Fort Worth, Texas
Fort Worth, Texas
Fort Worth is the 16th-largest city in the United States of America and the fifth-largest city in the state of Texas. Located in North Central Texas, just southeast of the Texas Panhandle, the city is a cultural gateway into the American West and covers nearly in Tarrant, Parker, Denton, and...
is located in
downtown
Downtown
Downtown is a term primarily used in North America by English speakers to refer to a city's core or central business district ....
Fort Worth near
Sundance Square
Sundance Square
Sundance Square is the name of an area in downtown Fort Worth, Texas. Named after the Sundance Kid in western folklore, it is a popular place for nightlife and entertainment in Fort Worth and for tourists visiting the Dallas/Fort Worth Metroplex...
, occupies a whole city block, and was opened in 1998. It was built entirely with private funds and seats 2,056 people in a city with an estimated 2009 population of 720,250. It is regarded as an important symbol of one of the most successful downtown revitalization efforts in the country.
The European opera house-inspired
limestone
Limestone
Limestone is a sedimentary rock composed largely of the minerals calcite and aragonite, which are different crystal forms of calcium carbonate . Many limestones are composed from skeletal fragments of marine organisms such as coral or foraminifera....
structure has been called the "crown jewel of downtown Fort Worth".
It was designed by David M. Schwarz/Architectural Services, Inc. and is characteristic of the classic European opera house form. An 80 feet (24.4 m) Great Dome, artfully painted by Scott and Stuart Gentling, tops the Founders Concert Theater. Two 48 feet (14.6 m) angels sculpted by Marton Varo from Texas limestone grace the Grand Façade. The Hall's acoustics were designed and implemented by
JaffeHolden Acoustics, Inc.
of Norwalk, CT.
The Hall itself is renowned for its superb acoustics, exceptional sightlines and ambience on level with the great halls of the world. In fact, in an article by Daniel March in the March 1999 issue of
Travel and Leisure
magazine, it is described as "the newest star in the opera-house firmament…. Two giant, hand-carved trumpet-playing angels on the façade announce its welcome presence in the middle of downtown and, although surmounted by a dome that appears to float over trompe l'oeil clouds (built in) a mixture of Beaux-Arts and Vienna Secessionist styles".
Built as a multi-purpose facility, the Hall is able to house symphony, ballet, opera, stage, musicals, and rock concerts and it is now the permanent home to the
Fort Worth Symphony Orchestra
Fort Worth Symphony Orchestra
The Fort Worth Symphony Orchestra is a symphony orchestra based in Fort Worth, Texas. The orchestra performs at the Nancy Lee and Perry R. Bass Performance Hall in downtown Fort Worth...
,
Texas Ballet Theater
Texas Ballet Theater
The Texas Ballet Theater was founded by Margo Dean in 1961 as the Fort Worth Ballet, in Fort Worth, Texas. It became a professional ballet company in 1985. In 1988 the company began adding performances in Dallas. It became the Fort Worth Dallas Ballet in 1994, then was renamed Texas Ballet Theater...
,
Fort Worth Opera
Fort Worth Opera
According to the company, Fort Worth Opera is the oldest, continually performing opera company in the state of Texas and among the oldest in the United States. While originally presenting operas one at a time over a fall/winter season, it changed to a "festival" format in 2007...
, and the
Van Cliburn International Piano Competition
Van Cliburn International Piano Competition
The Van Cliburn International Piano Competition was first held in 1962 in Fort Worth, Texas and is hosted by Van Cliburn Foundation. It was created by Fort Worth area teachers in honor of Van Cliburn, who had won the first International Tchaikovsky Competition four years prior with Tchaikovsky's...
and
Cliburn
Van Cliburn
Harvey Lavan "Van" Cliburn Jr. is an American pianist who achieved worldwide recognition in 1958 at age 23, when he won the first quadrennial International Tchaikovsky Piano Competition in Moscow, at the height of the Cold War....
Concerts. Performing Arts Fort Worth, which manages the Hall, also hosts its own performances here, including national touring Broadway productions and a family series.
In 2001, the adjacent Maddox-Muse Center officially opened; and with it, the new Van Cliburn Recital Hall and the McDavid Studio (renamed in 2006 from McNair Rehearsal Studio). Also housed within Maddox-Muse Center are offices for Performing Arts Fort Worth, the non-profit organization that oversees management of the Hall, and the Fort Worth Symphony Orchestra.
McDavid Studio in the Maddox-Muse Center is gaining a strong reputation as a performance venue in its own right. The space can seat as many as 220 in cabaret style.
External links