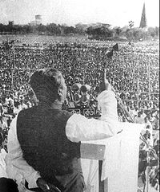 Bangladesh Liberation War
The
Bangladesh Liberation War
( Muktijuddho) was an armed conflict pitting
East Pakistan
East Pakistan
East Pakistan was a provincial state of Pakistan established in 14 August 1947. The provincial state existed until its declaration of independence on 26 March 1971 as the independent nation of Bangladesh. Pakistan recognized the new nation on 16 December 1971. East Pakistan was created from Bengal...
and
India
India
India , officially the Republic of India , is a country in South Asia. It is the seventh-largest country by geographical area, the second-most populous country with over 1.2 billion people, and the most populous democracy in the world...
against
West Pakistan
West Pakistan
West Pakistan , common name West-Pakistan , in the period between its establishment on 22 November 1955 to disintegration on December 16, 1971. This period, during which, Pakistan was divided, ended when East-Pakistan was disintegrated and succeeded to become which is now what is known as Bangladesh...
. The war resulted in the
secession
Secession
Secession is the act of withdrawing from an organization, union, or especially a political entity. Threats of secession also can be a strategy for achieving more limited goals.-Secession theory:...
of East Pakistan, which became the independent nation of
Bangladesh
Bangladesh
Bangladesh , officially the People's Republic of Bangladesh is a sovereign state located in South Asia. It is bordered by India on all sides except for a small border with Burma to the far southeast and by the Bay of Bengal to the south...
.
The war broke out on 26 March 1971 as army units directed by West Pakistan launched a military operation in East Pakistan against
Bengali
Bengali people
The Bengali people are an ethnic community native to the historic region of Bengal in South Asia. They speak Bengali , which is an Indo-Aryan language of the eastern Indian subcontinent, evolved from the Magadhi Prakrit and Sanskrit languages. In their native language, they are referred to as বাঙালী...
civilians, students, intelligentsia, and armed personnel who were demanding separation of the East from West Pakistan.