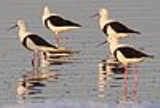 Banded Stilt
The
Banded Stilt
is a nomadic
stilt
Stilt
Stilt is a common name for several species of birds in the family Recurvirostridae, which also includes those known as avocets. They are found in brackish or saline wetlands in warm or hot climates....
from
Australia
Australia
Australia , officially the Commonwealth of Australia, is a country in the Southern Hemisphere comprising the mainland of the Australian continent, the island of Tasmania, and numerous smaller islands in the Indian and Pacific Oceans. It is the world's sixth-largest country by total area...
. It belongs to the monotypical genus
Cladorhynchus
. It gets its name from the red-brown breast band found on breeding adults, but this is mottled or entirely absent in non-breeding adults and juveniles. Its remaining
plumage
Plumage
Plumage refers both to the layer of feathers that cover a bird and the pattern, colour, and arrangement of those feathers. The pattern and colours of plumage vary between species and subspecies and can also vary between different age classes, sexes, and season. Within species there can also be a...
is pied and the eyes are dark brown. They breed whenever the water conditions are suitable and lay 3-4 white, brown or black
eggs
Bird egg
Bird eggs are laid by females and incubated for a time that varies according to the species; a single young hatches from each egg. Average clutch sizes range from one to about 17...
on a scrape.
It is locally known as the
Rottnest snipe
on
Rottnest Island
Rottnest Island
Rottnest Island is located off the coast of Western Australia, near Fremantle. It is called Wadjemup by the Noongar people, meaning "place across the water". The island is long, and at its widest point with a total land area of . It is classified as an A Class Reserve and is managed by the...
, though not related to true
snipe
Snipe
A snipe is any of about 25 wading bird species in three genera in the family Scolopacidae. They are characterized by a very long, slender bill and crypsis plumage. The Gallinago snipes have a nearly worldwide distribution, the Lymnocryptes Jack Snipe is restricted to Asia and Europe and the...
s.
External links