 Bacacay, Albay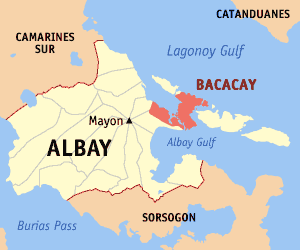 Bacacay
is a 2nd class municipality in the province of Albay,
Philippines
Philippines
The Philippines , officially known as the Republic of the Philippines , is a country in Southeast Asia in the western Pacific Ocean. To its north across the Luzon Strait lies Taiwan. West across the South China Sea sits Vietnam...
. According to the 2007 census, it has a population of 61,574 people in 11,154 households.
Tourism
Bacacay is a tourist place with caves and beaches. The town is visited most especially at summer due to many beautiful beaches. In fact, this is where the Kuron-Kuron Beach Resort, Viento de Mar Beach Resort, VRT (Tanchuling) Beach Resort, Michaelangelus Beach Resort, and the Misibis Beachfront Resort.
The current Municipal Mayor of Bacacay is Hon. Tobias Betito. He succeeded Mrs. Gloria Berango whose husband Atty. Eligio Berango was also the town Mayor for 9 years.
Barangays
Bacacay is politically subdivided into 58
barangay
Barangay
A barangay is the smallest administrative division in the Philippines and is the native Filipino term for a village, district or ward...
s.
For more information read the LGU Profile of Bacacay, Albay
Baclayon
Banao
Bariw
Basud
Bayandong
Bonga (Upper)
Bonga (Lower)
Buang
Cabasan
Cagbulacao
Cagraray
Cajogutan
Cawayan
Damacan
Gubat Ilawod
Gubat Iraya
Hindi
Igang
Langaton
Manaet

Mapulang Daga
Bogña (Pongco)
Mataas
Misibis
Nahapunan
Namanday
Namantao
Napao
Panarayon
Pigcobohan
Pili Ilawod
Pili Iraya
Barangay 1 (Pob.)
Barangay 10 (Pob.)
Barangay 11 (Pob.)
Barangay 12 (Pob.)
Barangay 13 (Pob.)
Barangay 14 (Pob.)
Barangay 2 (Pob.)
Barangay 3 (Pob.)
Barangay 4 (Pob.)
Barangay 5 (Pob.)
Barangay 6 (Pob.)
Barangay 7 (Pob.)
Barangay 8 (Pob.)
Barangay 9 (Pob.)
Pongco (Lower Bogña)
Busdac (San Jose)
San Pablo
San Pedro
Sogod
Sula
Tambilagao (Tambognon)
Tambongon (Tambilagao)
Tanagan
Uson
Vinisitahan (Mainland)
Vinisitahan-Napao (Island)
External links
http://www.deped.gov.ph/public/public.asp?sec=&pageno=1&keyword=&sort=&iwant2=&regid=9&divid=59&schtype=Public&schlevel=1&keyword2=Bacacay