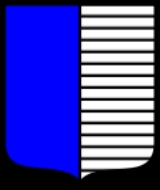 Azure
In
heraldry
Heraldry
Heraldry is the profession, study, or art of creating, granting, and blazoning arms and ruling on questions of rank or protocol, as exercised by an officer of arms. Heraldry comes from Anglo-Norman herald, from the Germanic compound harja-waldaz, "army commander"...
,
azure
is the
tincture
Tincture (heraldry)
In heraldry, tinctures are the colours used to emblazon a coat of arms. These can be divided into several categories including light tinctures called metals, dark tinctures called colours, nonstandard colours called stains, furs, and "proper". A charge tinctured proper is coloured as it would be...
with the colour
blue
Azure (color)
The color bleu de France is displayed at right.Bleu de France is a color that has been associated in heraldry with the Kings of France since the 12th century.-Brandeis blue:...
, and belongs to the class of tinctures called "colours". In
engraving
Engraving
Engraving is the practice of incising a design on to a hard, usually flat surface, by cutting grooves into it. The result may be a decorated object in itself, as when silver, gold, steel, or glass are engraved, or may provide an intaglio printing plate, of copper or another metal, for printing...
, it is sometimes depicted as a region of horizontal lines or else marked with either
az.
or
b.
as an abbreviation.
The term
azure
derives from name of the deep blue stone now called
lapis lazuli
Lapis lazuli
Lapis lazuli is a relatively rare semi-precious stone that has been prized since antiquity for its intense blue color....
(stone of
Lazhward
, a city in Persia known for its deposits of this stone). The word was adopted into
Old French
Old French
Old French was the Romance dialect continuum spoken in territories that span roughly the northern half of modern France and parts of modern Belgium and Switzerland from the 9th century to the 14th century...
by the twelfth century, from which the word passed into use in the
blazon
Blazon
In heraldry and heraldic vexillology, a blazon is a formal description of a coat of arms, flag or similar emblem, from which the reader can reconstruct the appropriate image...
of
coats of arms
Coat of arms
A coat of arms is a unique heraldic design on a shield or escutcheon or on a surcoat or tabard used to cover and protect armour and to identify the wearer. Thus the term is often stated as "coat-armour", because it was anciently displayed on the front of a coat of cloth...
.
As an heraldic colour, the word
azure
simply means "
blue
Blue
Blue is a colour, the perception of which is evoked by light having a spectrum dominated by energy with a wavelength of roughly 440–490 nm. It is considered one of the additive primary colours. On the HSV Colour Wheel, the complement of blue is yellow; that is, a colour corresponding to an equal...
". It is one of many concepts with both a French and German word in English, the former being used by the French-speaking nobles following the
Norman Conquest of England
Norman conquest of England
The Norman conquest of England began on 28 September 1066 with the invasion of England by William, Duke of Normandy. William became known as William the Conqueror after his victory at the Battle of Hastings on 14 October 1066, defeating King Harold II of England...
in 1066 and the latter being used by the commoners of
Anglo-Saxon
Anglo-Saxons
Anglo-Saxon is a term used by historians to designate the Germanic tribes who invaded and settled the south and east of Great Britain beginning in the early 5th century AD, and the period from their creation of the English nation to the Norman conquest. The Anglo-Saxon Era denotes the period of...
stock. So while French-speaking heralds described banners as
azure
, commoners simply called them
blue
. Because it comes from a French word that simply means "blue", a wide range of colour values is used in the depiction of azure in armory and flags.
In addition to the standard blue tincture called azure, there is a lighter blue sometimes found that is called
bleu celeste
Bleu celeste
Bleu celeste is a rarely occurring tincture in heraldry . This tincture is sometimes also called ciel or simply celeste...
or "sky blue". Neither azure nor bleu celeste is precisely defined as a particular shade of blue, but azure is consistently depicted in a much darker shade.
Azure is said to represent the following:
Of jewels, the sapphire

Sapphire

Sapphire is a gemstone variety of the mineral corundum, an aluminium oxide , when it is a color other than red or dark pink; in which case the gem would instead be called a ruby, considered to be a different gemstone. Trace amounts of other elements such as iron, titanium, or chromium can give...



Of heavenly bodies, Jupiter

Jupiter

Jupiter is the fifth planet from the Sun and the largest planet within the Solar System. It is a gas giant with mass one-thousandth that of the Sun but is two and a half times the mass of all the other planets in our Solar System combined. Jupiter is classified as a gas giant along with Saturn,...


(the planet Jupiter is further associated with the metal tin in traditional alchemical/occultistic lore

Classical planets in western alchemy

Alchemy in the Western World and other locations where it was widely practiced was allied and intertwined with traditional Babylonian-Greek style astrology; in numerous ways they were built to complement each other in the search for hidden knowledge...


)