 Aveling-Barford
Aveling-Barford
was a large engineering company making
road roller
Road roller
A road roller is a compactor type engineering vehicle used to compact soil, gravel, concrete, or asphalt in the construction of roads and foundations, similar rollers are used also at landfills or in agriculture.In some parts of the world, road rollers are still known colloquially as steam...
s and dumper trucks in
Grantham
Grantham
Grantham is a market town within the South Kesteven district of Lincolnshire, England. It bestrides the East Coast Main Line railway , the historic A1 main north-south road, and the River Witham. Grantham is located approximately south of the city of Lincoln, and approximately east of Nottingham...
, Lincolnshire. In its time, it was an internationally known company.
Ruston and Hornsby
It had a dramatic formation, and was not established by people new to its field of engineering. It was formed in February 1934 when
Aveling and Porter
Aveling and Porter
Aveling and Porter was a British agricultural engine and steam roller manufacturer. Thomas Aveling and Richard Thomas Porter entered into partnership in 1862, developed a steam engine three years later in 1865 and produced more steam rollers than all the other British manufacturers combined.-The...
of Rochester, Kent effectively went bankrupt, when the parent company
Agricultural & General Engineers
Agricultural & General Engineers
Agricultural & General Engineers was a combine of British engineering companies formed in 1919. The constituent companies were assigned sectors of the market to reduce competition within the group. The group headquarters were located in Aldwych, London, but most of the member companies were in...
(AGE) went into receivership in 1932. At the same time Barford & Perkins (related to today's Perkins Engines) of
Peterborough
Peterborough
Peterborough is a cathedral city and unitary authority area in the East of England, with an estimated population of in June 2007. For ceremonial purposes it is in the county of Cambridgeshire. Situated north of London, the city stands on the River Nene which flows into the North Sea...
were also entering administration.
Frank Perkins
Frank Perkins
Frank Perkins was a British engineer, businessman, creator of the Perkins Diesel Engine, and founder of Perkins Engines Company Limited.-Background and early life:...
worked for his family company of Barford & Perkins, and also Aveling and Porter. These two companies were Britain's two leading manufacturers of road rollers.
Aveling & Porter Ltd had been formed in 1850, becoming a public company on 16 July 1895, then a private company in 1919, and acquired the assets of Barford & Perkins Ltd in 1932, which had been formed in 1840. The name changed to Aveling-Barford on 13 February 1934. Early in 1934 the business was transferred from Rochester to Grantham on a 36 acre site which was leased from R & H. On the Board of Directors were Edward James Barford and William Geoffrey Barford (from Barford & Perkins), and John Heinrich Wulff Pawlyn, a Director of R & H based at the
Ransomes
Ransomes, Sims & Jefferies
Ransomes, Sims and Jeffries was a major British agricultural machinery maker producing a wide range of products including traction engines, ploughs, lawn mowers, combine harvesters and other tilling equipment. They also manufactured aeroplanes during the First World War...
subsidiary in
Ipswich
Ipswich
Ipswich is a large town and a non-metropolitan district. It is the county town of Suffolk, England. Ipswich is located on the estuary of the River Orwell...
, and George Ruston Sharpley, the Managing Director of R & H.
Without the financial assistance of
Ruston & Hornsby
Ruston (engine builder)
Ruston & Hornsby, later known as Ruston, was an industrial equipment manufacturer in Lincoln, England, the company's history going back to 1840. The company is best known as a manufacturer of narrow and standard gauge diesel locomotives and also of steam shovels. Other products included cars, steam...
of Lincoln, both companies would not have survived. R & H funded the amalgamation of the two companies, and gave them part of their Grantham site. For many years all the vehicles were powered by R & H diesel engines. R & H had also previously made road rollers, but concentrated this all at Grantham.
Public company
In the 1930s it made cooling equipment for dairy farms, and cooking equipment for hotels, hospitals, and
canteen
Cafeteria
A cafeteria is a type of food service location in which there is little or no waiting staff table service, whether a restaurant or within an institution such as a large office building or school; a school dining location is also referred to as a dining hall or canteen...
s. It became a public company on 29 June 1937. At this time it claimed to make 75% of the road rollers in Britain, and world leaders in their field.
Edward Barford (23 April 1898 - 11 July 1979) became the Chairman of the company from 1933, remaining until 1968. It began making its first earth moving equipment - the Aveling Dumper.
During the Second World War the company made
Bren Gun Carrier
Universal Carrier
The Universal Carrier, also known as the Bren Gun Carrier is a common name describing a family of light armoured tracked vehicles built by Vickers-Armstrong. Produced between 1934 and 1960, the vehicle was used widely by British Commonwealth forces during the Second World War...
s,
shell fuse cap
Blasting cap
A blasting cap is a small sensitive primary explosive device generally used to detonate a larger, more powerful and less sensitive secondary explosive such as TNT, dynamite, or plastic explosive....
s and the
Loyd Carrier
Loyd Carrier
The Loyd Carrier was one of a number of small tracked vehicles used by the British and Commonwealth forces in the Second World War to transport equipment and men about the battlefield...
.
The company also made calfdozers (small
bulldozer
Bulldozer
A bulldozer is a crawler equipped with a substantial metal plate used to push large quantities of soil, sand, rubble, etc., during construction work and typically equipped at the rear with a claw-like device to loosen densely-compacted materials.Bulldozers can be found on a wide range of sites,...
s). From April 1946 two subsidiary companies were formed - Barford Developments Ltd and Barford (Agricultural) Ltd. On 17 September 1946 a new factory in Newcastle upon Tyne was opened.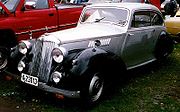 British Leyland
In 1967 it became part of British Leyland. British Leyland engines were to be used as part of the deal, but there were reliability problems.
Modern day incarnation
The site was bought by Wordsworth Holdings in 1988, who went into administration in 2010. Barfords is now owned by Invictas Engineering.
In August 2007
Moxy Engineering
Moxy Engineering
Moxy Engineering is a Norwegian manufacturer of articulated haulers for off-road use in the earth moving and construction industries. Moxy was founded by the industrialist Birger Hatlebakk, who had previously founded the Glamox factory in Molde.- History :Moxy built the first prototype dump truck...
of Norway bought the intellectual property rights of the Barford dump truck range.
Barfords' sports field is still in existence, called Arnoldfield, in Gonerby Hill Foot.
Former employees
David Anderson, Chief Executive from 2003-5 of Jobcentre Plus

Jobcentre Plus

Jobcentre Plus was a government agency for working-age people in Great Britain. The agency was formed when the Employment Service, which operated Jobcentres, merged with the Benefits Agency, which ran social security offices, and was re-named Jobcentre Plus on 1 April 2002...


, and from 1996-2003 of the Yorkshire Building Society

Yorkshire Building Society

The Yorkshire Building Society is the second largest building society in the UK, with its headquarters in Bradford, West Yorkshire, England. Assets now exceed £20 billion....


(graduate trainee from 1977-80)
External links