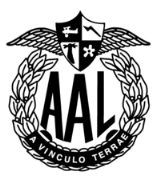 Australian Air League
The
Australian Air League
(
AAL
) is a not-for-profit, civilian operated
aviation
Aviation
Aviation is the design, development, production, operation, and use of aircraft, especially heavier-than-air aircraft. Aviation is derived from avis, the Latin word for bird.-History:...
youth organisation in Australia. Its objective is to encourage the spirit of aviation and air-mindedness in the youth of Australia. The Australian Air League receives no money or assistance of any government department and is entirely self-funded. Its
Latin
Latin
Latin is an Italic language originally spoken in Latium and Ancient Rome. It, along with most European languages, is a descendant of the ancient Proto-Indo-European language. Although it is considered a dead language, a number of scholars and members of the Christian clergy speak it fluently, and...
motto is
A Vinculo Terrae
(
Free From the Bonds of The Earth
). The official patrons of the Australian Air League are Australian Governor General
Quentin Bryce
Quentin Bryce
Quentin Bryce, AC, CVO is the 25th and current Governor-General of Australia and former Governor of Queensland....
and aviation journalist Jeff Watson.
History
Mr. George Robey was an Australian soldier who distinguished himself as an original
ANZAC
Australian and New Zealand Army Corps
The Australian and New Zealand Army Corps was a First World War army corps of the Mediterranean Expeditionary Force that was formed in Egypt in 1915 and operated during the Battle of Gallipoli. General William Birdwood commanded the corps, which comprised troops from the First Australian Imperial...
. He won a Distinguished Conduct Medal on 25 April 1915 at the
Gallipoli
Gallipoli
The Gallipoli peninsula is located in Turkish Thrace , the European part of Turkey, with the Aegean Sea to the west and the Dardanelles straits to the east. Gallipoli derives its name from the Greek "Καλλίπολις" , meaning "Beautiful City"...
landing. Mr. Robey was still a soldier, in the Citizen Military Forces when in 1927 he went to
Canberra
Canberra
Canberra is the capital city of Australia. With a population of over 345,000, it is Australia's largest inland city and the eighth-largest city overall. The city is located at the northern end of the Australian Capital Territory , south-west of Sydney, and north-east of Melbourne...
to assist in the Ceremonial Opening of
Parliament House
Parliament House, Canberra
Parliament House is the meeting facility of the Parliament of Australia located in Canberra, the capital of Australia. The building was designed by Mitchell/Giurgola Architects and opened on 1988 by Elizabeth II, Queen of Australia...
.
He brought back a toy wooden aeroplane for his son Keith that sparked an interest in aviation that inspired his son and that inspiration has lasted until the present day.
Keith Robey through his career has been a senior executive of one of Australia's largest general aviation companies. Keith has also been known as a well-respected aviation feature writer for
Aircraft
magazine, specialising in flight testing of aircraft.
The gift of the toy wooden aeroplane also sparked off the
Australian Air League
when five years later Keith complained of the lack of a youth organisation specialising in aviation.
His father George Robey and other concerned adults formed the
Air Mindedness Development League
and on 18 July 1934 Keith became enrolled as the first Cadet member. Not long after that the name was changed to the
Australian Air League
.
The first training Squadron opened at
Manly
Manly, New South Wales
Manly is a suburb of northern Sydney, in the state of New South Wales, Australia. Manly is located 17 kilometres north-east of the Sydney central business district and is the administrative centre of the local government area of Manly Council, in the Northern Beaches region.-History:Manly was named...
,
New South Wales
New South Wales
New South Wales is a state of :Australia, located in the east of the country. It is bordered by Queensland, Victoria and South Australia to the north, south and west respectively. To the east, the state is bordered by the Tasman Sea, which forms part of the Pacific Ocean. New South Wales...
on 17 January 1935 with 30 Cadets aged between 14 and 23 years. The first girls Squadron opened in 1944. The Correspondence Wing commenced in 1941. By 1942, 26,000 boys had been trained in aviation and 125 Squadrons operated in three states.
World War II took its toll as many of the Officers went into the services and at the end of hostilities, felt that they had experienced more than enough of wearing uniforms and discipline and hence many Squadrons closed.
However, the
Australian Air League
has continued. There are around 76 active Squadrons and more squadrons continue to open. The founders of the
Australian Air League
saw the prosperous future for aviation and the
Australian Air League
has become part of that future being recognised in the aviation industry and Armed Services as the primary school of aviation. Over the years it has been held in high respect by the leaders of the Nation and from early stages of our history, Governors General of Australia have been Patron-In-Chief of the
Australian Air League.

On 21 April 2009, the
Civil Aviation Safety Authority
Civil Aviation Safety Authority
The Civil Aviation Safety Authority is the Australian national aviation authority , the government statutory authority responsible for the regulation of civil aviation.-History:...
granted the Australian Air League official use of the
Australian Civil Aviation Ensign
Australian Civil Aviation Ensign
The Australian Civil Aviation Ensign is an Australian flag that was used by the Australian Civil Aviation Authority.The design of the flag is based on the British Civil Air Ensign, which is divided into quarters by a dark blue cross with a white fimbriation. There is a Union Jack in the upper hoist...
to recognise the organisation's significant contribution to aviation in Australia. The Australian Air League paraded and flew the flag at the organisation's 75th Anniversary Review in Sydney on 26 September 2009. It is the first time the honour of flying the flag has ever been granted to any other organisation outside of the Civil Aviation Safety Authority's jurisdiction.
Today the Australian Air League Inc. is an independent organisation and is not associated with, or sponsored by, any religious, military or other organisation. It is completely self-governing and self-supporting.
Volunteer Support
As a not for profit organisation, the Australian Air League relies on the help of a network of volunteers to carry out the various tasks which need to be fulfilled in order for the organisation to exist.
Coming from a wide range of backgrounds, these volunteers bring a variety of different skills to the League and contribute by joining the League as either an associate or League member, from where then can play a vital role in the operation of various levels of the league.
Associate Membership
Associate membership provides a way for adults to join as non-uniformed, but financial, members of the League. Associate members are eligible to serve on the Squadron 'Branch Committee' from where they can directly assist the squadron by helping to keep track of the Squadrons finances and co-ordinating fund-raising activities.
Associate members are also eligible to participate in most functions and activities that are open to uniformed members.
League Membership
Alternatively an adult may wish to join the League as an Officer. Such people are inducted into the League's Trainee Officer Programme, where they are given the rank of Trainee Officer and taken through a series of courses covering the day-to-day operations of a squadron, the expectations they will face, and correct procedure for handling different situations.
Upon completing the course the new member is awarded the rank of Second Officer and is attached to a unit, usually the squadron in their local area.
Ranks
The Australian Air League has an internal rank structure for all uniformed members which is replicated from various organisations including military forces, police forces and Commercial aviation organisations.
The ranks are divided into three categories. The first are the Cadet ranks (referred to as N.C.O. ranks). These ranks are awarded to members of a Squadron, aged under 18 years, who have displayed, amongst other things, excellent leadership abilities, discipline and determination. These promotions are recommended by the Officer Commanding Squadron.
In the second category there are supernumery ranks. These are ranks held by members who do not fit into the Officer or Cadet ranking system. Ranks in this category are held by uniformed adult members.
In the third category are the Officer ranks. These are ranks are awarded to uniformed adult members of the League based upon their performance and appointment within their respective unit. These promotions are recommended by the officer's immediate superior.
The ranks an individual member holds is signified by either a series chevrons worn on both sleeves for N.C.O. ranks, or by a series of blue, silver or gold stripes worn on the eppaulettes for supernumerary and officer ranks. An absence of any rank insignia indicates a rank of "Cadet".
Chart of Cadet (N.C.O.) ranks
The ranks in this chart are listed with each successive rank down the page being superior to the one preceding it.
| Title | Abbr. | Description | Markings | Example |
| --- | --- | --- | --- | --- |
| Cadet | Cdt. | The initial rank held a member under 18 years of age. | none | |
| Leading Cadet | L/Cdt. | Usually the marker in a Section. Serves as assistant to a corporal. | 1 Chevron. | |
| Corporal | Cpl. | The member in command of a Section. | 2 Chevrons. | |
| Sergeant | Sgt. | The member in command of a Flight. The member in command of a Squadron Flag Party. | 3 Chevrons. | |
| Squadron Sergeant | S/Sgt. | The member in command of all Cadet members in a Squadron. | 3 Chevrons + AAL pip. | |
Chart of Supernumery ranks
The ranks in this chart are listed with each successive rank down the page being superior to the one preceding it.
| Title | Abbr. | Description | Markings | Example |
| --- | --- | --- | --- | --- |
| Drum Major | D/Maj | The member in command of a Band. This rank is equal to a Sargent. | 4 Chevrons + Drum. | |
| Warrant Officer | W/O. | A member who is 18 years or older and who does not hold a permanent Officer Appointment. | AAL Logo on Epaulettes. | |
| Trainee Officer | T/O | This is the initial rank awarded to an adult who has been accepted into the Leagues Trainee Officer program. | 1 x 7 mm sky blue bar. | |
Chart of Officer ranks
The ranks in this chart are listed with each successive rank down the page being superior to the one preceding it.
Title
Abbr.
Description
Markings
Example
2nd Officer
2nd. Off.
The rank awarded upon successful completion of the Trainee Officer Program
1 x 7 mm silver bar.
1st Officer
1st. Off.
Awarded to 2nd Officers who show proficiency in their chosen appointment
2 x 7 mm silver bars.
Squadron Lieutenant
Sqdn. Lt.
Optimum rank for Squadron Staff members
3 x 7 mm silver bars.
Squadron Captain
Sqdn. Capt.
Optimum rank for Officer Commanding Squadrons and Wing Staff Officers
2 x 7 mm silver bars.
1 x 13 mm silver bar.
Wing Captain
Wing Capt.
Optimum rank for Officer Commanding Wings
1 x 7 mm silver bar.
2 x 13 mm silver bars.
Group Lieutenant
Gp. Lt.
Optimum rank for Group level Regional Officers
3 x 13 mm silver bars.
Group Commissioner
Gp. Comm.
Optimum rank for Group Staff
1 x 13 mm gold bar.
Lieutenant Commissioner
Lt. Comm.
Optimum rank for Group Executive Commissioners
2 x 13 mm gold bars.
Commissioner
Comm.
Optimum rank for Federal Commissioners
3 x 13 mm gold bar.
Chief Commissioner
Chief Comm.
Rank held by the 'Chief Commissioner' (head of the Federal Staff)
4 x 13 mm gold bars.
Cadet
The term "Cadet" refers to a member who is under the age of 18 and/or holds one of the NCO ranks.
Upon turning the age of 16 a Cadet becomes a Senior Cadet and wears dark blue epaulettes.
Section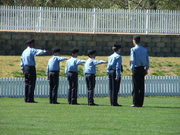 A Section is defined as a group of five Cadets, three of whom may be Leading Cadets, with a Corporal in charge of the Section for a total of six members. If the Section contains all three Leading Cadets, they comprise the first three members on the Corporal's left when forming up.
Flight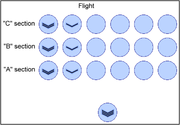 A Flight consists of 3 Sections in formation under the command of a Sergeant, making a total of 19 members.
When assembled as a Flight, each horizontal line of 6 cadets is known as a "rank". The 3 "ranks" are referred to as 'A', 'B' and 'C' sections, with 'A' section forming the front rank, 'B' section in the middle rank, and 'C' section at the rear. Each vertical line of cadets is known as a file. Each file is associated a number. (1 through 6 numbered from Sergeant's left)
Flag Party
A Flag Party is ceremonial unit paraded by Squadrons, Wings, Groups and Federal. Wihin a Squadron it can take 2 forms:
1 - 1 NCO in Charge, 3 bearers and 3 escorts;
2 - 1 NCO in Charge, 1 bearer and 2 escorts.
The first version consists of three flags, the State, National and Squadron flag. The second version may only consist of the Squadron or unit flag.
Wing, Group and Federal Flag Parties may only take the second form.
The ranks of the members in a Squadron Flag party must satisfy the following criteria:
The N.C.O. in charge may hold a rank of no higher than Sergeant, but must out-rank every other member of the Flag Party.
The flag-bearers are charged with the duty of carrying the Squadron, State and National flags. These members may hold a rank no higher than Corporal, but must equal or outrank the escorts.
The escorts role is to assist the flag bearer and to "escort" the flags. These members may hold a rank no higher than Leading Cadet, but be of equal or lesser rank than the flag bearers
Band
Several Squadrons, Wings and Groups throughout the Australian Air League also have marching bands, made up of Cadets and Officers with an NCO in charge who is the Drum Major. The Drum Major is equivalent in rank to a Sergeant, although whilst in the band they are in charge of all personnel, including Officers.
Air League bands are typically composed of either a Drum Corps, or a Drum & Bugle Corps and can vary in size from 9 personnel up to a full band of 24 personnel. Air League bands compete in competitions as well as provide music during parades, both for the Air League as well as outside events such as ANZAC Day, Reserve Forces Day, Community Festivals and other promotional work for the Air League.
Squadron
A full Squadron consists of any number of Flights and a Flag Party with a Squadron Sergeant being in charge of the all units. Rather than directly ordering each unit, the Squadron Sergeant conveys orders to the N.C.O.s in charge of each sub-unit, who then relay the orders to their subordinates.
The Squadron also has a number of non-command Officers who are referred to as the Squadron Staff. The command level officer of the squadron is the "Officer Commanding Squadron", usually abbreviated to
S.O.C.
, or just
O.C.
when used in a Squadron environment.
A list of operating Squadrons can be viewed at the
Air League National Website
Wing
A Wing consists of at least 2 Squadrons, who usually share a common geographical location.
Region
A region consists of at least 2 wings which usually share a larger geographical area. For example, "Eastern Region".
Group
A Group coordinates the League's activities at a State level and consists of all league units, other than federal units, in their particular state. Group Status is defined by the League's Chief Commissioner, according to set criteria. Units in states that do not conform to these criteria are designated Wings of the Federal Department.
At present, the following groups currently exist within the League:
Queensland Group
N.S.W. Boys Group
The League currently has two Federal Administered wings:
Reviews
The Australian Air League holds Reviews on several layers of administration, ranging from Wing Reviews, Group Reviews and Australian Air League Reviews. Group Reviews are usually held annually and Australian Air League Reviews are usually held every 2–3 years. Reviews are held in order to maintain a sense of healthy competition between Groups, Wings and Squadrons. The basic function of a Review is to investigate the standard of ceremonial drill in the Air League. The latest Federal Review was held in 2011 at Runaway Bay, Queensland.
Activities
Australian Air League members participate and compete in several activities including
Camping
Camping
Camping is an outdoor recreational activity. The participants leave urban areas, their home region, or civilization and enjoy nature while spending one or several nights outdoors, usually at a campsite. Camping may involve the use of a tent, caravan, motorhome, cabin, a primitive structure, or no...
, Ceremonial
Drill
Parade (military)
A military parade is a formation of soldiers whose movement is restricted by close-order manouevering known as drilling or marching. The American usage is "formation or military review". The military parade is now mostly ceremonial, though soldiers from time immemorial up until the late 19th...
, Model Aircraft Building and Flying, Sports and the Duke of Edinburgh's Award. Several members have achieved and have been awarded with their Gold Duke of Edinburgh. Community Service is a major part of an Australian Air League members life. They volunteer for events like the NSW Premier's Senior Citizens Concert, the Red Shield Appeal for the
Salvation Army
Salvation Army
The Salvation Army is a Protestant Christian church known for its thrift stores and charity work. It is an international movement that currently works in over a hundred countries....
and Clean Up Australia Day. They also participate in local festivals and ANZAC Day Parades.
Education classes have been provided for the benefit of members. They include:
Aircraft Engines
Electronics

Electronics

Electronics is the branch of science, engineering and technology that deals with electrical circuits involving active electrical components such as vacuum tubes, transistors, diodes and integrated circuits, and associated passive interconnection technologies...



Meteorology

Meteorology

Meteorology is the interdisciplinary scientific study of the atmosphere. Studies in the field stretch back millennia, though significant progress in meteorology did not occur until the 18th century. The 19th century saw breakthroughs occur after observing networks developed across several countries...



Navigation

Navigation

Navigation is the process of monitoring and controlling the movement of a craft or vehicle from one place to another. It is also the term of art used for the specialized knowledge used by navigators to perform navigation tasks...



Photography

Photography

Photography is the art, science and practice of creating durable images by recording light or other electromagnetic radiation, either electronically by means of an image sensor or chemically by means of a light-sensitive material such as photographic film...



Radio

Radio

Radio is the transmission of signals through free space by modulation of electromagnetic waves with frequencies below those of visible light. Electromagnetic radiation travels by means of oscillating electromagnetic fields that pass through the air and the vacuum of space...


and Radar

Radar

Radar is an object-detection system which uses radio waves to determine the range, altitude, direction, or speed of objects. It can be used to detect aircraft, ships, spacecraft, guided missiles, motor vehicles, weather formations, and terrain. The radar dish or antenna transmits pulses of radio...



Semaphore

Flag semaphore

Semaphore Flags is the system for conveying information at a distance by means of visual signals with hand-held flags, rods, disks, paddles, or occasionally bare or gloved hands. Information is encoded by the position of the flags; it is read when the flag is in a fixed position...



Spaceflight

Spaceflight

Spaceflight is the act of travelling into or through outer space. Spaceflight can occur with spacecraft which may, or may not, have humans on board. Examples of human spaceflight include the Russian Soyuz program, the U.S. Space shuttle program, as well as the ongoing International Space Station...



Theory of Flight

Aerodynamics

Aerodynamics is a branch of dynamics concerned with studying the motion of air, particularly when it interacts with a moving object. Aerodynamics is a subfield of fluid dynamics and gas dynamics, with much theory shared between them. Aerodynamics is often used synonymously with gas dynamics, with...



Flight Attendant

Flight attendant

Flight attendants or cabin crew are members of an aircrew employed by airlines primarily to ensure the safety and comfort of passengers aboard commercial flights, on select business jet aircraft, and on some military aircraft.-History:The role of a flight attendant derives from that of similar...



Members also have the opportunity to gain the AAL General Diploma, the AAL Aviation Diploma, and the AAL Gold Diploma by obtaining the selected amount of education badges the courses prescribes within a particular time period.
External links