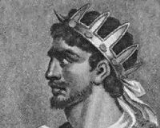 Attila the Hun
Attila
more frequently referred to as
Attila the Hun
, was the ruler of the
Huns
Huns
The Huns were a group of nomadic people who, appearing from east of the Volga River, migrated into Europe c. AD 370 and established the vast Hunnic Empire there. Since de Guignes linked them with the Xiongnu, who had been northern neighbours of China 300 years prior to the emergence of the Huns,...
from 434 until his death in 453. He was leader of the
Hunnic Empire
Hunnic Empire
The Hunnic Empire was an empire established by the Huns. The Huns were a confederation of Eurasian tribes from the steppes of Central Asia. Appearing from beyond the Volga River some years after the middle of the 4th century, they first overran the Alani, who occupied the plains between the Volga...
, which stretched from the
Ural River
Ural River
The Ural or Jayıq/Zhayyq , known as Yaik before 1775, is a river flowing through Russia and Kazakhstan. It arises in the southern Ural Mountains and ends at the Caspian Sea. Its total length is 1,511 mi making it the third longest river in Europe after the Volga and the Danube...
to the Rhine River and from the Danube River to the
Baltic Sea
Baltic Sea
The Baltic Sea is a brackish mediterranean sea located in Northern Europe, from 53°N to 66°N latitude and from 20°E to 26°E longitude. It is bounded by the Scandinavian Peninsula, the mainland of Europe, and the Danish islands. It drains into the Kattegat by way of the Øresund, the Great Belt and...
. During his reign he was one of the most feared enemies of the
Western
Western Roman Empire
The Western Roman Empire was the western half of the Roman Empire after its division by Diocletian in 285; the other half of the Roman Empire was the Eastern Roman Empire, commonly referred to today as the Byzantine Empire....
and Eastern Roman Empires. He crossed the Danube twice and plundered the
Balkans
Balkans
The Balkans is a geopolitical and cultural region of southeastern Europe...
, but was unable to take
Constantinople
Constantinople
Constantinople was the capital of the Roman, Eastern Roman, Byzantine, Latin, and Ottoman Empires. Throughout most of the Middle Ages, Constantinople was Europe's largest and wealthiest city.-Names:...
.