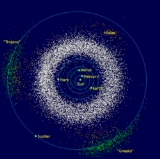 Asteroid belt
The asteroid belt is the region of the
Solar System
Solar System
The Solar System consists of the Sun and the astronomical objects gravitationally bound in orbit around it, all of which formed from the collapse of a giant molecular cloud approximately 4.6 billion years ago. The vast majority of the system's mass is in the Sun...
located roughly between the orbits of the
planet
Planet
A planet is a celestial body orbiting a star or stellar remnant that is massive enough to be rounded by its own gravity, is not massive enough to cause thermonuclear fusion, and has cleared its neighbouring region of planetesimals.The term planet is ancient, with ties to history, science,...
s
Mars
Mars
Mars is the fourth planet from the Sun in the Solar System. The planet is named after the Roman god of war, Mars. It is often described as the "Red Planet", as the iron oxide prevalent on its surface gives it a reddish appearance...
and
Jupiter
Jupiter
Jupiter is the fifth planet from the Sun and the largest planet within the Solar System. It is a gas giant with mass one-thousandth that of the Sun but is two and a half times the mass of all the other planets in our Solar System combined. Jupiter is classified as a gas giant along with Saturn,...
. It is occupied by numerous irregularly shaped bodies called
asteroid
Asteroid
Asteroids are a class of small Solar System bodies in orbit around the Sun. They have also been called planetoids, especially the larger ones...
s or
minor planet
Minor planet
An asteroid group or minor-planet group is a population of minor planets that have a share broadly similar orbits. Members are generally unrelated to each other, unlike in an asteroid family, which often results from the break-up of a single asteroid...
s. The asteroid belt is also termed the main asteroid belt or main belt because there are other asteroids in the Solar System such as near-Earth asteroids and trojan asteroids.
Maybe half the mass of the belt is contained in the four largest asteroids: Ceres,
4 Vesta
4 Vesta
Vesta, formally designated 4 Vesta, is one of the largest asteroids, with a mean diameter of about . It was discovered by Heinrich Wilhelm Olbers on March 29, 1807, and is named after the Roman virgin goddess of home and hearth, Vesta....
,
2 Pallas
2 Pallas
Pallas, formally designated 2 Pallas, is the second asteroid to have been discovered , and one of the largest. It is estimated to constitute 7% of the mass of the asteroid belt, and its diameter of 530–565 km is comparable to, or slightly larger than, that of 4 Vesta. It is however 20%...
, and
10 Hygiea
10 Hygiea
10 Hygiea is an asteroid located in the asteroid belt. With somewhat oblong diameters of 350–500 km, and a mass estimated to be 2.9% of the total mass of the belt, it is the fourth largest asteroid by volume and mass...
.