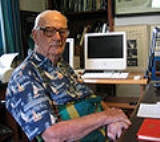 Arthur C. Clarke
Sir Arthur Charles Clarke
, CBE,
FRAS
Royal Astronomical Society
The Royal Astronomical Society is a learned society that began as the Astronomical Society of London in 1820 to support astronomical research . It became the Royal Astronomical Society in 1831 on receiving its Royal Charter from William IV...
(16 December 1917 – 19 March 2008) was a
British
British people
The British are citizens of the United Kingdom, of the Isle of Man, any of the Channel Islands, or of any of the British overseas territories, and their descendants...
science fiction
Science fiction
Science fiction is a genre of fiction dealing with imaginary but more or less plausible content such as future settings, futuristic science and technology, space travel, aliens, and paranormal abilities...
author, inventor, and futurist, famous for his short stories and novels, among them
2001: A Space Odyssey
2001: A Space Odyssey (novel)
2001: A Space Odyssey is a science fiction novel by Arthur C. Clarke. It was developed concurrently with Stanley Kubrick's film version and published after the release of the film...
, and as a host and commentator in the British television series
Mysterious World
Arthur C. Clarke's Mysterious World
Arthur C. Clarke's Mysterious World is a thirteen part British television series looking at unexplained phenomena from around the world. It was produced by Yorkshire Television for the ITV network and first broadcast in September 1980....
. For many years,
Robert A. Heinlein
Robert A. Heinlein
Robert Anson Heinlein was an American science fiction writer. Often called the "dean of science fiction writers", he was one of the most influential and controversial authors of the genre. He set a standard for science and engineering plausibility and helped to raise the genre's standards of...
,
Isaac Asimov
Isaac Asimov
Isaac Asimov was an American author and professor of biochemistry at Boston University, best known for his works of science fiction and for his popular science books. Asimov was one of the most prolific writers of all time, having written or edited more than 500 books and an estimated 90,000...
, and Arthur C. Clarke were known as the "Big Three" of science fiction.
Clarke served in the
Royal Air Force
Royal Air Force
The Royal Air Force is the aerial warfare service branch of the British Armed Forces. Formed on 1 April 1918, it is the oldest independent air force in the world...
as a
radar
Radar
Radar is an object-detection system which uses radio waves to determine the range, altitude, direction, or speed of objects. It can be used to detect aircraft, ships, spacecraft, guided missiles, motor vehicles, weather formations, and terrain. The radar dish or antenna transmits pulses of radio...
instructor and technician from 1941–1946.
If we have learned one thing from the history of invention and discovery, it is that, in the long run — and often in the short one — the most daring prophecies seem laughably conservative.

The Exploration of Space (1951), p. 111
It is not easy to see how the more extreme forms of nationalism can long survive when men have seen the Earth in its true perspective as a single small globe against the stars.

The Exploration of Space (1951), p. 187
We stand now at the turning point between two eras. Behind us is a past to which we can never return ... The coming of the rocket brought to an end a million years of isolation ... the childhood of our race was over and history as we know it began.

Exploration of Space (1952)
All explorers are seeking something they have lost. It is seldom that they find it, and more seldom still that the attainment brings them greater happiness than the quest.

The City and the Stars (1956)
Science can destroy religion by ignoring it as well as by disproving its tenets. No one ever demonstrated, so far as I am aware, the non-existence of Zeus or Thor — but they have few followers now.

Childhood's End (1953), p. 15
They will have time enough, in those endless aeons, to attempt all things, and to gather all knowledge ... no Gods imagined by our minds have ever possessed the powers they will command ... But for all that, they may envy us, basking in the bright afterglow of Creation; for we knew the Universe when it was young.

Profiles of the Future (1962)
Yet now, as he roared across the night sky toward and unknown destiny, he found himself facing that bleak and ultimate question which so few men can answer to their satisfaction. What have I done with my life, he asked himself, that the world will be poorer if I leave it.

Glide Path (1963) Chapter 27
Human judges can show mercy. But against the laws of nature, there is no appeal.

"Maelstrom II" (1965)
As our own species is in the process of proving, one cannot have superior science and inferior morals. The combination is unstable and self-destroying.

Voices from the Sky : Previews of the Coming Space Age (1967)