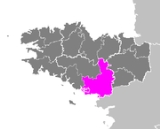 Arrondissement of Vannes
The
arrondissement of Vannes
is an
arrondissement
Arrondissements of France
The 101 French departments are divided into 342 arrondissements, which may be translated into English as districts.The capital of an arrondissement/district is called a subprefecture...
of France, located in the
Morbihan
Morbihan
Morbihan is a department in Brittany, situated in the northwest of France. It is named after the Morbihan , the enclosed sea that is the principal feature of the coastline.-History:...
département
, and in the Brittany
region
Régions of France
France is divided into 27 administrative regions , 22 of which are in Metropolitan France, and five of which are overseas. Corsica is a territorial collectivity , but is considered a region in mainstream usage, and is even shown as such on the INSEE website...
.. It has seventeen
cantons
Cantons of France
The cantons of France are territorial subdivisions of the French Republic's 342 arrondissements and 101 departments.Apart from their role as organizational units in certain aspects of the administration of public services and justice, the chief purpose of the cantons today is to serve as...
and 123
communes
Communes of France
The commune is the lowest level of administrative division in the French Republic. French communes are roughly equivalent to incorporated municipalities or villages in the United States or Gemeinden in Germany...
.
Cantons
The cantons of the arrondissement of Vannes are:
Allaire
Elven
La Gacilly
Grand-Champ
Guer
Malestroit
Mauron
Muzillac
Ploërmel
Questembert
La Roche-Bernard
Rochefort-en-Terre
Sarzeau
La Trinité-Porhoët
Vannes-Centre
Vannes-Est
Vannes-Ouest
Communes
The communes of the arrondissement of Vannes, and their
INSEE code
INSEE code
The INSEE code is a numerical indexing code used by the French National Institute for Statistics and Economic Studies to identify various entities, including communes, départements...
s, are:
1. Allaire

Allaire, Morbihan

Allaire is a commune in the Morbihan department in the Brittany region in north-western France.-External links:* -References:* *...


(56001)
2. Ambon

Ambon, Morbihan

Ambon is a commune in the Morbihan department in the Brittany region in north-western France.-External links:* * * -References:**...


(56002)
3. Arradon

Arradon

Arradon is a commune in the Morbihan department in the Brittany region in north-western France.-External links:* * * -References:* *...


(56003)
4. Arzal

Arzal

Arzal is a commune in the Morbihan department in the Brittany region in north-western France.-External links:* * * -References:* *...


(56004)
5. Arzon

Arzon

Arzon is a commune located at the extremity of the Rhuys peninsula in the Morbihan department in the Brittany region in north-western France.-Geography:...


(56005)
6. Augan

Augan

Augan is a commune in the Morbihan department in the Brittany region in north-western France.-External links:* * -References:* *...


(56006)
7. Baden

Baden, Morbihan

Baden is a commune in the Morbihan département in Brittany in north-western France.-Museum:The Passions and Wings museum is devoted to the story of Joseph Le Brix , and a collection of robots and old toys donated by John and Anne Farkas. It is a must-see!-References:* * -External links:* * * *...


(56008)
8. Beignon

Beignon

Beignon is a commune in the Morbihan département in Brittany in north-western France.-External links:* * -References:* *...


(56012)
9. Berric

Berric

Berric is a commune in the Morbihan département in Brittany in north-western France.-External links:* * -References:* *...


(56015)
10. Billiers

Billiers

Billiers is a commune in the Morbihan département of Brittany in north-western France.-External links:* * * -References:* *...


(56018)
11. Bohal

Bohal

Bohal is a commune in the Morbihan department of Brittany in north-western France.-External links:* * -References:* *...


(56020)
12. Brandivy

Brandivy

Brandivy is a commune in the Morbihan department of Brittany in north-western France.-Breizh-Kernow Festival:Brandivy is notable for its "Breizh - Kernow Festival" which takes place at Easter...


(56022)
13. Brignac

Brignac, Morbihan

Brignac is a commune in the Morbihan department of Brittany in north-western France.-External links:* -References:* *...


(56025)
14. Béganne

Béganne

Béganne is a commune in the Morbihan département in Brittany in north-western France.-External links:* * * -References:* *...


(56011)
15. Caden

Caden

Caden is a commune in the Morbihan department of Brittany in north-western France.-References:* * -External links:* *...


(56028)
16. Camoël

Camoël

Camoël is a commune in the Morbihan department of Brittany in north-western France.-External links:* -References:* *...


(56030)
17. Campénéac

Campénéac

Campénéac is a commune in the Morbihan department of Brittany in north-western France.-External links:* * -References:* *...


(56032)
18. Carentoir

Carentoir

Carentoir is a commune in the Morbihan department of Brittany in north-western France.-External links:* * * * *...


(56033)
19. Caro

Caro, Morbihan

Caro is a commune in the Morbihan department of Brittany in north-western France.-External links:* * -References:* *...


(56035)
20. Colpo

Colpo

Colpo is a commune in the Morbihan department of the region of Brittany in north-western France.-External links:* * -References:* *...


(56042)
21. Concoret

Concoret

Concoret is a commune in the Morbihan department of Brittany in north-western France.-External links:* * -References:* *...


(56043)
22. Cournon

Cournon

Cournon is a commune in the Morbihan department of Brittany in north-western France.-External links:* * -References:* *...


(56044)
23. Damgan

Damgan

Damgan is a commune in the Morbihan department of Brittany in north-western France.-External links:* * -References:* *...


(56052)
24. Elven

Elven, Morbihan

Elven is a French commune, located in the department of Morbihan and region of Brittany.-Geography:The village of Elven is located about 15 km from the Vannes-Rennes junction on route nationale 166 and is the capital of the canton of Elven which also includes Saint-Nolff, Monterblanc,...


(56053)
25. Férel

Férel

Férel is a commune in the Morbihan department of Brittany in north-western France.-References:* * -External links:* *...


(56058)
26. Glénac

Glénac

Glénac is a commune in the Morbihan department of Brittany in north-western France.-External links:* * -References:* *...


(56064)
27. Gourhel

Gourhel

Gourhel is a commune in the Morbihan department of Brittany in north-western France.-External links:* * -References:* *...


(56065)
28. Grand-Champ

Grand-Champ

Grand-Champ is a commune in the Morbihan department of Brittany in north-western France.-Demographics:Inhabitants of Grand-Champ are called in French Grégamistes.-Breton language:...


(56067)
29. Guer

Guer

Guer is a commune in the Morbihan department in Brittany in north-western France.It is located at the edge of the famous Brocéliande/Brekilien Forest, which is the setting of the Round Table novels in Brittany...


(56075)
30. Guilliers

Guilliers

Guilliers is a commune in the Morbihan department of Brittany in north-western France.-External links:* -References:* *...


(56080)
31. La Chapelle-Caro

La Chapelle-Caro

La Chapelle-Caro is a commune in the Morbihan department of Brittany in north-western France.-Demographics:Inhabitants of La Chapelle-Caro are called in French Chapellois.-References:* * -External links:* *...


(56037)
32. La Chapelle-Gaceline

La Chapelle-Gaceline

La Chapelle-Gaceline is a commune in the Morbihan department of Brittany in north-western France.-Demographics:Inhabitants of La Chapelle-Gaceline are called in French Gaceliniens.-External links:* * * -References:* *...


(56038)
33. La Gacilly

La Gacilly

La Gacilly is a commune in the Morbihan department of Brittany in north-western France.-Twin towns:La Gacilly is twinned with Gowerton in Swansea, Wales, UK.-References:* * -External links:* *...


(56061)
34. La Roche-Bernard

La Roche-Bernard

La Roche-Bernard is a commune in the Morbihan department of Brittany in north-western France. Inhabitants of La Roche-Bernard are called in French Rochois for men and Rochoises for women....


(56195)
35. La Trinité-Porhoët

La Trinité-Porhoët

La Trinité-Porhoët is a commune in the Morbihan department of Brittany in north-western France.-Demographics:Inhabitants of La Trinité-Porhoët are called in French Trinitais.-References:* * -External links:* *...


(56257)
36. La Trinité-Surzur

La Trinité-Surzur

La Trinité-Surzur is a commune in the Morbihan department of Brittany in north-western France.-Demographics:Inhabitants of La Trinité-Surzur are called in French Trinitains.-References:* * -External links:* *...


(56259)
37. La Vraie-Croix

La Vraie-Croix

La Vraie-Croix is a commune in the Morbihan department in Brittany in north-western France. Its inhabitants are called Langroëziens after the Breton name for the commune.-Geography:...


(56261)
38. Larmor-Baden

Larmor-Baden

Larmor-Baden is a commune in the Morbihan department of Brittany in north-western France.-Île de Berder:Île de Berder is a small island in the commune of Larmor-Baden in the département of Morbihan, Brittany, France....


(56106)
39. Larré

Larré, Morbihan

Larré is a commune in the Morbihan department of Brittany in north-western France.-References:* * -External links:* *...


(56108)
40. Lauzach

Lauzach

Lauzach is a commune in the Morbihan department of Brittany in north-western France.-References:* * -External links:*...


(56109)
41. Le Cours

Le Cours

Le Cours is a commune in the Morbihan department of Brittany in north-western France.-External links:* * -References:* *...


(56045)
42. Le Guerno

Le Guerno

Le Guerno is a commune in the Morbihan department of Brittany in north-western France.-External links:* * * -References:* *...


(56077)
43. Le Hézo

Le Hézo

Le Hézo is a commune in the Morbihan department of Brittany in north-western France.-References:* * -External links:* *...


(56084)
44. Le Roc-Saint-André

Le Roc-Saint-André

Le Roc-Saint-André is a commune in the Morbihan department of Brittany in north-western France.-References:* * -External links:* * *...


(56197)
45. Le Tour-du-Parc

Le Tour-du-Parc

Le Tour-du-Parc is a commune in the Morbihan department of Brittany in north-western France.-Demographics:Inhabitants of Le Tour-du-Parc are called in French Parcais.-References:* * -External links:* * *...


(56252)
46. Les Fougerêts

Les Fougerêts

Les Fougerêts is a commune in the Morbihan department of Brittany in north-western France.-Demographics:Inhabitants of Les Fougerêts are called in French Fougerêtais.-External links:* * -References:* *...


(56060)
47. Limerzel

Limerzel

Limerzel is a commune in the Morbihan department of Brittany in north-western France.-References:* * -External links:* *...


(56111)
48. Lizio

Lizio

Lizio is a commune in the Morbihan department of Brittany in north-western France.-References:* * -External links:* * *...


(56112)
49. Locmaria-Grand-Champ

Locmaria-Grand-Champ

Locmaria-Grand-Champ is a commune in the Morbihan department of Brittany in north-western France.-References:* * -External links:* *...


(56115)
50. Locqueltas

Locqueltas

Locqueltas is a commune in the Morbihan department of Brittany in north-western France.-References:* * -External links:* *...


(56120)
51. Loyat

Loyat

Loyat is a commune in the Morbihan department of Brittany in north-western France.-References:* * -External links:* *...


(56122)
52. Malansac

Malansac

Malansac is a commune in the Morbihan department of Brittany in north-western France.-References:* * -External links:* * *...


(56123)
53. Malestroit

Malestroit

Malestroit is a commune in the Morbihan department of Brittany in north-western France.-Tourism:The canal is a delightful place to spend a little time, and you can watch the barges as they moor up near the centre of Malestroit. It is possible to hire a boat yourself to explore the waterway, and...


(56124)
54. Marzan

Marzan

Marzan is a commune in the Morbihan department of Brittany in north-western France.-References:* * -External links:* *...


(56126)
55. Mauron

Mauron

Mauron is a commune in the Morbihan department of Brittany in north-western France.-Demographics:The inhabitants of Mauron are known in French as Mauronnais.-Twin towns:Mauron is twinned with the town of Newmarket in Ireland.-References:* *...


(56127)
56. Meucon

Meucon

Meucon is a commune in the Morbihan department of Brittany in north-western France.-References:* * -External links:* * *...


(56132)
57. Missiriac

Missiriac

Missiriac is a commune in the Morbihan department of Brittany in north-western France.-References:* * -External links:* *...


(56133)
58. Mohon

Mohon

Mohon is a commune in the Morbihan department of Brittany in north-western France.-References:* * -External links:* * *...


(56134)
59. Molac

Molac

Molac is a commune in the Morbihan department of Brittany in north-western France.-Geography:The river Arz forms most of the commune's south-western border, then flows eastward through the south-eastern part of the commune.-References:* *...


(56135)
60. Monteneuf

Monteneuf

Monteneuf is a commune in the Morbihan department of Brittany in north-western France.-References:* * -External links:* *...


(56136)
61. Monterblanc

Monterblanc

Monterblanc is a commune in the Morbihan department of Brittany in north-western France.-Demographics:Inhabitants of Monterblanc are called in French Monterblancais.-References:* * -External links:* * *...


(56137)
62. Monterrein

Monterrein

Monterrein is a commune in the Morbihan department of Brittany in north-western France.-Demographics:Inhabitants of Monterrein are called in French Monterrinois.-References:* * -External links:* *...


(56138)
63. Montertelot

Montertelot

Montertelot is a commune in the Morbihan department in Brittany in north-western France.It is situated between the cities of Rennes and Vannes, about 6 km from Ploërmel.-References:* * -External links:* *...


(56139)
64. Muzillac

Muzillac

Muzillac is a commune in the Morbihan department of Brittany in north-western France.-References:* * -External links:* *...


(56143)
65. Ménéac

Ménéac

Ménéac is a commune in the Morbihan department in Brittany in north-western France.-References:* * -External links:* *...


(56129)
66. Nivillac

Nivillac

Nivillac is a commune in the Morbihan department of Brittany in north-western France.-References:* * -External links:* *...


(56147)
67. Noyal-Muzillac

Noyal-Muzillac

Noyal-Muzillac is a commune in the Morbihan department of Brittany in north-western France.-Demographics:Inhabitants of Noyal-Muzillac are called in French Noyalais.-References:* * -External links:* *...


(56149)
68. Noyalo

Noyalo

Noyalo is a commune in the Morbihan department of Brittany in north-western France.-References:* * -External links:* *...


(56150)
69. Néant-sur-Yvel

Néant-sur-Yvel

Néant-sur-Yvel is a commune in the Morbihan department of Brittany in north-western France.-References:* * -External links:* *...


(56145)
70. Peillac

Peillac

Peillac is a commune in the Morbihan department of Brittany in north-western France.-Geography:The canal de Nantes à Brest forms all of the commune's northern border; the river Arz forms all of its southern border.-References:* * -External links:*...


(56154)
71. Plaudren

Plaudren

Plaudren is a commune in the Morbihan department of Brittany in north-western France.-References:* * -External links:* *...


(56157)
72. Plescop

Plescop

Plescop is a commune in the Morbihan department of Brittany in north-western France.-Breton language:The municipality launched a linguistic plan through Ya d'ar brezhoneg on January the 28th of 2005....


(56158)
73. Pleucadeuc

Pleucadeuc

Pleucadeuc is a commune in the Morbihan department of Brittany in north-western France.The name comes from the Breton word Plou and the name Cadoc, a Breton saint, meaning Parish of Cadoc. Numerous megaliths are to be found around the commune....


(56159)
74. Ploeren

Ploeren

Ploeren is a commune in the Morbihan department of the region of Brittany in north-western France.-Breton language:In 2008, there was 3,50% of the children attended the bilingual schools in primary education.[1]-Demographics:...


(56164)
75. Ploërmel

Ploërmel

Ploërmel is a commune in the Morbihan department in Brittany in north-western France.-Character of the town:It is a growing and developing community with a thriving economy and a lively atmosphere. The town is modern rather than romantically mediaeval, but it is clean and attractive and offers a...


(56165)
76. Pluherlin

Pluherlin

Pluherlin is a commune in the Morbihan department of Brittany in north-western France.-References:* * -External links:* *...


(56171)
77. Porcaro

Porcaro

Porcaro is a commune in the Morbihan department of Brittany in north-western France.-References:* * -External links:* *...


(56180)
78. Péaule

Péaule

Péaule is a commune in the Morbihan department of Brittany in north-western France.-References:* * -External links:* *...


(56153)
79. Pénestin

Pénestin

Pénestin is a commune in the Morbihan department of Brittany in north-western France.-Beaches:As Penestin lies on the coast, it boasts several beaches, the most popular of which are La Mine d'Or and Loscolo.-References:* * -External links:*...


(56155)
80. Quelneuc

Quelneuc

Quelneuc is a commune in the Morbihan department of Brittany in north-western France.-References:* * -External links:* * *...


(56183)
81. Questembert

Questembert

Questembert is a commune in the Morbihan department in Brittany in north-western France.It is located approximately from Vannes.-Demographics:Inhabitants of Questembert are called Questembertois.It was 7,404 as of the estimation of 2005....


(56184)
82. Rieux

Rieux, Morbihan

Rieux is a commune in the Morbihan department of Brittany in north-western France.-References:* * -External links:*...


(56194)
83. Rochefort-en-Terre

Rochefort-en-Terre

Rochefort-en-Terre is a commune in the Morbihan department of Brittany in north-western France.Rochefort-en-Terre is a designated "Petite Cité de Caractére".-Demographics:Inhabitants of Rochefort-en-Terre are called in French Rochefortais....


(56196)
84. Ruffiac

Ruffiac, Morbihan

Ruffiac is a commune in the Morbihan department of Brittany in north-western France.-References:* * -External links:* *...


(56200)
85. Réminiac

Réminiac

Réminiac is a commune in the Morbihan department of Brittany in north-western France.-References:* * -External links:* *...


(56191)
86. Saint-Abraham

Saint-Abraham

Saint-Abraham is a commune in the Morbihan department of Brittany in north-western France.-References:* * -External links:* *...


(56202)
87. Saint-Armel

Saint-Armel, Morbihan

Saint-Armel is a commune in the Morbihan department of Brittany in north-western France.-References:* * -External links:* *...


(56205)
88. Saint-Avé

Saint-Avé

Saint-Avé is a commune in the Morbihan department of Brittany in north-western France.-Breton language:The municipality launched a linguistic plan through Ya d'ar brezhoneg on March the 25th of 2005....


(56206)
89. Saint-Brieuc-de-Mauron

Saint-Brieuc-de-Mauron

Saint-Brieuc-de-Mauron is a commune in the Morbihan department of Brittany in north-western France.-Demographics:Inhabitants of Saint-Brieuc-de-Mauron are called in French Briochains.-References:* * -External links:* *...


(56208)
90. Saint-Congard

Saint-Congard

Saint-Congard is a commune in the Morbihan department of Brittany in north-western France.-Demographics:Inhabitants of Saint-Congard are called in French Saint-Congardais.-References:* * -External links:* *...


(56211)
91. Saint-Dolay

Saint-Dolay

Saint-Dolay is a commune in the Morbihan department of Brittany in north-western France.-References:* * -External links:* *...


(56212)
92. Saint-Gildas-de-Rhuys

Saint-Gildas-de-Rhuys

Saint-Gildas-de-Rhuys is a commune in the Morbihan department of Brittany in north-western France.Its French name refers to Saint Gildas, who was a monk at Rhuys.-References:* * -External links:* *...


(56214)
93. Saint-Gorgon

Saint-Gorgon, Morbihan

Saint-Gorgon is a commune in the Morbihan department of Brittany in north-western France.-Demographics:Inhabitants of Saint-Gorgon are called in French Gorgonnais.-References:* * -External links:*...


(56216)
94. Saint-Gravé

Saint-Gravé

Saint-Gravé is a commune in the Morbihan department of Brittany in north-western France.-Geography:The canal de Nantes à Brest forms part of the commune's northern border; the river Arz forms all of its southern border.-References:* * -External links:...


(56218)
95. Saint-Guyomard

Saint-Guyomard

Saint-Guyomard is a commune in the Morbihan department of Brittany in north-western France.-Demographics:Inhabitants of Saint-Guyomard are called in French Guyomardais.At the 1999 census, the population was 810. The official population in 2006 is 976....


(56219)
96. Saint-Jacut-les-Pins

Saint-Jacut-les-Pins

Saint-Jacut-les-Pins is a commune in the Morbihan department of Brittany in north-western France.-Demographics:Inhabitants of Saint-Jacut-les-Pins are called in French Jacutais.-References:* * -External links:*...


(56221)
97. Saint-Jean-la-Poterie

Saint-Jean-la-Poterie

Saint-Jean-la-Poterie is a commune in the Morbihan department of Brittany in north-western France.-Geography:The river Arz forms part of the commune's northern border, then flows into the Oust, which forms most of its eastern boundary.-Demographics:...


(56223)
98. Saint-Laurent-sur-Oust

Saint-Laurent-sur-Oust

Saint-Laurent-sur-Oust is a commune in the Morbihan department of Brittany in north-western France.-Demographics:Inhabitants of Saint-Laurent-sur-Oust are called in French Laurentins.-References:* * -External links:* *...


(56224)
99. Saint-Léry

Saint-Léry

Saint-Léry is a commune in the Morbihan department of Brittany in north-western France.-Demographics:Inhabitants of Saint-Léry are called in French Saint-Léritins or Léritins.-References:* * -External links:* *...


(56225)
100. Saint-Malo-de-Beignon

Saint-Malo-de-Beignon

Saint-Malo-de-Beignon is a commune in the Morbihan department of Brittany in north-western France.-Demographics:Inhabitants of Saint-Malo-de-Beignon are called in French Maloins.-References:* * -External links:* *...


(56226)
101. Saint-Malo-des-Trois-Fontaines

Saint-Malo-des-Trois-Fontaines

Saint-Malo-des-Trois-Fontaines is a commune in the Morbihan department of Brittany in north-western France.-Demographics:Inhabitants of Saint-Malo-des-Trois-Fontaines are called in French Malouins.-References:* * -External links:* *...


(56227)
102. Saint-Marcel

Saint-Marcel, Morbihan

Saint-Marcel is a commune in the Morbihan department of Brittany in north-western France.Saint-Marcel houses the Museum of the Breton Resistance which commemorates the uprising of the Maquis of Saint-Marcel and 200 Free French SAS parachutists in June 1944. .-References:* * -External links:* *...


(56228)
103. Saint-Martin

Saint-Martin, Morbihan

Saint-Martin-sur-Oust is a commune in the Morbihan department of Brittany in north-western France. Until 6 October 2008 it was known as Saint-Martin.-Demographics:Inhabitants of Saint-Martin-sur-Oust are called in French Martinais.-References:* *...


(56229)
104. Saint-Nicolas-du-Tertre

Saint-Nicolas-du-Tertre

Saint-Nicolas-du-Tertre is a commune in the Morbihan department of Brittany in north-western France.-References:* * -External links:* *...


(56230)
105. Saint-Nolff

Saint-Nolff

Saint-Nolff is a commune in the Morbihan department of Brittany in north-western France.-References:* * -External links:* *...


(56231)
106. Saint-Perreux

Saint-Perreux

Saint-Perreux is a commune in the Morbihan department of Brittany in north-western France and named after the Welsh monk, Saint Petroc.-Geography:...


(56232)
107. Saint-Vincent-sur-Oust

Saint-Vincent-sur-Oust

Saint-Vincent-sur-Oust is a commune in the Morbihan department of Brittany in north-western France.-Geography:The river Oust forms all of the commune's northern and eastern borders; the river Arz forms most of its south-western border....


(56239)
108. Sarzeau

Sarzeau

Sarzeau is a commune in the Morbihan department of Brittany in north-western France.It is located on the Rhuys peninsula between the Gulf of Morbihan and the Atlantic Ocean.-History:...


(56240)
109. Sulniac

Sulniac

Sulniac is a commune in the Morbihan department of Brittany in north-western France.-References:* * -External links:* * *...


(56247)
110. Surzur

Surzur

Surzur is a commune in the Morbihan department of Brittany in north-western France.-Demographics:Inhabitants of Surzur are called in French Surzurois.-Breton language:...


(56248)
111. Séné

Séné

Séné is a commune in the Morbihan department of Brittany in north-western France.-Breton language:The municipality launched a linguistic plan through Ya d'ar brezhoneg on September 22 2006.-References:* * -External links:* * *...


(56243)
112. Sérent

Sérent

Sérent is a commune in the Morbihan department of Brittany in north-western France.-References:* * -External links:* * *...


(56244)
113. Taupont

Taupont

Taupont is a commune in the Morbihan department of Brittany in north-western France.-References:* * -External links:* *...


(56249)
114. Theix

Theix

Theix is a commune in the Morbihan department of Brittany in north-western France.-Breton language:In 2008, there was 25,37% of the children attended the bilingual schools in primary education.-Sightseeing:...


(56251)
115. Théhillac

Théhillac

Théhillac is a commune in the Morbihan department of Brittany in north-western France.-Demographics:Inhabitants of Théhillac are called in French Théhillacois.population was approximately 524 as of 2007, which represents a fluctuating trend...


(56250)
116. Treffléan

Treffléan

Treffléan is a commune in the Morbihan department of Brittany in north-western France.-References:* * -External links:* * *...


(56255)
117. Tréal

Tréal

Tréal is a commune in the Morbihan department of Brittany in north-western France.-References:* * -External links:* *...


(56253)
118. Trédion

Trédion

Trédion is a commune in the Morbihan department of Brittany in north-western France.-References:* * -External links:* *...


(56254)
119. Tréhorenteuc

Tréhorenteuc

Tréhorenteuc is a commune in the Morbihan department of Brittany in north-western France.-Demographics:Inhabitants of Tréhorenteuc are called in French Tréhorentais.-References:* * -External links:* *...


(56256)
120. Vannes

Vannes

Vannes is a commune in the Morbihan department in Brittany in north-western France. It was founded over 2000 years ago.-Geography:Vannes is located on the Gulf of Morbihan at the mouth of two rivers, the Marle and the Vincin. It is around 100 km northwest of Nantes and 450 km south west...


(56260)
121. Évriguet

Évriguet

Évriguet is a commune in the Morbihan department of Brittany in north-western France.-External links:* -References:* *...


(56056)
122. Île-aux-Moines

Île-aux-Moines

Île-aux-Moines is a commune in the Morbihan department in the region of Brittany in north-western France....


(56087)
123. Île-d'Arz (56088)
External links