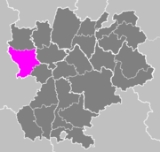 Arrondissement of Montbrison
The
arrondissement

Arrondissements of France

The 101 French departments are divided into 342 arrondissements, which may be translated into English as districts.The capital of an arrondissement/district is called a subprefecture...


of Montbrison
is located in the
Loire
Loire
Loire is an administrative department in the east-central part of France occupying the River Loire's upper reaches.-History:Loire was created in 1793 when after just 3½ years the young Rhône-et-Loire department was split into two. This was a response to counter-Revolutionary activities in Lyon...
department and
Rhône-Alpes
Rhône-Alpes
Rhône-Alpes is one of the 27 regions of France, located on the eastern border of the country, towards the south. The region was named after the Rhône River and the Alps mountain range. Its capital, Lyon, is the second-largest metropolitan area in France after Paris...
region
Régions of France
France is divided into 27 administrative regions , 22 of which are in Metropolitan France, and five of which are overseas. Corsica is a territorial collectivity , but is considered a region in mainstream usage, and is even shown as such on the INSEE website...
of
France
France
The French Republic , The French Republic , The French Republic , (commonly known as France , is a unitary semi-presidential republic in Western Europe with several overseas territories and islands located on other continents and in the Indian, Pacific, and Atlantic oceans. Metropolitan France...
. It is composed of 10
cantons
Cantons of France
The cantons of France are territorial subdivisions of the French Republic's 342 arrondissements and 101 departments.Apart from their role as organizational units in certain aspects of the administration of public services and justice, the chief purpose of the cantons today is to serve as...
and 138
communes
Communes of France
The commune is the lowest level of administrative division in the French Republic. French communes are roughly equivalent to incorporated municipalities or villages in the United States or Gemeinden in Germany...
.
Cantons
The cantons of the arrondissement of Montbrison ae:
Boën
Chazelles-sur-Lyon
Feurs
Montbrison
Noirétable
Saint-Bonnet-le-Château
Saint-Galmier
Saint-Georges-en-Couzan
Saint-Jean-Soleymieux
Saint-Just-Saint-Rambert
Communes
The communes of the arrondissement of Montbrison, and their
INSEE code
INSEE code
The INSEE code is a numerical indexing code used by the French National Institute for Statistics and Economic Studies to identify various entities, including communes, départements...
s, are:
1. Aboën

Aboën

Aboën is a commune in the Loire department in central France....


(42001)
2. Ailleux

Ailleux

Ailleux is a commune in the Loire department in central France....


(42002)
3. Andrézieux-Bouthéon

Andrézieux-Bouthéon

Andrézieux-Bouthéon is a commune of the Loire department in central France.-See also:* Saint-Étienne - Bouthéon Airport* Furan River* ASF Andrézieux* HEF Groupe*Communes of the Loire department...


(42005)
4. Apinac

Apinac

Apinac is a commune in the Loire department in central France....


(42006)
5. Arthun

Arthun

Arthun is a commune in the Loire department in central France....


(42009)
6. Aveizieux

Aveizieux

Aveizieux is a commune in the Loire department in central France....


(42010)
7. Bard

Bard, Loire

Bard is a commune in the Loire department in central France....


(42012)
8. Bellegarde-en-Forez

Bellegarde-en-Forez

Bellegarde-en-Forez is a commune in the Loire department in central France.-See also:*Communes of the Loire department...


(42013)
9. Boën

Boën

Boën is a commune in the Loire department in central France....


(42019)
10. Boisset-lès-Montrond

Boisset-lès-Montrond

Boisset-lès-Montrond is a commune in the Loire department in central France.-See also:*Communes of the Loire department...


(42020)
11. Boisset-Saint-Priest

Boisset-Saint-Priest

Boisset-Saint-Priest is a commune in the Loire department in central France....


(42021)
12. Bonson

Bonson, Loire

Bonson, Loire is a commune in the Loire department in central France....


(42022)
13. Bussy-Albieux

Bussy-Albieux

Bussy-Albieux is a commune in the Loire department in central France....


(42030)
14. Cervières

Cervières, Loire

Cervières is a commune in the Loire department in central France.-See also:*Communes of the Loire department...


(42034)
15. Cezay

Cezay

Cezay is a commune in the Loire department in central France....


(42035)
16. Chalain-d'Uzore

Chalain-d'Uzore

Chalain-d'Uzore is a commune in the Loire department in central France.-See also:*Communes of the Loire department...


(42037)
17. Chalain-le-Comtal

Chalain-le-Comtal

Chalain-le-Comtal is a commune in the Loire department in central France.-See also:*Communes of the Loire department...


(42038)
18. Chalmazel

Chalmazel

Chalmazel is a commune in the Loire department in central France.-Ski area:Chalmazel is a small ski resort situated above the village of Chalmazel in central France. The main activities offered at the resort are alpine skiing, nordic skiing, snowshoeing, ski touring, dog sledding and hiking...


(42039)
19. Chambéon

Chambéon

Chambéon is a commune in the Loire department in central France....


(42041)
20. Chambles

Chambles

Chambles is a commune in the Loire department in central France.-See also:*Communes of the Loire department...


(42042)
21. Chambœuf

Chambœuf, Loire

Chambœuf is a commune in the Loire department in central France.-See also:*Communes of the Loire department...


(42043)
22. Champdieu

Champdieu

Champdieu is a commune in the Loire department in central France.-History:The town and name of Champdieu evolved in the course of ages. First of all CANDICUS , then in 11th century the village is called CANDIACO...


(42046)
23. Châtelneuf

Châtelneuf, Loire

Châtelneuf is a commune in the Loire department in central France.-See also:*Communes of the Loire department...


(42054)
24. Châtelus

Châtelus, Loire

Châtelus is a commune in the Loire department in central France.-See also:*Communes of the Loire department...


(42055)
25. Chazelles-sur-Lavieu

Chazelles-sur-Lavieu

Chazelles-sur-Lavieu is a commune in the Loire department in central France.-See also:*Communes of the Loire department...


(42058)
26. Chazelles-sur-Lyon

Chazelles-sur-Lyon

Chazelles-sur-Lyon is a commune in the Loire department in central France.-See also:*Communes of the Loire department...


(42059)
27. Chenereilles

Chenereilles, Loire

Chenereilles is a commune in the Loire department in central France....


(42060)
28. Chevrières

Chevrières, Loire

Chevrières is a commune in the Loire department in central France.-See also:*Communes of the Loire department...


(42062)
29. Civens

Civens

Civens is a commune in the Loire department in central France....


(42065)
30. Cleppé

Cleppé

Cleppé is a commune in the Loire department in central France....


(42066)
31. Cottance

Cottance

Cottance is a commune in the Loire department in central France....


(42073)
32. Craintilleux

Craintilleux

Craintilleux is a commune in the Loire department in central France....


(42075)
33. Cuzieu

Cuzieu, Loire

Cuzieu is a commune in the Loire department in central France....


(42081)
34. Débats-Rivière-d'Orpra

Débats-Rivière-d'Orpra

Débats-Rivière-d'Orpra is a commune in the Loire department in central France.-See also:*Communes of the Loire department...


(42084)
35. Écotay-l'Olme

Écotay-l'Olme

Écotay-l'Olme is a commune in the Loire department in central France.-See also:*Communes of the Loire department...


(42087)
36. Épercieux-Saint-Paul

Épercieux-Saint-Paul

Épercieux-Saint-Paul is a commune in the Loire department in central France.-See also:*Communes of the Loire department...


(42088)
37. Essertines-en-Châtelneuf

Essertines-en-Châtelneuf

Essertines-en-Châtelneuf is a commune in the Loire department in central France.-See also:*Communes of the Loire department...


(42089)
38. Essertines-en-Donzy

Essertines-en-Donzy

Essertines-en-Donzy is a commune in the Loire department in central France.-See also:*Communes of the Loire department...


(42090)
39. Estivareilles

Estivareilles, Loire

Estivareilles is a minor commune in the Loire department in central France.-References:Based on the article in the ....


(42091)
40. Feurs

Feurs

Feurs is a commune in the Loire department and in the Rhône-Alpes region in central France.The inhabitants of Feurs are called Foréziens.-History:The name Feurs derives from the Roman name of the town Forum Segusiavorum...


(42094)
41. Grammond

Grammond

Grammond is a commune in the Loire department in central France....


(42102)
42. Grézieux-le-Fromental

Grézieux-le-Fromental

Grézieux-le-Fromental is a commune in the Loire department in central France.-See also:*Communes of the Loire department...


(42105)
43. Gumières

Gumières

Gumières is a commune in the Loire department in central France....


(42107)
44. Jas

Jas, Loire

Jas is a commune in the Loire department in central France....


(42113)
45. Jeansagnière

Jeansagnière

Jeansagnière is a commune in the Loire department in central France....


(42114)
46. L'Hôpital-le-Grand

L'Hôpital-le-Grand

L'Hôpital-le-Grand is a commune in the Loire department in central France.-See also:*Communes of the Loire department...


(42108)
47. L'Hôpital-sous-Rochefort

L'Hôpital-sous-Rochefort

L'Hôpital-sous-Rochefort is a commune in the Loire department in central France.-See also:*Communes of the Loire department...


(42109)
48. La Chamba

La Chamba

La Chamba is a commune in the Loire department in central France....


(42040)
49. La Chambonie

La Chambonie

La Chambonie is a commune in the Loire department in central France....


(42045)
50. La Chapelle-en-Lafaye

La Chapelle-en-Lafaye

-See also:*Communes of the Loire department...


(42050)
51. La Côte-en-Couzan

La Côte-en-Couzan

La Côte-en-Couzan is a commune in the Loire department in central France.-See also:*Communes of the Loire department...


(42072)
52. La Gimond

La Gimond

La Gimond is a commune in the Loire department in central France....


(42100)
53. La Tourette

La Tourette

La Tourette is a commune in the Loire department in central France....


(42312)
54. La Valla-sur-Rochefort

La Valla-sur-Rochefort

La Valla-sur-Rochefort is a commune in the Loire department in central France.-See also:*Communes of the Loire department...


(42321)
55. Lavieu

Lavieu

Lavieu is a commune in the Loire department in central France....


(42117)
56. Leigneux

Leigneux

Leigneux is a commune in the Loire department in central France....


(42119)
57. Lérigneux

Lérigneux

Lérigneux is a commune in the Loire department in central France....


(42121)
58. Les Salles

Les Salles

-Notable residents:* Etienne Francois of Kair Blumestein : Inspector of Mines, German origin. He established in 1730 to drop a smelter to process the lead extracted from its mines Champoly and Juré. He bought the La Goutte castle in 1753 to live in....


(42295)
59. Lézigneux

Lézigneux

Lézigneux is a commune in the Loire department in central France....


(42122)
60. Luriecq

Luriecq

Luriecq is a commune in the Loire department in central France....


(42126)
61. Magneux-Haute-Rive

Magneux-Haute-Rive

Magneux-Haute-Rive is a commune in the Loire department in central France....


(42130)
62. Marcilly-le-Châtel

Marcilly-le-Châtel

Marcilly-le-Châtel is a commune in the Loire department in central France.-See also:*Communes of the Loire department...


(42134)
63. Marclopt

Marclopt

Marclopt is a commune in the Loire department in central France....


(42135)
64. Marcoux

Marcoux, Loire

Marcoux is a commune in the Loire department in central France....


(42136)
65. Margerie-Chantagret

Margerie-Chantagret

Margerie-Chantagret is a commune in the Loire department in central France....


(42137)
66. Maringes

Maringes

Maringes is a commune in the Loire department in central France....


(42138)
67. Marols

Marols, Loire

Marols is a commune in the Loire department in central France....


(42140)
68. Merle-Leignec

Merle-Leignec

Merle-Leignec is a commune in the Loire department in central France....


(42142)
69. Mizérieux

Mizérieux

Mizérieux is a commune in the Loire department in central France....


(42143)
70. Montarcher

Montarcher

Montarcher is a commune in the Loire department in central France....


(42146)
71. Montbrison

Montbrison, Loire

Montbrison is a commune in the Loire department in central France.The commune gives its name to the popular blue cheese Fourme de Montbrison which has been made in the region for centuries.-History:...


(42147)
72. Montchal

Montchal

Montchal is a commune in the Loire department in central France....


(42148)
73. Montrond-les-Bains

Montrond-les-Bains

Montrond-les-Bains is a commune in the Loire department in central France.-See also:*Communes of the Loire department...


(42149)
74. Montverdun

Montverdun

Montverdun is a commune in the Loire department in central France....


(42150)
75. Mornand-en-Forez

Mornand-en-Forez

Mornand-en-Forez is a commune in the Loire department in central France.-See also:*Communes of the Loire department...


(42151)
76. Nervieux

Nervieux

Nervieux is a commune in the Loire department in central France....


(42155)
77. Noirétable

Noirétable

Noirétable is a commune in the Loire department in central France.-See also:*Communes of the Loire department...


(42159)
77. Palogneux

Palogneux

Palogneux is a commune in the Loire department in central France....


(42164)
79. Panissières

Panissières

Panissières is a commune in the Loire department in central France....


(42165)
80. Périgneux

Périgneux

Périgneux is a commune in the Loire department in central France....


(42169)
81. Poncins

Poncins

Poncins is a commune in the Loire department in central France....


(42174)
82. Pouilly-lès-Feurs

Pouilly-lès-Feurs

Pouilly-lès-Feurs is a commune in the Loire department and in the Rhône-Alpes region in central France.-See also:*Communes of the Loire department...


(42175)
83. Pralong

Pralong

Pralong is a commune in the Loire department in central France....


(42179)
84. Précieux

Précieux

Précieux is a commune in the Loire department in central France....


(42180)
85. Rivas

Rivas, Loire

Rivas is a commune in the Loire department in central France....


(42185)
86. Roche

Roche, Loire

Roche is a commune in the Loire department in central France....


(42188)
87. Rozier-Côtes-d'Aurec

Rozier-Côtes-d'Aurec

Rozier-Côtes-d'Aurec is a commune in the Loire department in central France.-See also:*Communes of the Loire department...


(42192)
88. Rozier-en-Donzy

Rozier-en-Donzy

Rozier-en-Donzy is a commune in the Loire department in central France.-See also:*Communes of the Loire department...


(42193)
89. Sail-sous-Couzan

Sail-sous-Couzan

Sail-sous-Couzan is a commune in the Loire department in central France.-See also:*Communes of the Loire department...


(42195)
90. Saint-André-le-Puy

Saint-André-le-Puy

Saint-André-le-Puy or Le Puy is a commune in the Loire department in central France.It is located from Saint-Étienne .It rejected the proposed European Constitution by 60%....


(42200)
91. Saint-Barthélemy-Lestra

Saint-Barthélemy-Lestra

Saint-Barthélemy-Lestra is a commune in the Loire department in central France.-References:*...


(42202)
92. Saint-Bonnet-le-Château

Saint-Bonnet-le-Château

Saint-Bonnet-le-Château is a commune in the Loire department in central France.-References:*...


(42204)
93. Saint-Bonnet-le-Courreau

Saint-Bonnet-le-Courreau

Saint-Bonnet-le-Courreau is a commune in the Loire department in central France.-References:*...


(42205)
94. Saint-Bonnet-les-Oules

Saint-Bonnet-les-Oules

Saint-Bonnet-les-Oules is a commune in the Loire department in central France.-References:*...


(42206)
95. Saint-Cyprien

Saint-Cyprien, Loire

Saint-Cyprien is a commune in the Loire department in central France.-References:*...


(42211)
96. Saint-Cyr-les-Vignes

Saint-Cyr-les-Vignes

Saint-Cyr-les-Vignes is a commune in the Loire department in central France.-References:*...


(42214)
97. Saint-Denis-sur-Coise

Saint-Denis-sur-Coise

Saint-Denis-sur-Coise is a commune in the Loire department in central France.-References:*...


(42216)
98. Saint-Didier-sur-Rochefort

Saint-Didier-sur-Rochefort

Saint-Didier-sur-Rochefort is a commune in the Loire department in central France.-References:*...


(42217)
99. Saint-Étienne-le-Molard

Saint-Étienne-le-Molard

Saint-Étienne-le-Molard is a commune in the Loire department in central France.-References:*...


(42219)
100. Saint-Galmier

Saint-Galmier

Saint-Galmier is a commune in the Loire department in central France.Its residents are called Baldomériens.-Water:Saint Galmier is a spa town and the source of Badoit mineral water...


(42222)
101. Saint-Georges-en-Couzan

Saint-Georges-en-Couzan

Saint-Georges-en-Couzan is a commune in the Loire department in central France.-References:*...


(42227)
102. Saint-Georges-Haute-Ville

Saint-Georges-Haute-Ville

Saint-Georges-Haute-Ville is a commune in the Loire department in central France.-References:*...


(42228)
103. Saint-Hilaire-Cusson-la-Valmitte

Saint-Hilaire-Cusson-la-Valmitte

Saint-Hilaire-Cusson-la-Valmitte is a commune in the Loire department in central France.-References:*...


(42235)
104. Saint-Jean-la-Vêtre

Saint-Jean-la-Vêtre

Saint-Jean-la-Vêtre is a commune in the Loire department in central France.-References:*...


(42238)
105. Saint-Jean-Soleymieux

Saint-Jean-Soleymieux

Saint-Jean-Soleymieux is a commune in the Loire department in central France.-References:*...


(42240)
106. Saint-Julien-la-Vêtre

Saint-Julien-la-Vêtre

Saint-Julien-la-Vêtre is a commune in the Loire department in central France.-References:*...


(42245)
107. Saint-Just-en-Bas

Saint-Just-en-Bas

Saint-Just-en-Bas is a commune in the Loire department in central France.-References:*...


(42247)
108. Saint-Just-Saint-Rambert

Saint-Just-Saint-Rambert

Saint-Just-Saint-Rambert is a commune in the Loire department in central France.-References:*...


(42279)
109. Saint-Laurent-la-Conche

Saint-Laurent-la-Conche

Saint-Laurent-la-Conche is a commune in the Loire department in central France.-References:*...


(42251)
110. Saint-Laurent-Rochefort

Saint-Laurent-Rochefort

Saint-Laurent-Rochefort is a commune in the Loire department in central France.-References:*...


(42252)
111. Saint-Marcellin-en-Forez

Saint-Marcellin-en-Forez

Saint-Marcellin-en-Forez is a commune in the Loire department in central France.-References:*...


(42256)
112. Saint-Martin-Lestra

Saint-Martin-Lestra

Saint-Martin-Lestra is a commune in the Loire department in central France.-References:*...


(42261)
113. Saint-Maurice-en-Gourgois

Saint-Maurice-en-Gourgois

Saint-Maurice-en-Gourgois is a commune in the Loire department in central France.The inhabitants of Saint-Maurice-en-Gourgois are known as Gargomançois or Gargomançoises but are nicknamed Les Escargots....


(42262)
114. Saint-Médard-en-Forez

Saint-Médard-en-Forez

Saint-Médard-en-Forez is a commune in the Loire department in central France.-References:*...


(42264)
115. Saint-Nizier-de-Fornas

Saint-Nizier-de-Fornas

Saint-Nizier-de-Fornas is a commune in the Loire department in central France.-References:*...


(42266)
116. Saint-Paul-d'Uzore

Saint-Paul-d'Uzore

Saint-Paul-d'Uzore is a commune in the Loire department in central France.-References:*...


(42269)
117. Saint-Priest-la-Vêtre

Saint-Priest-la-Vêtre

Saint-Priest-la-Vêtre is a commune in the Loire department in central France.-References:*...


(42278)
118. Saint-Romain-le-Puy

Saint-Romain-le-Puy

Saint-Romain-le-Puy or Le Puy is a commune in the Loire department in central France.The town is located from Montbrison along the D8...


(42285)
119. Saint-Sixte

Saint-Sixte, Loire

Saint-Sixte is a commune in the Loire department in central France.-References:*...


(42288)
120. Saint-Thomas-la-Garde

Saint-Thomas-la-Garde

Saint-Thomas-la-Garde is a commune in the Loire department in central France.-References:*...


(42290)
121. Saint-Thurin

Saint-Thurin

Saint-Thurin is a commune in the Loire department in central France.-References:*...


(42291)
122. Sainte-Agathe-la-Bouteresse

Sainte-Agathe-la-Bouteresse

Sainte-Agathe-la-Bouteresse is a commune in the Loire department in central France.-References:*...


(42197)
123. Sainte-Foy-Saint-Sulpice

Sainte-Foy-Saint-Sulpice

Sainte-Foy-Saint-Sulpice is a commune in the Loire department in central France.-References:*...


(42221)
124. Salt-en-Donzy

Salt-en-Donzy

Salt-en-Donzy is a commune in the Loire department in central France....


(42296)
125. Salvizinet

Salvizinet

Salvizinet is a commune in the Loire department in central France....


(42297)
126. Sauvain

Sauvain

Sauvain is a commune in the Loire department in central France....


(42298)
127. Savigneux

Savigneux, Loire

Savigneux is a commune in the Loire department in central France....


(42299)
128. Soleymieux

Soleymieux

Soleymieux is a commune in the Loire department in central France....


(42301)
129. Sury-le-Comtal

Sury-le-Comtal

Sury-le-Comtal is a commune in the Loire department in central France....


(42304)
130. Trelins

Trelins

Trelins is a commune in the Loire department in central France....


(42313)
131. Unias

Unias

Unias is a commune in the Loire department in central France....


(42315)
132. Usson-en-Forez

Usson-en-Forez

Usson-en-Forez is a commune in the Loire department in central France.A notable native is Lazarite priest Jean-Claude Faveyrial , author of the first book on the history of Albania.-See also:*Communes of the Loire department...


(42318)
133. Valeille

Valeille

Valeille is a commune in the Loire department in central France....


(42319)
134. Veauche

Veauche

Veauche is a commune in the Loire department in central France. Near Saint Etienne , it is bordered west by the longest river in France's Loire and has approximately 8000 veauchois and veauchoises. Veauche name is mentioned as early as 1000....


(42323)
135. Veauchette

Veauchette

Veauchette is a commune in the Loire department in central France.-External links:*...


(42324)
136. Verrières-en-Forez

Verrières-en-Forez

Verrières-en-Forez is a commune in the Loire department in central France.-External links:*...


(42328)
137. Viricelles

Viricelles

Viricelles is a commune in the Loire department in central France....


(42335)
138. Virigneux

Virigneux

Virigneux is a commune in the Loire department in central France....


(42336)
External links
Montbrison on French National Institute of Statistics and Economic Studies site (INSEE)