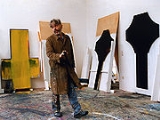 Arnulf Rainer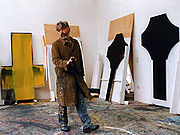 Arnulf Rainer
is an Austrian painter and is internationally renowned for his abstract informal art.
In his early years, Rainer was influenced by
Surrealism
Surrealism
Surrealism is a cultural movement that began in the early 1920s, and is best known for the visual artworks and writings of the group members....
. In 1950, he founded the
Hundsgruppe
(
dog group
) together with
Ernst Fuchs
Ernst Fuchs (artist)
Ernst Fuchs is an Austrian painter, draftsman, printmaker, sculptor, architect, stage designer, composer, poet, singer and one of the founders of the Vienna School of Fantastic Realism. In 1972 he acquired the derelict Otto Wagner Villa in Hütteldorf, which he restored and transformed...
,
Arik Brauer
Arik Brauer
Arik Brauer is an Austrian painter, draughtsman, printmaker, poet, dancer, singer and stage designer. He resides in Vienna and Ein Hod, Israel. Brauer is a co-founder of the Vienna School of Fantastic Realism, together with Ernst Fuchs, Rudolf Hausner, Wolfgang Hutter and Anton Lehmden.Erich...
, and
Josef Mikl
Josef Mikl
Josef Mikl was an Austrian abstract painter of the Informal style.-Biography:Born in Vienna, he received his first training at the Graphische Lehr- und Versuchsanstalt, studying at the prominent Viennese academy from 1949-1956 under Josef Dobrovský...
.
After 1954, Rainer's style evolved towards
Destruction of Forms
, with blackenings, overpaintings, and maskings of
illustration
Illustration
An illustration is a displayed visualization form presented as a drawing, painting, photograph or other work of art that is created to elucidate or dictate sensual information by providing a visual representation graphically.- Early history :The earliest forms of illustration were prehistoric...
s and
photograph
Photograph
A photograph is an image created by light falling on a light-sensitive surface, usually photographic film or an electronic imager such as a CCD or a CMOS chip. Most photographs are created using a camera, which uses a lens to focus the scene's visible wavelengths of light into a reproduction of...
s dominating his later work. He was close to the
Vienna Actionism
, featuring
body art
Body art
Body art is art made on, with, or consisting of, the human body. The most common forms of body art are tattoos and body piercings, but other types include scarification, branding, scalpelling, shaping , full body tattoo and body painting.More extreme body art can involve things such as mutilation...
and painting under drug influence. He did a lot of work on Hiroshima, after the bombing.
In 1978, he received the Great Austrian National Prize.
In the same year, and in 1980, he became the Austrian representative at the
Venice Biennale
Venice Biennale
The Venice Biennale is a major contemporary art exhibition that takes place once every two years in Venice, Italy. The Venice Film Festival is part of it. So too is the Venice Biennale of Architecture, which is held in even years...
.
From 1981 to 1995, Rainer held a professorship at the Academy of Fine Arts in
Vienna
Vienna
Vienna is the capital and largest city of the Republic of Austria and one of the nine states of Austria. Vienna is Austria's primary city, with a population of about 1.723 million , and is by far the largest city in Austria, as well as its cultural, economic, and political centre...
- the same place where he aborted his own studies after three days, unsatisfied.
His works are shown in the
Museum of Modern Art
Museum of Modern Art
The Museum of Modern Art is an art museum in Midtown Manhattan in New York City, on 53rd Street, between Fifth and Sixth Avenues. It has been important in developing and collecting modernist art, and is often identified as the most influential museum of modern art in the world...
and the
Solomon R. Guggenheim Museum
Solomon R. Guggenheim Museum
The Solomon R. Guggenheim Museum is a well-known museum located on the Upper East Side of Manhattan in New York City, United States. It is the permanent home to a renowned collection of Impressionist, Post-Impressionist, early Modern, and contemporary art and also features special exhibitions...
. As the culmination of the appraisal of his work, in 1993 the Arnulf Rainer Museum opened in New York City.
Arnulf Rainer was member of the Lord Jim Lodge.
External links