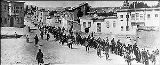 Armenian Genocide
The
Armenian Genocide
—also known as the
Armenian Holocaust
, the
Armenian Massacres
and, by Armenians, as the
Great Crime
—refers to the deliberate and systematic destruction of the
Armenian
Armenians
Armenian people or Armenians are a nation and ethnic group native to the Armenian Highland.The largest concentration is in Armenia having a nearly-homogeneous population with 97.9% or 3,145,354 being ethnic Armenian....
population of the
Ottoman Empire
Ottoman Empire
The Ottoman EmpireIt was usually referred to as the "Ottoman Empire", the "Turkish Empire", the "Ottoman Caliphate" or more commonly "Turkey" by its contemporaries...
during and just after World War I. It was implemented through wholesale
massacre
Massacre
A massacre is an event with a heavy death toll.Massacre may also refer to:-Entertainment:*Massacre , a DC Comics villain*Massacre , a 1932 drama film starring Richard Barthelmess*Massacre, a 1956 Western starring Dane Clark...
s and deportations, with the deportations consisting of
forced marches
Death march
A death march is a forced march of prisoners of war or other captives or deportees. Those marching must walk over long distances for an extremely long period of time and are not supplied with food or water...
under conditions designed to lead to the death of the deportees.
These left-overs from the former Young Turk Party, who should have been made to account for the millions of our Christian subjects who were ruthlessly driven en masse from their homes and massacred, have been restive under the Republican rule.

Mustafa Kemal Atatürk, in an interview published in The Los Angeles Examiner (1 August 1926)
Jamal Pasha [then Turkish military ruler in Palestine] planned from the outset to destroy the entire Hebrew settlement in Eretz Yisrael, exactly as they did the Armenians in Armenia

David Ben-Gurion, in a letter to his father from 1919, as reported by Yair Auron in The Banality of Indifference: Zionism and the Armenian Genocide - p 325