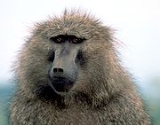 Archonta
The
Archonta
are a group of mammals considered a superorder in some classifications.
The Archonta consist of the following orders:
Genetic analysis has suggested that the bats are not as closely related to the other groups as previously suspected. A revised category,
Euarchonta
Euarchonta
The Euarchonta are a grandorder of mammals containing four orders: the Dermoptera or colugos, the Scandentia or treeshrews, the extinct Plesiadapiformes, and the Primates....
, excluding bats, has been proposed.
It has been suggested that this taxon may have arisen in the Early Cretaceous (more than one hundred million years ago) and therefore did not radiate as believed following the cretaceous/tertiary extinction of the dinosaurs, instead related to events in the history of the Earth.