 Archelaus of Priene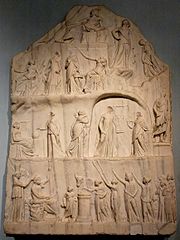 Archelaus of Priene
was a Greek sculptor who lived close to 300 BC in
Priene
Priene
Priene was an ancient Greek city of Ionia at the base of an escarpment of Mycale, about north of the then course of the Maeander River, from today's Aydin, from today's Söke and from ancient Miletus...
. He is remembered for his apotheosis of
Homer
Homer
In the Western classical tradition Homer , is the author of the Iliad and the Odyssey, and is revered as the greatest ancient Greek epic poet. These epics lie at the beginning of the Western canon of literature, and have had an enormous influence on the history of literature.When he lived is...
, a marble relief aggrandising the poet that is now preserved in the
British Museum
British Museum
The British Museum is a museum of human history and culture in London. Its collections, which number more than seven million objects, are amongst the largest and most comprehensive in the world and originate from all continents, illustrating and documenting the story of human culture from its...
.