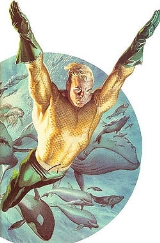 Aquaman
Aquaman
is a
fiction
Fiction
Fiction is the form of any narrative or informative work that deals, in part or in whole, with information or events that are not factual, but rather, imaginary—that is, invented by the author. Although fiction describes a major branch of literary work, it may also refer to theatrical,...
al
superhero
Superhero
A superhero is a type of stock character, possessing "extraordinary or superhuman powers", dedicated to protecting the public. Since the debut of the prototypical superhero Superman in 1938, stories of superheroes — ranging from brief episodic adventures to continuing years-long sagas —...
who appears in
comic book
Comic book
A comic book or comicbook is a magazine made up of comics, narrative artwork in the form of separate panels that represent individual scenes, often accompanied by dialog as well as including...
s published by
DC Comics
DC Comics
DC Comics, Inc. is one of the largest and most successful companies operating in the market for American comic books and related media. It is the publishing unit of DC Entertainment a company of Warner Bros. Entertainment, which itself is owned by Time Warner...
. Created by
Paul Norris
Paul Norris
Paul Leroy Norris was an American comic book artist best known as co-creator of the DC Comics superhero Aquaman, and for a 35-year run as artist of the newspaper comic strip Brick Bradford.-Early life and career:...
and
Mort Weisinger
Mort Weisinger
Mortimer Weisinger was an American magazine and comic book editor best known for editing DC Comics' Superman during the mid-1950s to 1960s, in the Silver Age of comic books...
, the character debuted in
More Fun Comics
More Fun Comics
More Fun Comics, originally titled New Fun: The Big Comic Magazine a.k.a. New Fun Comics, was a 1935-1947 American comic book anthology that introduced several major superhero characters and was the first American comic-book series to feature solely original material rather than reprints of...
#73 (Sep. 1941). Initially a backup feature in DC's anthology titles, Aquaman later starred in several volumes of a solo title. During the late 1950s and 1960s superhero-revival period known as the
Silver Age
Silver Age of Comic Books
The Silver Age of Comic Books was a period of artistic advancement and commercial success in mainstream American comic books, predominantly those in the superhero genre. Following the Golden Age of Comic Books and an interregnum in the early to mid-1950s, the Silver Age is considered to cover the...
, he was a founding member of the
Justice League of America
Justice League
The Justice League, also called the Justice League of America or JLA, is a fictional superhero team that appears in comic books published by DC Comics....
. In the 1990s
Modern Age
Modern Age of Comic Books
The Modern Age of Comic Books is an informal name for the period in the history of mainstream American comic books generally considered to last from the mid-1980s until present day...
, Aquaman's character became more serious than in most previous interpretations, with storylines depicting the weight of his role as king of
Atlantis
Atlantis (DC Comics)
Atlantis is a fictional location in the DC Comics Universe. The very first DC Universe version of Atlantis debuted in Action Comics #18 , and was created by...
.
Aquaman's first origin story was presented in
flashback
Flashback (narrative)
Flashback is an interjected scene that takes the narrative back in time from the current point the story has reached. Flashbacks are often used to recount events that happened before the story's primary sequence of events or to fill in crucial backstory...
from his debut, narrated by the character himself:
In his early Golden Age appearances, Aquaman could breathe underwater with gills, had superhuman strength enabling him to swim at high speeds, and could communicate with sea life and have them do his bidding.