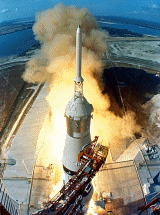 Apollo 11
In early 1969, Bill Anders accepted a job with the
National Space Council
National Space Council
The National Space Council was a body within the Executive Office of the President of the United States, which existed from 1989 to 1993 during the administration of George H.W. Bush...
effective in August 1969 and announced his retirement as an astronaut. At that point Ken Mattingly was moved from the support crew into parallel training with Anders as backup Command Module Pilot in case Apollo 11 was delayed past its intended July launch (at which point Anders would be unavailable if needed) and would later join Lovell's crew and ultimately be assigned as the original
Apollo 13
Apollo 13
Apollo 13 was the seventh manned mission in the American Apollo space program and the third intended to land on the Moon. The craft was launched on April 11, 1970, at 13:13 CST. The landing was aborted after an oxygen tank exploded two days later, crippling the service module upon which the Command...
CMP.
Charlie Duke

Charles Moss Duke, Jr.

Charles Moss Duke, Jr. is a retired US Air Force brigadier general, and a former United States astronaut and aerospace engineer for NASA...


, Capsule Communicator (CAPCOM)
Ronald Evans

Ronald Evans

Ronald Ellwin Evans, Jr. was a NASA astronaut and one of only 24 people to have flown to the Moon. He also served as a captain in the United States Navy....


, (CAPCOM)
Owen K. Garriott

Owen K. Garriott

Owen Kay Garriott, Ph.D. is a former NASA astronaut who spent 60 days aboard Skylab in 1973 and 10 days aboard Spacelab-1 in 1983. He is also the father of Robert Garriott and fellow spacefarer Richard Garriott, with whom he helped found Origin Systems.-Education and background:Garriott was born...


, (CAPCOM)
Don L. Lind

Don L. Lind

Don Leslie Lind is an American scientist and a former NASA astronaut.-Education:Lind attended Midvale Elementary School and graduated from Jordan High School. He received a Bachelor of Science degree with high honors in physics from the University of Utah in 1953...


, (CAPCOM)
Ken Mattingly

Ken Mattingly

Thomas Kenneth "Ken" Mattingly II, is a retired American astronaut and rear admiral in the United States Navy who flew on the Apollo 16, STS-4 and STS-51-C missions. He had been scheduled to fly on Apollo 13, but was held back due to concerns about a potential illness...


, (CAPCOM)
Bruce McCandless II

Bruce McCandless II

Bruce McCandless II is a former naval aviator with the United States Navy and former NASA astronaut. During the first of his two Space Shuttle missions he made the first ever untethered free flight, using the Manned Maneuvering Unit.-Education:McCandless is the son of Bruce McCandless, a decorated...


, (CAPCOM)
Harrison Schmitt

Harrison Schmitt

Harrison Hagan "Jack" Schmitt is an American geologist, a retired NASA astronaut, university professor, and a former U.S. senator from New Mexico....


, (CAPCOM)
Bill Pogue
Jack Swigert

Jack Swigert

He later became staff director of the Committee on Science and Technology of the U.S. House of Representatives.Swigert was elected as a Republican to Colorado's newly created 6th congressional district in November 1982. He defeated Democrat Steve Hogan, 98,909 votes to 56,518...



Cliff Charlesworth (Green Team), launch and EVA

Extra-vehicular activity

Extra-vehicular activity is work done by an astronaut away from the Earth, and outside of a spacecraft. The term most commonly applies to an EVA made outside a craft orbiting Earth , but also applies to an EVA made on the surface of the Moon...



Gene Kranz

Gene Kranz

Kranz's book, titled Failure Is Not an Option, published five years after the movie, stated, "...a creed that we all lived by: "Failure is not an option."" . The book has three index references for the phrase, but none of those give any indication of the phrase being apocryphal...


(White Team), lunar landing
Glynn Lunney

Glynn Lunney

Glynn S. Lunney is a retired NASA engineer. An employee of NASA since its foundation in 1958, Lunney was a flight director during the Gemini and Apollo programs, and was on duty during historic events such as the Apollo 11 lunar ascent and the pivotal hours of the Apollo 13 crisis...


(Black Team), lunar ascent
After the crew of
Apollo 10
Apollo 10
Apollo 10 was the fourth manned mission in the American Apollo space program. It was an F type mission—its purpose was to be a "dry run" for the Apollo 11 mission, testing all of the procedures and components of a Moon landing without actually landing on the Moon itself. The mission included the...
named their spacecraft Charlie Brown and Snoopy, assistant manager for public affairs Julian Scheer wrote Manned Spacecraft Center director George M.