 Antony Tudor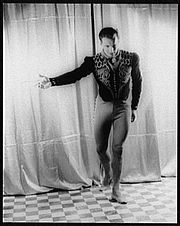 Antony Tudor
was an
English
England
England is a country that is part of the United Kingdom. It shares land borders with Scotland to the north and Wales to the west; the Irish Sea is to the north west, the Celtic Sea to the south west, with the North Sea to the east and the English Channel to the south separating it from continental...
ballet
Ballet
Ballet is a type of performance dance, that originated in the Italian Renaissance courts of the 15th century, and which was further developed in France and Russia as a concert dance form. The early portions preceded the invention of the proscenium stage and were presented in large chambers with...
choreographer
Choreography
Choreography is the art of designing sequences of movements in which motion, form, or both are specified. Choreography may also refer to the design itself, which is sometimes expressed by means of dance notation. The word choreography literally means "dance-writing" from the Greek words "χορεία" ...
, teacher and dancer.
Biography
Tudor, born
William Cook
, discovered dance accidentally. He began dancing professionally with
Marie Rambert
Marie Rambert
Dame Marie Rambert DBE was a Polish-Jewish dancer and dance pedagogue who exerted a great influence on British ballet, both as a dancer and teacher.- Early years and background :...
in 1928, becoming general assistant for her Ballet Club the next year. A precocious choreographer, at age twenty-three he created for her dancers
Cross Garter'd
, then
Lysistrata
,
The Planets
and other works at the little
Mercury Theatre, Notting Hill Gate
Mercury Theatre, Notting Hill Gate
The Mercury Theatre was a small theatre in Kensington Park Road, Notting Hill Gate, London, notable for the productions of poetic dramas between 1933 and 1956, and as the home of the Ballet Rambert until 1987.- History :...
, and his two most revolutionary,
Jardin Aux Lilas
(
Lilac Garden
) and
Dark Elegies
, before the age of thirty, himself dancing the main roles.
In 1938, he founded the London Ballet with Rambert members, including his future life partner,
Hugh Laing
Hugh Laing
Hugh Laing was one of the most significant dramatic ballet dancers of the 20th-century. He was the partner of choreographer Antony Tudor.- Biography :...
, Andreé Howard,
Agnes de Mille
Agnes de Mille
Agnes George de Mille was an American dancer and choreographer.-Early years:Agnes de Mille was born in New York City into a well-connected family of theater professionals. Her father William C. deMille and her uncle Cecil B. DeMille were both Hollywood directors...
,
Peggy van Praagh
Peggy van Praagh
Dame Margaret "Peggy" van Praagh, DBE had a long and distinguished career in ballet as a dancer, choreographer, teacher, producer, advocate and director.-Dancing:...
,
Maude Lloyd
Maude Lloyd
Maude Lloyd was a South African ballerina and dance critic.She studied classical ballet under Helen Webb in Cape Town, South Africa. She came to London in 1926 to study, and helped form the Ballet Rambert. The lead roles in many ballets by Frederick Ashton, Antony Tudor and Andrée Howard were...
and Walter Gore, but with the onset of
World War II
World War II
World War II, or the Second World War , was a global conflict lasting from 1939 to 1945, involving most of the world's nations—including all of the great powers—eventually forming two opposing military alliances: the Allies and the Axis...
, in 1940 was invited with them to New York, joining Richard Pleasant's and
Lucia Chase
Lucia Chase
Lucia Chase was an American dancer, actress, ballet director and also the co-founder of the American Ballet Theatre.- Career :...
's reorganized Ballet Theater. Chase's company was later to become the
American Ballet Theatre
American Ballet Theatre
American Ballet Theatre , based in New York City, was one of the foremost ballet companies of the 20th century. It continues as a leading dance company in the world today...
, with which Tudor was closely associated for the rest of his life.
He was resident choreographer with Ballet Theater for ten years, restaging some of his earlier works but also setting the new works, his great
Pillar of Fire
,
Romeo and Juliet
,
Dim Lustre
and
Undertow
, on that company by the end of the war. Retiring from dancing in 1950, he headed the faculty of the
Metropolitan Opera Ballet School
Metropolitan Opera
The Metropolitan Opera is an opera company, located in New York City. Originally founded in 1880, the company gave its first performance on October 22, 1883. The company is operated by the non-profit Metropolitan Opera Association, with Peter Gelb as general manager...
, taught at the
Juilliard School
Juilliard School
The Juilliard School, located at the Lincoln Center for the Performing Arts in New York City, United States, is a performing arts conservatory which was established in 1905...
recurrently from 1950 onwards, and was artistic director for the
Royal Swedish Ballet
Royal Swedish Ballet
The Royal Swedish Ballet is one of the oldest ballet companies in Europe. Based in Stockholm, Sweden, King Gustav III founded the ballet in 1773 as a part of his national cultural project in response to the French and Italian dominance in this field; he also founded the Royal Swedish Opera and the...
from 1963-64. He choreographed three works for the
New York City Ballet
New York City Ballet
New York City Ballet is a ballet company founded in 1948 by choreographer George Balanchine and Lincoln Kirstein. Leon Barzin was the company's first music director. Balanchine and Jerome Robbins are considered the founding choreographers of the company...
. Tudor continued his teaching career as Professor of Ballet Technique at the Department of Dance,
University of California, Irvine
University of California, Irvine
The University of California, Irvine , founded in 1965, is one of the ten campuses of the University of California, located in Irvine, California, USA...
from 1973 (work curtailed by a serious heart condition), while rejoining American Ballet Theatre in 1974 as associate artistic director, creating
The Leaves Are Fading
and
Tiller In the Fields
, his last major work, in 1978. With Laing, he continued seasonal residence in
Laguna Beach, California
Laguna Beach, California
Laguna Beach is a seaside resort city and artist community located in southern Orange County, California, United States, approximately southwest of the county seat of Santa Ana...
.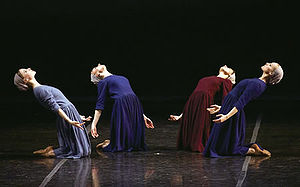 Tudor was awarded a creative arts medal by
Brandeis University
Brandeis University
Brandeis University is an American private research university with a liberal arts focus. It is located in the southwestern corner of Waltham, Massachusetts, nine miles west of Boston. The University has an enrollment of approximately 3,200 undergraduate and 2,100 graduate students. In 2011, it...
, the
Dance Magazine
Dance Magazine
Dance Magazine is an "influential" American trade publication for dance, currently published by the Macfadden Communications Group. It was first published in June 1927 as The American Dancer. William Como was its editor-in-chief from 1970 to his death in 1989. Wendy Perron became its editor-in...
and
Capezio
Capezio
Capezio is the trading name of Capezio Ballet Makers Inc, a specialist manufacturer of dance shoes, apparel and accessories.-History:Ballet Makers, Inc., of Totowa, New Jersey, was founded in 1887 by Salvatore Capezio....
awards, New York City's
Handel Medallion
Handel Medallion
The Handel Medallion is an American award presented by the City of New York, New York. It is the city's highest award given to individuals for their contribution to the city's intellectual and cultural life.-Establishment:...
, and both Kennedy Center and Dance/USA National Honors. Tudor was inducted into the
National Museum of Dance C.V. Whitney Hall of Fame
National Museum of Dance and Hall of Fame
The National Museum of Dance and Hall of Fame, in the Saratoga Spa State Park, Saratoga, New York, was established in 1986 and is the only museum in the nation dedicated entirely to dance. It contains photographs, videos, artifacts, costumes and biographies. The museum is located in the former and...
in 1988.
Legacy
Antony Tudor is generally accepted to be one of the great originals of modern dance forms. Along with
George Balanchine
George Balanchine
George Balanchine , born Giorgi Balanchivadze in Saint Petersburg, Russia, to a Georgian father and a Russian mother, was one of the 20th century's most famous choreographers, a developer of ballet in the United States, co-founder and balletmaster of New York City Ballet...
, he is seen as a principal transformer of ballet into a modern art, but of a genius that uses, rather than proceeds from, ballet forms. His work is usually considered as modern "psychological" expression, but — like their creator - of austerity, elegance and nobility.
Mikhail Baryshnikov
Mikhail Baryshnikov
Mikhail Nikolaevich Baryshnikov is a Soviet and American dancer, choreographer, and actor, often cited alongside Vaslav Nijinsky and Rudolf Nureyev as one of the greatest ballet dancers of the 20th century. After a promising start in the Kirov Ballet in Leningrad, he defected to Canada in 1974...
stated:
"We do Tudor's ballets because we must. Tudor's work is our conscience."
A disciplined
Zen
Zen
Zen is a school of Mahāyāna Buddhism founded by the Buddhist monk Bodhidharma. The word Zen is from the Japanese pronunciation of the Chinese word Chán , which in turn is derived from the Sanskrit word dhyāna, which can be approximately translated as "meditation" or "meditative state."Zen...
Buddhist, Antony Tudor died on Easter Sunday in his residence at the
First Zen Institute of America
First Zen Institute of America
The First Zen Institute of America is a Rinzai institution for laypeople established by Sokei-an in New York, New York in 1930 as the Buddhist Society of America . The emphasis on lay practice has its roots in the history of the organization...
, aged 79.
Major works
Cross Garter'd (1931)
Lysistrata (1932)
Adam and Eve (1932)
The Planets (1934)
The Descent of Hebe (1935)
Jardin Aux Lilas (1936)
Dark Elegies (1937)
Judgement of Paris (1938)
Soirée musicale (1938)
Gala Performance (1938)
Time Table (1938)
Pillar of Fire (1942)
Romeo and Juliet (1943)
Dim Lustre (1943)
The Day Before Spring (1945)
Undertow (1945)
Shadow of the Wind (1948)
Nimbus
Lady of the Camellias (1951)
The Glory (La Gloire) (1952)
Echoing of Trumpets (1963)
Shadowplay (1967)
The Leaves are Fading (1975)
The Tiller in the Fields (1978)
See also
External links