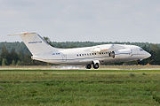 Antonov An-148
The
Antonov An-148
Antonov Design Bureau from Kiev, Ukraine, is a regional
jet aircraft
Jet aircraft
A jet aircraft is an aircraft propelled by jet engines. Jet aircraft generally fly much faster than propeller-powered aircraft and at higher altitudes – as high as . At these altitudes, jet engines achieve maximum efficiency over long distances. The engines in propeller-powered aircraft...
designed by the Ukrainian
Antonov Design Bureau
Antonov
Antonov, or Antonov Aeronautical Scientist/Technical Complex , formerly the Antonov Design Bureau, is a Ukrainian aircraft manufacturing and services company with particular expertise in the field of very large aircraft construction. Antonov ASTC is a state-owned commercial company...
and produced by Ukraine's Kiev Aviation Plant AVIANT and Russia's
Voronezh Aircraft Production Association
Voronezh Aircraft Production Association
OJSC Voronezh aircraft production association or Voronezh Aircraft Plant is one of the largest aircraft production plants in Russia.- Overview :...
. Development of the plane was started in the 1990s, and the maiden flight took place on 17 December 2004. The plane completed its certification programme on 26 February 2007. The An-148 has a maximum range of 2,100–4,400 kilometers and is able to carry 68–99 passengers, depending on the configuration. The
An-158
is a stretched version.
Origins
The beginning of the An-148 project dates to the early 1990s, when the design work of the An-74-68 passenger aircraft was started at the Ukrainian Antonov Design Bureau. In 2001, the plane was renamed to An-148. The development team, headed by P.V. Balabuev, used the An-74TK-300 transport aircraft as a starting point. Its
fuselage
Fuselage
The fuselage is an aircraft's main body section that holds crew and passengers or cargo. In single-engine aircraft it will usually contain an engine, although in some amphibious aircraft the single engine is mounted on a pylon attached to the fuselage which in turn is used as a floating hull...
was extended and the new plane's wing design was created from scratch. The developers decided to use the
Motor Sich
Motor Sich
Motor Sich is an airline based in Zaporizhia, Ukraine. It operates passenger and cargo services, including charter and scheduled flights. Its main base is Zaporizhia International Airport....
D-436-148 engines.
The An-148 is manufactured by the Ukrainian Kiev Aviation Plant AVIANT and Russia's
Voronezh Aircraft Production Association
Voronezh Aircraft Production Association
OJSC Voronezh aircraft production association or Voronezh Aircraft Plant is one of the largest aircraft production plants in Russia.- Overview :...
(VASO). Many companies are involved in the project; however, at least 70% of the aircraft's hardware is made by Russian producers. Due to its technical parameters the An-148 has become popular on the regional passenger airliner market. The An-148's list price is about $24–30 million. The main problem with the project has been increasing the plane's sluggish production rate. The AVIANT plant in Kiev initially failed to respond to growing orders leading to VASO's growing involvement in the plane's assembly.
In 2002, the production of the first 3 prototypes was begun at Kiev Aviation Plant AVIANT. On 17 November 2004, the first prototype completed it maiden flight. Another prototype joined the testing programme in April 2005. During the certification programme, the two prototypes performed about 600 flights in total. On 26 February 2007 the aircraft, its D-436-148 engine and the AI-450-МS auxiliary power unit were certified by the
Interstate Aviation Committee
of Russia (AR MAK) and the
State Aviation Administration of Ukraine
State Aviation Administration of Ukraine
The State Aviation Administration is an agency of the Ukrainian government under the Ministry of Transport and Communications responsible for implementing policies on civil aviation to assure safe, economic and efficient air travel.-External links:* ,...
. On 28 June 2009, the first serially produced An-148, manufactured at
Voronezh Aircraft Production Association
Voronezh Aircraft Production Association
OJSC Voronezh aircraft production association or Voronezh Aircraft Plant is one of the largest aircraft production plants in Russia.- Overview :...
in
Voronezh
Voronezh
Voronezh is a city in southwestern Russia, the administrative center of Voronezh Oblast. It is located on both sides of the Voronezh River, away from where it flows into the Don. It is an operating center of the Southeastern Railway , as well as the center of the Don Highway...
took to the skies.
In April 2005, the An-148, received its first order from Ilyushin Finance Co. (IFC) leasing company and the airline company Krasair signed a lease agreement for 10 aircraft with an option on 5 units valued at $270 million.
On August 17, 2009, it has been announced that a special version of An-148 will be used as short-to-medium range VIP transport for Russian state leaders. An-148 has been reportedly chosen over
Sukhoi Superjet 100
Sukhoi Superjet 100
The Sukhoi Superjet 100 is a modern, fly-by-wire regional jet in the 75- to 95-seat category. With development starting in 2000, the plane was designed by the civil aircraft division of the Russian aerospace company Sukhoi in co-operation with Western partners...
due to security considerations, in particular, due to high ratio (up to ca. 70%) of Russian-made parts in the former, including some of the most critical ones.
Other variants with Western-made engines with thrust of 6000 – 8000
kgf
KGF
KGF may refer to:*Keratinocyte Growth Factor*King George's Fields A UK set of 471 memorial playing fields and recreation grounds*Kolar Gold Fields*The IATA code for Sary-Arka Airport, Karaganda, Kazakhstan...
(such as the
General Electric CF34
or
Rolls-Royce BR700
Rolls-Royce BR700
-External links:* * *...
) are being considered.
Design
The An-148 aircraft is a high-wing
monoplane
Monoplane
A monoplane is a fixed-wing aircraft with one main set of wing surfaces, in contrast to a biplane or triplane. Since the late 1930s it has been the most common form for a fixed wing aircraft.-Types of monoplane:...
with two turbofan jet engines mounted in pods under the wing. This arrangement protects the engines and wing structure against damage from foreign objects (
FOD
Foreign object damage
Foreign Object Debris is a substance, debris or article alien to a vehicle or system which would potentially cause damage.Foreign Object Damage is any damage attributed to a foreign object that can be expressed in physical or economic terms that may or may not degrade the product's required...
). A built-in auto-diagnosis system,
auxiliary power unit
Auxiliary power unit
An auxiliary power unit is a device on a vehicle that provides energy for functions other than propulsion. They are commonly found on large aircraft, as well as some large land vehicles.-Function:...
, high reliability, as well as the wing configuration allow the An-148 to be used at poorly equipped airfields. Modern flight and navigation equipment, multifunctional displays and a
fly-by-wire
Fly-by-wire
Fly-by-wire is a system that replaces the conventional manual flight controls of an aircraft with an electronic interface. The movements of flight controls are converted to electronic signals transmitted by wires , and flight control computers determine how to move the actuators at each control...
system enable the An-148 aircraft to operate day and night, under
Instrument flight rules
Instrument flight rules
Instrument flight rules are one of two sets of regulations governing all aspects of civil aviation aircraft operations; the other are visual flight rules ....
(IFR) and
Visual flight rules
Visual flight rules
Visual flight rules are a set of regulations which allow a pilot to operate an aircraft in weather conditions generally clear enough to allow the pilot to see where the aircraft is going. Specifically, the weather must be better than basic VFR weather minimums, as specified in the rules of the...
(VFR) weather conditions on high density air routes. The An-148 cockpit features five 15 cm by 20 cm (6" by 8") liquid crystal display (LCD) panels built by Russia's Aviapribor and fly-by-wire flight controls. The main landing gear rotate into wells in the aircraft's belly, the legs being covered by partial doors. The sides of the tires are exposed to the air in flight like in the
Boeing 737
Boeing 737
The Boeing 737 is a short- to medium-range, twin-engine narrow-body jet airliner. Originally developed as a shorter, lower-cost twin-engine airliner derived from Boeing's 707 and 727, the 737 has developed into a family of nine passenger models with a capacity of 85 to 215 passengers...
. Other design advantages include the high fuel-efficiency of the Motor Sich D-436-148 engines and entrance stairs that enable boarding and deboarding the plane without extra ground equipment.
The An-148-100 regional aircraft is the main model of the An-148. It seats 70 passengers at 34 inch pitch (864 mm) or up to 80 passengers at 762 mm (30 in) pitch in a one class 2+3 seating layout. The aircraft is also configurable in a multiple-class layout which can carry fewer passengers, typically with 4 abreast business class.
For Siberian operators, Antonov plans a model with a higher gross weight and additional fuel capacity in the center tank, extending the range with 75 passengers from 1,187 nautical mile (nmi) to 1,943 nmi. An "E" variant is also planned to offer a special 2,752-nmi-range, which would serve as a platform for the "E1", capable of for non-stop Moscow-Vladivostok (3,777 nm) services carrying 44 passengers.
Operational history
On 2 June 2009, the first An-148 entered commercial service at the Ukrainian carrier Aerosvit. The first passenger flight was from Kharkov to
Kiev
Kiev
Kiev or Kyiv is the capital and the largest city of Ukraine, located in the north central part of the country on the Dnieper River. The population as of the 2001 census was 2,611,300. However, higher numbers have been cited in the press....
; the plane had the civilian registration
UR-NTA
. By November 2009, Aerosvit was operating the An-148 on the Kiev–
Odessa
Odessa
Odessa or Odesa is the administrative center of the Odessa Oblast located in southern Ukraine. The city is a major seaport located on the northwest shore of the Black Sea and the fourth largest city in Ukraine with a population of 1,029,000 .The predecessor of Odessa, a small Tatar settlement,...
and
Simferopol
Simferopol
-Russian Empire and Civil War:The city was renamed Simferopol in 1784 after the annexation of the Crimean Khanate to the Russian Empire by Catherine II of Russia. The name Simferopol is derived from the Greek, Συμφερόπολις , translated as "the city of usefulness." In 1802, Simferopol became the...
–
Lviv
Lviv
Lviv is a city in western Ukraine. The city is regarded as one of the main cultural centres of today's Ukraine and historically has also been a major Polish and Jewish cultural center, as Poles and Jews were the two main ethnicities of the city until the outbreak of World War II and the following...
routes, performing two flights a day with the average flight time of 4–5 hours.
On 21 December 2009, the An-148 was put into service in Russia with
Rossiya
Rossiya (airline)
Rossiya Airlines OJSC , operating as Rossiya — Russian Airlines is a secondary national airline with its head office in Saint Petersburg, Russia, resulting from the 2006 merger of the Moscow-based company of the same name and Saint Petersburg-based Pulkovo Aviation Enterprise...
airline. The first passenger flight was FV135 from
Pulkovo Airport
Pulkovo Airport
Pulkovo Airport is an international airport serving Saint Petersburg, Russia. It consists of two terminals, Pulkovo-1 and Pulkovo-2 , which are located about and south of the city centre, respectively. The airport serves as a hub for Rossiya Airlines , and as focus city for Nordavia...
in Sankt Petersburg to
Sheremetyevo International Airport
Sheremetyevo International Airport
Sheremetyevo International Airport , is an international airport located in the Moscow Oblast, Russia, north-west of central Moscow. It is a hub for the passenger operations of the Russian international airline Aeroflot, and one of the three major airports serving Moscow along with Domodedovo...
in
Moscow
Moscow
Moscow is the capital, the most populous city, and the most populous federal subject of Russia. The city is a major political, economic, cultural, scientific, religious, financial, educational, and transportation centre of Russia and the continent...
. By 20 May 2010, Rossiya's An-148 fleet had accumulated a total of 915 flight hours and performed 710 landings. Rossiya complained that the aircraft experienced some reliability problems. There were some technical problems with the plane, and pilot training could not be ramped up fast enough, leading to pilot shortages. However, by 2011 the situation had clearly improved.
On 15 February 2010, the An-148 started international fligths to Poland with the Aerosvit airline.
Variants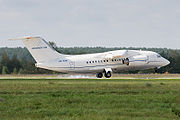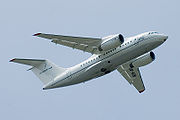 An-148-100A - main version of the An-148. It has a passenger capacity of 75 in a one-class standard configuration or 68 in a two-class configuration and a range of 2,100 kilometres (1,300 mi);
An-148-100B - extended range version up to 3,500 kilometres (2,200 mi);
An-148-100E - extended range version up to 4,400 kilometres (2,700 mi) and a maximum take-off weight (MTOW) of 43.7 tonnes;
An-158 - stretched fuselage version for 99 passengers in a one-class configuration and previously referred to as the An-148-200. Other changes include the installation of wingtip fences. The airplane successfully completed its first flight on 28 April 2010, with flight certification tests planned to be completed before the end of 2010; on 3 March 2011, it was given Russian certification.
An-168 - business variant, seating between 8 and 40 passengers, with a range up to 7000 km;
An-178 - cargo variant, with a payload capacity of up to 25 tons;
Incidents and accidents
5 March 2011: An Antonov An-148 (assembled by Voronezh Aircraft Production Association, VASO, Russia) carrying test registration 61708 crashed during a test flight

2011 Antonov An-148 crash

On 5 March 2011, an Antonov An-148 crashed at Garbuzovo, Alxeevsky Region, Belgorod Oblast, Russia, killing all six crew members. The aircraft was operating a test flight prior to delivery to the Myanmar Air Force. Witnesses reported that a wing had detached from the aircraft while in...


in Belgorod region, Russia, after an in-flight break-up. killing all 6 crew members onboard. Witnesses on the ground reported a wing had separated from the aircraft in flight. The aircraft was due to be delivered to Myanmar

Myanmar

Burma , officially the Republic of the Union of Myanmar , is a country in Southeast Asia. Burma is bordered by China on the northeast, Laos on the east, Thailand on the southeast, Bangladesh on the west, India on the northwest, the Bay of Bengal to the southwest, and the Andaman Sea on the south....


; two of the dead were from that country.
Specifications
Measurement
148-100A
148-100B
148-100E
158
Cockpit crew
2
Seating capacity
68 (8+60, mixed)
75 (1-class, typical)
78/80 (1-class, dense)
99 (1-class)
Seat pitch
35 & 32 in (mixed)
32 in (1-class, typical)
31/30 in (1-class, dense)
Length
29.13 metre
34.36 metre
Wingspan
28.91 metre
Wing area
87.32 sqm
Height
8.19 metre
8.6 metre
Cabin Width
3.15 metre
Cabin Height
2 metre
Maximum take-off weight
38550 kilograms (84,988.2 lb)
41950 kilograms (92,483.9 lb)
43700 kilograms (96,342 lb)
Maximum payload
9000 kilograms (19,841.6 lb)
9800 kilograms (21,605.3 lb)
Cargo capacity
14.6 m³ (515.6 cu ft)
-
Takeoff run at MTOW
1560 metres (5,118.1 ft)
1800 metres (5,905.5 ft)
1885 metres (6,184.4 ft)
1900 metres (6,233.6 ft)
Service ceiling
12200 metres (40,026.2 ft)
Cruising speed
800 km/h to 870 km/h (497 mph to 541 mph)
Range fully loaded
(with 75 pax for 148 variant)
2100 kilometres (1,304.9 mi)
3500 kilometres (2,174.8 mi)
4400 kilometres (2,734 mi)
2500 kilometres (1,553.4 mi)
Fuel consumption
1,550 kg/h (3,417 lb/h)
1,600 kg/h (3,527 lb/h)
1,650 kg/h (3,638 lb/h)
1,800 kg/h (3,968 lb/h)
Engine (x 2)
Progress D-436

Progress D-436

|-See also:-Bibliography:* Ivchenko-Progress D-436 , Aero-engines - Turbofan.Jane's. http://www.janes.com/articles/Janes-Aero-Engines/Ivchenko-Progress-D-436-Ukraine.html. Retrieved Aug 12 2009....



Max. thrust (x 2)
6,830 Kgf
15,058 lbf (67.0 kN)
-
Sources: Antonov Design Bureau, United Aircraft Corporation, flightglobal.com, Aviant.
Current orders and deliveries
Country
Orders
Deliveries
 Bolivia
Bolivian Air Force

Bolivian Air Force

The Bolivian Air Force is part of the Military of Bolivia.-History:By 1938 the Bolivian air force consisted of about 60 aircraft , and about 300 staff; the officers were...



1
 Cuba
Cubana de Aviación

Cubana de Aviación

Cubana de Aviación S.A., commonly known as Cubana, is Cuba's largest airline and flag carrier. The airline was founded on 8 October 1929, and has its corporate headquarters in Havana. Its main base is at José Martí International Airport...



3
 India
 Iran
HESA

Iran Aircraft Manufacturing Industrial Company

Iran Aircraft Manufacturing Industrial Company was established in 1976 and belongs to the Iran Aviation Industries Organization . The company is located at Shahinshahr, Isfahan...



50
Unspecified company
78
 Kazakhstan
Berkut Air

Berkut Air

Berkut State Air Company, commonly known as Berkut Air, is an airline based in Almaty, Kazakhstan, operating VIP charter flights out of Almaty International Airport.-History:Berkut Air was founded in 1999...



1
Scat Air

Scat Air

Scat Air is an airline based in Shymkent, Kazakhstan. It operates services to all major cities of Kazakhstan and to neighbouring countries...



7
 Myanmar
 Russia
Aeroflot

Aeroflot

OJSC AeroflotRussian Airlines , commonly known as Aeroflot , is the flag carrier and largest airline of the Russian Federation, based on passengers carried per year...



11
Moscow Airlines
30
Ministry of Emergency Situations
2
Moskovia Airlines
10
Polet Airlines

Polet Airlines

CJSC «Polet Airlines» is an airline based in Voronezh, Russia. It operates a worldwide cargo and domestic passenger charter services from Voronezh, as well as regional passenger and cargo services from Sokol. Its main base is Chertovitskoye Airport, Voronezh.-History:The airline was established...



8
2
Rossiya

Rossiya (airline)

Rossiya Airlines OJSC , operating as Rossiya — Russian Airlines is a secondary national airline with its head office in Saint Petersburg, Russia, resulting from the 2006 merger of the Moscow-based company of the same name and Saint Petersburg-based Pulkovo Aviation Enterprise...



15
6
Saravia

Saravia

Saravia is an airline based in Saratov, Russia. It operates charter and scheduled domestic passenger flights and international charters from Saratov to destinations in Europe and the CIS. Its main base is Saratov Tsentralny Airport .-History:The airline was formed from the Aeroflot Saratov division...



5
Volga-Dnepr

Volga-Dnepr

Volga-Dnepr Airlines, LLC is an airline based in Ulyanovsk, Russia. It operates scheduled and charter passenger and cargo services, but specialises in outsize cargo operations using the world's largest fleet of Antonov An-124 aircraft. It is a world leader in the global market for the movement of...



>10
Vladivostok Air
4
 Ukraine
Aerosvit Airlines

Aerosvit Airlines

AeroSvit Airlines closed joint stock company , operating as AeroSvit - Ukrainian Airlines / АероСвіт, is one of the Ukrainian flag carriers. Its head office is on the grounds of Boryspil International Airport in Boryspil, Kiev Oblast, Ukraine...



15
2
Air Urga

Air Urga

Air Urga is an airline based in Kirovohrad, Ukraine. It operates international charter passenger and cargo flights from various Ukrainian airports to destinations in Greece, Slovakia, the Republic of Macedonia, Turkey, Syria, United Arab Emirates, Germany, Italy, Denmark, Bulgaria, and Cyprus...



2
Crimea-Trial
2
DonbasEnergo
5
ЕES-avia
1
Ilyich Avia
2
Lugansk Airlines

Lugansk Airlines

Lugansk Airlines is an airline based in Luhansk, Ukraine. It operates services within Ukraine as well as the wet leasing of its aircraft. Its main base is Luhansk International Airport.-History:...



2
South Airlines

South Airlines

-Fleet:The South Airlines fleet consists of the following aircraft :-External links: - Short company profile-References:...



6
Ukrainian Air Transportation Company
3
Ukraine International Airlines

Ukraine International Airlines

CJSC Ukraine International Airlines , Aviyakompaniya Mizhnarodni Avialiniyi Ukrayiny) is one of the flag carriers of Ukraine, based in Kiev. It operates scheduled domestic and international passenger and cargo services to cities in western Europe...



1
1
TOTAL
Bolivia

Bolivia

Bolivia officially known as Plurinational State of Bolivia , is a landlocked country in central South America. It is the poorest country in South America...




, Leonid Golubev and the Government of

Evo Morales

Evo Morales

Juan Evo Morales Ayma , popularly known as Evo , is a Bolivian politician and activist, currently serving as the 80th President of Bolivia, a position that he has held since 2006. He is also the leader of both the Movement for Socialism party and the cocalero trade union...




are negotiating the acquisition of one plane of this type for the use as the presidential carrier and other 8 for the state-owned airlines:

Boliviana de Aviación

Boliviana de Aviación

Boliviana de Aviación or simply called BoA is the state-owned national flag carrier airline of Bolivia along with private airline AeroSur. It was established by the Bolivian Government under the president Evo Morales, replacing the troubled Lloyd Aéreo Boliviano as flag carrier.The airline is...




(BoA) and Transporte Aéreo Militar (TAM).

See also

External links