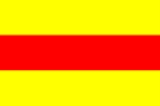 Annam (French Colony)
Annam
was a French protectorate encompassing the central region of Vietnam. Vietnamese were subsequently referred to as "Annamites." Nationalist writers adopted the word "Vietnam" in the late 1920s. The general public embraced the word "Vietnam" during the revolution of August 1945. Since that time, the word "Annam" has been regarded as demeaning.
The region was seized by the French by 1874 and became part of
French Indochina
French Indochina
French Indochina was part of the French colonial empire in southeast Asia. A federation of the three Vietnamese regions, Tonkin , Annam , and Cochinchina , as well as Cambodia, was formed in 1887....
in 1887.