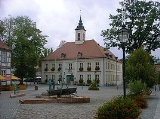 Angermünde
Angermünde
is a town in the district of Uckermark in the state of
Brandenburg
Brandenburg
Brandenburg is one of the sixteen federal-states of Germany. It lies in the east of the country and is one of the new federal states that were re-created in 1990 upon the reunification of the former West Germany and East Germany. The capital is Potsdam...
,
Germany
Germany
Germany , officially the Federal Republic of Germany , is a federal parliamentary republic in Europe. The country consists of 16 states while the capital and largest city is Berlin. Germany covers an area of 357,021 km2 and has a largely temperate seasonal climate...
. It is located on the Mündesee, 43 miles northeast of
Berlin
Berlin
Berlin is the capital city of Germany and is one of the 16 states of Germany. With a population of 3.45 million people, Berlin is Germany's largest city. It is the second most populous city proper and the seventh most populous urban area in the European Union...
on the Berlin–Szczecin railway.
Angermünde station
Angermünde station
- External links :**...
is at the junction of lines to
Prenzlau
Prenzlau
Prenzlau , a city in the Uckermark District of Brandenburg in Germany, had a population of about 21,000 in 2005.-International relations:Prenzlau is twinned with: Uster, Switzerland Barlinek, Poland Świdwin, Poland...
,
Bad Freienwalde
Bad Freienwalde
Bad Freienwalde is a spa town in the Märkisch-Oderland district in Brandenburg, Germany. It is situated on an old branch of the Oder river at the northwestern rim of the Oderbruch basin, east of Eberswalde, and northeast of Berlin, near the border with Poland...
, and
Schwedt
Schwedt
Schwedt is a city in Brandenburg, Germany. It is the largest city of the district Uckermark near the Oder river on the border with Poland.-Overview:...
.
Overview
The population is about 10,000, but the population has been rapidly falling as its traditional industrial base
enamel
Vitreous enamel
Vitreous enamel, also porcelain enamel in U.S. English, is a material made by fusing powdered glass to a substrate by firing, usually between 750 and 850 °C...
-working has decline. An administrative sub-centre of its district, it has several protestant churches, a number of schools of higher learning, and a recently refurbished historic marketplace with an old town hall. Located in the
game
Game (food)
Game is any animal hunted for food or not normally domesticated. Game animals are also hunted for sport.The type and range of animals hunted for food varies in different parts of the world. This will be influenced by climate, animal diversity, local taste and locally accepted view about what can or...
-filled
forest
Forest
A forest, also referred to as a wood or the woods, is an area with a high density of trees. As with cities, depending where you are in the world, what is considered a forest may vary significantly in size and have various classification according to how and what of the forest is composed...
s of the
Uckermark
Uckermark
Uckermark is a Kreis in the northeastern part of Brandenburg, Germany. Neighboring districts are Barnim and Oberhavel, the districts Mecklenburgische Seenplatte and Vorpommern-Greifswald in Mecklenburg-Vorpommern, and to the east Poland . It is the largest district of Germany areawise...
, with its many
lake
Lake
A lake is a body of relatively still fresh or salt water of considerable size, localized in a basin, that is surrounded by land. Lakes are inland and not part of the ocean and therefore are distinct from lagoons, and are larger and deeper than ponds. Lakes can be contrasted with rivers or streams,...
s, it now relies heavily on
tourism
Tourism
Tourism is travel for recreational, leisure or business purposes. The World Tourism Organization defines tourists as people "traveling to and staying in places outside their usual environment for not more than one consecutive year for leisure, business and other purposes".Tourism has become a...
and the sources of revenue linked to it.
According to the 1911 Encyclopaedia Britannica, the town is known for a 1420 victory by
Frederick I, Elector of Brandenburg
Frederick I, Elector of Brandenburg
Frederick was Burgrave of Nuremberg as Frederick VI and Elector of Brandenburg as Frederick I. He was a son of Burgrave Frederick V of Nuremberg and Elisabeth of Meissen, and was the first member of the House of Hohenzollern to rule the Margraviate of Brandenburg.- Biography :Frederick entered...
over the
Pomerania
Pomerania
Pomerania is a historical region on the south shore of the Baltic Sea. Divided between Germany and Poland, it stretches roughly from the Recknitz River near Stralsund in the West, via the Oder River delta near Szczecin, to the mouth of the Vistula River near Gdańsk in the East...
ns.
External links