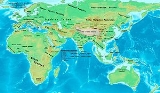 Ancient history
Ancient history
is the
study of the written past
History
History is the discovery, collection, organization, and presentation of information about past events. History can also mean the period of time after writing was invented. Scholars who write about history are called historians...
from the beginning of
recorded human history
History of writing
The history of writing records the development of expressing language by letters or other marks. In the history of how systems of representation of language through graphic means have evolved in different human civilizations, more complete writing systems were preceded by proto-writing, systems of...
to the
Early Middle Ages
Early Middle Ages
The Early Middle Ages was the period of European history lasting from the 5th century to approximately 1000. The Early Middle Ages followed the decline of the Western Roman Empire and preceded the High Middle Ages...
. The span of
recorded history
Recorded history
Recorded history is the period in history of the world after prehistory. It has been written down using language, or recorded using other means of communication. It starts around the 4th millennium BC, with the invention of writing.-Historical accounts:...
is roughly 5,000 years, with
Cuneiform script
Cuneiform script
Cuneiform script )) is one of the earliest known forms of written expression. Emerging in Sumer around the 30th century BC, with predecessors reaching into the late 4th millennium , cuneiform writing began as a system of pictographs...
, the oldest discovered form of coherent writing, from the protoliterate period around the 30th century BC. This is the beginning of
history
, as opposed to
prehistory
Prehistory
Prehistory is the span of time before recorded history. Prehistory can refer to the period of human existence before the availability of those written records with which recorded history begins. More broadly, it refers to all the time preceding human existence and the invention of writing...
, according to the definition used by most
historian
Historian
A historian is a person who studies and writes about the past and is regarded as an authority on it. Historians are concerned with the continuous, methodical narrative and research of past events as relating to the human race; as well as the study of all history in time. If the individual is...
s.
The term
classical antiquity
Classical antiquity
Classical antiquity is a broad term for a long period of cultural history centered on the Mediterranean Sea, comprising the interlocking civilizations of ancient Greece and ancient Rome, collectively known as the Greco-Roman world...
is often used to refer to ancient history in the
Old World
Old World
The Old World consists of those parts of the world known to classical antiquity and the European Middle Ages. It is used in the context of, and contrast with, the "New World" ....
since the beginning of recorded Greek history in 776 BC (First
Olympiad
Olympiad
An Olympiad is a period of four years, associated with the Olympic Games of Classical Greece. In the Hellenistic period, beginning with Ephorus, Olympiads were used as calendar epoch....
).