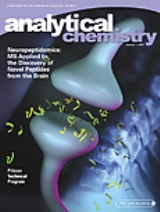 Analytical Chemistry (journal)
Analytical Chemistry
is a
peer-reviewed
Peer review
Peer review is a process of self-regulation by a profession or a process of evaluation involving qualified individuals within the relevant field. Peer review methods are employed to maintain standards, improve performance and provide credibility...
scientific journal
Scientific journal
In academic publishing, a scientific journal is a periodical publication intended to further the progress of science, usually by reporting new research. There are thousands of scientific journals in publication, and many more have been published at various points in the past...
, published since 1929 by the
American Chemical Society
American Chemical Society
The American Chemical Society is a scientific society based in the United States that supports scientific inquiry in the field of chemistry. Founded in 1876 at New York University, the ACS currently has more than 161,000 members at all degree-levels and in all fields of chemistry, chemical...
. It is currently indexed/abstracted in:
Chemical Abstracts Service
Chemical Abstracts Service
Chemical Abstracts is a periodical index that provides summaries and indexes of disclosures in recently published scientific documents. Approximately 8,000 journals, technical reports, dissertations, conference proceedings, and new books, in any of 50 languages, are monitored yearly, as are patent...
,
CABI
CAB International
CAB International is a not-for-profit inter-governmental organisation based in the United Kingdom....
,
EBSCOhost
EBSCO Publishing
EBSCO Publishing, headquartered in Ipswich, Massachusetts, is an aggregator of premium full-text content. EBSCO Publishing's core business is providing online databases via EBSCOhost to libraries worldwide. EBSCOhost is used by libraries, schools, academic institutions, medical institutions, and...
,
ProQuest
ProQuest
ProQuest LLC is an Ann Arbor, Michigan-based electronic publisher and microfilm publisher.It provides archives of sources such as newspapers, periodicals, dissertations, and aggregated databases of many types. Its content is estimated at 125 billion digital pages...
,
PubMed
PubMed
PubMed is a free database accessing primarily the MEDLINE database of references and abstracts on life sciences and biomedical topics. The United States National Library of Medicine at the National Institutes of Health maintains the database as part of the Entrez information retrieval system...
,
Scopus
Scopus
Scopus, officially named SciVerse Scopus, is a bibliographic database containing abstracts and citations for academic journal articles. It covers nearly 18,000 titles from over 5,000 international publishers, including coverage of 16,500 peer-reviewed journals in the scientific, technical, medical,...
, and
Web of Science
Web of Science
ISI Web of Knowledge is an academic citation indexing and search service, which is combined with web linking and provided by Thomson Reuters. Web of Knowledge coverage encompasses the sciences, social sciences, arts and humanities. It provides bibliographic content and the tools to access, analyze,...
. According to the
Journal Citation Reports
Journal Citation Reports
Journal Citation Reports is an annual publication by the Healthcare & Science division of Thomson Reuters. It has been integrated with the Web of Knowledge, by Thomson Reuters, and is accessed from the Web of Science to JCR Web. It provides information about academic journals in the sciences and...
,
Analytical Chemistry
has a 2010
impact factor
Impact factor
The impact factor, often abbreviated IF, is a measure reflecting the average number of citations to articles published in science and social science journals. It is frequently used as a proxy for the relative importance of a journal within its field, with journals with higher impact factors deemed...
of 5.874 and is the most frequently cited journal in the category "Analytical Chemistry".
The current editor-in-chief is Royce W. Murray.