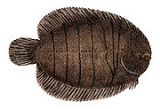 American sole
The
American soles
are a
family
Family (biology)
In biological classification, family is* a taxonomic rank. Other well-known ranks are life, domain, kingdom, phylum, class, order, genus, and species, with family fitting between order and genus. As for the other well-known ranks, there is the option of an immediately lower rank, indicated by the...
(
Achiridae
) of
flatfish
Flatfish
The flatfish are an order of ray-finned fish, also called the Heterosomata, sometimes classified as a suborder of Perciformes. In many species, both eyes lie on one side of the head, one or the other migrating through and around the head during development...
occurring in both
freshwater
Freshwater
Fresh water is naturally occurring water on the Earth's surface in ice sheets, ice caps, glaciers, bogs, ponds, lakes, rivers and streams, and underground as groundwater in aquifers and underground streams. Fresh water is generally characterized by having low concentrations of dissolved salts and...
and
marine
Marine (ocean)
Marine is an umbrella term. As an adjective it is usually applicable to things relating to the sea or ocean, such as marine biology, marine ecology and marine geology...
environments of the
Americas
Americas
The Americas, or America , are lands in the Western hemisphere, also known as the New World. In English, the plural form the Americas is often used to refer to the landmasses of North America and South America with their associated islands and regions, while the singular form America is primarily...
. The family includes about 28 species in nine genera. These are closely related to the
soles
Soleidae
The true soles are a family, Soleidae, of flatfishes, and include species that live in salt water and fresh water. They are bottom-dwelling fishes feeding on small crustaceans and other invertebrates. Other flatfishes are also known as soles....
(Soleidae), and have been classified as a subfamily of it, but achirids have a number of distinct characteristics.
Eye
Eye
Eyes are organs that detect light and convert it into electro-chemical impulses in neurons. The simplest photoreceptors in conscious vision connect light to movement...
s are on the right side, and the eyed-side lower lip has a distinctive fleshy rim. The
dorsal
Dorsal fin
A dorsal fin is a fin located on the backs of various unrelated marine and freshwater vertebrates, including most fishes, marine mammals , and the ichthyosaurs...
and anal fins are usually separate from the caudal fin. The pectoral fins are small or nonexistent.
Family Achiridae
Genus Achiropsis
Genus Achirus
Genus Apionichthys
Genus Catathyridium
Genus Gymnachirus
Genus Hypoclinemus
Genus Pnictes
Genus Soleonasus
Genus Trinectes
External links