 American Bankers Association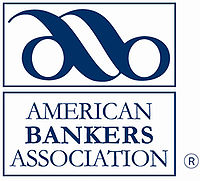 The
American Bankers Association
(ABA) is an
industry trade group
Industry trade group
A trade association, also known as an industry trade group, business association or sector association, is an organization founded and funded by businesses that operate in a specific industry...
and professional association representing the United States' banking industry. The association was founded in 1875 and is based in
Washington, D.C.
Washington, D.C.
Washington, D.C., formally the District of Columbia and commonly referred to as Washington, "the District", or simply D.C., is the capital of the United States. On July 16, 1790, the United States Congress approved the creation of a permanent national capital as permitted by the U.S. Constitution....
The association lobbies to influence federal legislative and regulatory activities, legal action, communication and consumer education, research, and products and services that promote, educate, train, inform and support members.
History
James T. Howenstein, cashier of Valley National Bank

Valley National Bank

Valley National Bank is the principal subsidiary of Valley National Bancorp, a regional bank holding company with assets of over $14 billion with the recent acquisition of Greater Community Bank.-History:...


, invited bankers across the United States to meet in New York City

New York City

New York is the most populous city in the United States and the center of the New York Metropolitan Area, one of the most populous metropolitan areas in the world. New York exerts a significant impact upon global commerce, finance, media, art, fashion, research, technology, education, and...


at Barnum hotel on May 24, 1875 to plan a new association of bankers. In July 1875, 349 bankers from 31 states and the District of Columbia met in Saratoga, New York

Saratoga, New York

Saratoga is a town in Saratoga County, New York, United States. The population was 5,141 at the 2000 census. It is also the commonly used, but not official, name for the neighboring and much more populous city, Saratoga Springs. The major village in the town of Saratoga is Schuylerville which is...


to form the American Bankers Association.
ABA testified before the United States Congress

United States Congress

The United States Congress is the bicameral legislature of the federal government of the United States, consisting of the Senate and the House of Representatives. The Congress meets in the United States Capitol in Washington, D.C....


for the first time on April 2, 1876.
"On Sept, 1, 1894, we will not renew our loans under any consideration. On Sept. 1st we will demand our money. We will foreclose and become mortgagees in possession. We can take two-thirds of the farms west of the Mississippi, and thousands of them east of the Mississippi as well, at our own price… We may as well own three-fourths of the farms of the West and the money of the country. Then the farmers will become tenants as in England …" - 1891, American Bankers Association, as printed in the Congressional Record of April 29, 1913
In 1908, The Office of the General Council was created. Thomas B. Paton became the first General Counsel and leader of the legal department.
At the 1915 ABA Convention bankers organized a new National Bank Section which developed a working relationship with the newly created Federal Reserve. The following year state bank representatives formed the State Bank Section, which included over 8,000 members. The section's primary focus was to consider the state banks' relationship with the Federal Reserve.
In 1919 the National Bank Section of ABA opened an office in Washington D.C. near the U.S. Treasury.
The ABA created the Educational Foundation in 1925.
ABA's Graduate School of Banking opened at Rutgers University in June 1935 with 220 students after extensive planning by Dr. Harold Stonier.
ABA announced the creation of the National Trust School which held its first meeting in 1960 at Northwestern University.
The first ABA computer, an IBM 1460, was installed in 1967.
In 1971, ABA consolidated its New York and Washington offices to its current location.
ABA created the Community Bankers Council in 1981 to represent community bankers on regulatory and legislative issues.
After the Federal Bureau of Investigation

Federal Bureau of Investigation

The Federal Bureau of Investigation is an agency of the United States Department of Justice that serves as both a federal criminal investigative body and an internal intelligence agency . The FBI has investigative jurisdiction over violations of more than 200 categories of federal crime...


suspended the processing of fingerprint cards in 1982, ABA became the official coordinator of fingerprint identification requests from all depository institutions.
ABA merged with the Bank Marketing Association in 1983.
ABA and America's Community Bankers (ACB), two of the industry's largest trade associations merged on Dec. 1, 2007, retaining the American Bankers Association name. Diane Casey-Landry, formerly president and CEO of ACB, became ABA senior executive vice president and Chief Operating Officer.
On Jan. 1, 2011, Governor Frank Keating

Frank Keating

Francis Anthony "Frank" Keating is an American politician from Oklahoma. Keating served as the 25th Governor of Oklahoma. His first term began in 1995 and ended in 1999...


became ABA's president and CEO, following eight years of service as the president and CEO of the American Council of Life Insurers, and after serving two terms as Oklahoma's

Oklahoma

Oklahoma is a state located in the South Central region of the United States of America. With an estimated 3,751,351 residents as of the 2010 census and a land area of 68,667 square miles , Oklahoma is the 28th most populous and 20th-largest state...


25th governor.
Leadership
ABA's president and CEO is
Gov. Frank Keating
Frank Keating
Francis Anthony "Frank" Keating is an American politician from Oklahoma. Keating served as the 25th Governor of Oklahoma. His first term began in 1995 and ended in 1999...
. The chairman of the ABA board of directors is Stephen P. Wilson, chairman and CEO, LCNB National Bank of Lebanon, Ohio.
Michael J. Hunter
Michael J. Hunter
Michael J. "Mike" Hunter is an American Republican politician from the state of Oklahoma. Hunter served as the 29th Secretary of State of Oklahoma from 1999 to 2002, having been appointed by Governor of Oklahoma Frank Keating....
is ABA's Chief Operating Officer.
Membership
ABA members include banks of all sizes and charters. Its members – the majority of which are banks with less than $125 million in assets – represent over 95 percent of the industry's $13.5 trillion in assets and employ over 2 million men and women.
Professional Development
ABA provides members with professional development opportunities including conferences, telephone briefings, diplomas and certificates, schools, online training, e-learning and certification from the Institute of Certified Bankers (ICB).
Education Foundation
The ABA Education Foundation's mission is to help bankers make their communities better through financial education. The foundation operates two national financial education programs for bankers,
Teach Children to Save
and
Get Smart About Credit
.
It also publishes The Spirit of Banking, a monthly e-mail bulletin about financial education, advocates for banker-delivered financial education, such as in-school banks, and represents bankers within the financial education arena, specifically as part of the
Jump$tart Coalition for Personal Financial Literacy
Jump$tart Coalition for Personal Financial Literacy
The Jump$tart Coalition for Personal Financial Literacy is a 501 non-profit coalition of national organizations seeking to advance the financial literacy of pre-kindergarten through college-aged students. Jump$tart Coalition endeavors to provide youth with life-long financial decision-making skills...
's Board of Directors.
Through its national programs, the ABA Education Foundation has helped more than 72,000 bankers teach personal finance skills to nearly 3.3 million children and young adults. Founded and funded by bankers, the foundation works closely with a board of bankers and is a subsidiary of the American Bankers Association.
The foundation also sponsors a
Consumer Information page
, with information about banking services, personal finances and more.
ABA Nasdaq Index
The ABA NASDAQ Community Bank Index (ABAQ) is a market value-weighted index composed of community based financial institutions. The index was launched in December 2003 to bring greater visibility to community banks, and in turn, promote greater market liquidity and fairer valuations. Calculated on both a total return basis and on a price return basis under the symbol ABAQ, it is the most broadly representative stock index for community banks.
Publications
ABA Banking Journal
Community Banker
ABA Newsbytes
ABA provides over 30 newsletters available to members only.
Affiliates