 Alpha, Ohio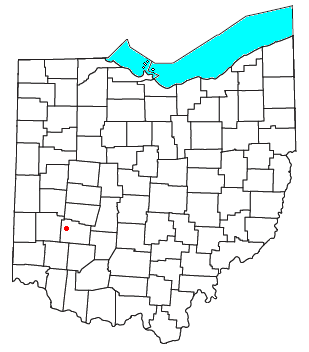 Alpha
is a neighborhood of the city of
Beavercreek
Beavercreek, Ohio
Beavercreek is the largest city in Greene County, Ohio, United States, and is the second largest suburb of Dayton behind Kettering. The population was 45,193 at the 2010 census. It is part of the Dayton Metropolitan Statistical Area...
, in
Greene County
Greene County, Ohio
Greene County is a county located in the state of Ohio, United States. The population was 161,573 in the 2010 Census. Its county seat is Xenia, and it was named for General Nathanael Greene, an officer in the Revolutionary War. Greene County was established on March 24, 1803.Greene County is part...
,
Ohio
Ohio
Ohio is a Midwestern state in the United States. The 34th largest state by area in the U.S.,it is the 7th‑most populous with over 11.5 million residents, containing several major American cities and seven metropolitan areas with populations of 500,000 or more.The state's capital is Columbus...
, in the
United States
United States
The United States of America is a federal constitutional republic comprising fifty states and a federal district...
. It is located on the eastern side of the
Dayton
Dayton, Ohio
Dayton is the 6th largest city in the U.S. state of Ohio and the county seat of Montgomery County, the fifth most populous county in the state. The population was 141,527 at the 2010 census. The Dayton Metropolitan Statistical Area had a population of 841,502 in the 2010 census...
metropolitan area
Metropolitan area
The term metropolitan area refers to a region consisting of a densely populated urban core and its less-populated surrounding territories, sharing industry, infrastructure, and housing. A metropolitan area usually encompasses multiple jurisdictions and municipalities: neighborhoods, townships,...
. A
post office
United States Postal Service
The United States Postal Service is an independent agency of the United States government responsible for providing postal service in the United States...
is located in Alpha, with the
ZIP code
ZIP Code
ZIP codes are a system of postal codes used by the United States Postal Service since 1963. The term ZIP, an acronym for Zone Improvement Plan, is properly written in capital letters and was chosen to suggest that the mail travels more efficiently, and therefore more quickly, when senders use the...
of 45301.
The community was named for the
first letter
Alpha
Alpha is the first letter of the Greek alphabet. Alpha or ALPHA may also refer to:-Science:*Alpha , the highest ranking individuals in a community of social animals...
of the
Greek alphabet
Greek alphabet
The Greek alphabet is the script that has been used to write the Greek language since at least 730 BC . The alphabet in its classical and modern form consists of 24 letters ordered in sequence from alpha to omega...
because it was at, or on the site of, the first mill in the county.