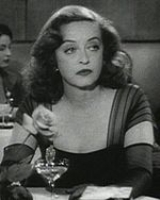 All About Eve
All About Eve
is a 1950 American drama film written and directed by
Joseph L. Mankiewicz
Joseph L. Mankiewicz
Joseph Leo Mankiewicz was an American film director, screenwriter, and producer. Mankiewicz had a long Hollywood career and is best known as the writer-director of All About Eve , which was nominated for 14 Academy Awards and won six. He was brother to screenwriter and drama critic Herman J...
, based on the 1946 short story "
The Wisdom of Eve
The Wisdom of Eve
The Wisdom of Eve is a short story by Mary Orr. The story formed the basis for the Academy Award winning film All About Eve. The nine-page story first appeared in Cosmopolitan in May, 1946. The story was loosely based upon a woman who had been the secretary of Viennese actress Elisabeth Bergner....
", by
Mary Orr
Mary Orr
Mary Caswell Orr was an American actress and short story author whose "The Wisdom of Eve," written in 1946, was the basis of the Academy Award-winning film All About Eve...
.
The film stars
Bette Davis
Bette Davis
Ruth Elizabeth "Bette" Davis was an American actress of film, television and theater. Noted for her willingness to play unsympathetic characters, she was highly regarded for her performances in a range of film genres, from contemporary crime melodramas to historical and period films and occasional...
as Margo Channing, a highly regarded but aging
Broadway
Broadway theatre
Broadway theatre, commonly called simply Broadway, refers to theatrical performances presented in one of the 40 professional theatres with 500 or more seats located in the Theatre District centered along Broadway, and in Lincoln Center, in Manhattan in New York City...
star.
Anne Baxter
Anne Baxter
Anne Baxter was an American actress known for her performances in films such as The Magnificent Ambersons , The Razor's Edge , All About Eve and The Ten Commandments .-Early life:...
plays Eve Harrington, a willingly helpful young fan who insinuates herself into Channing's life, ultimately threatening Channing's career and her personal relationships.
George Sanders
George Sanders
George Sanders was a British actor.George Sanders may also refer to:*George Sanders , Victoria Cross recipient in World War I...
,
Celeste Holm
Celeste Holm
Celeste Holm is an American stage, film, and television actress, known for her Academy Award-winning performance in Gentleman's Agreement , as well as for her Oscar-nominated performances in Come to the Stable and All About Eve...
,
Hugh Marlowe
Hugh Marlowe
Hugh Marlowe was an American film, television, stage and radio actor.Marlowe was born Hugh Herbert Hipple in Philadelphia, Pennsylvania, and began his stage career in the 1930s at the Pasadena Playhouse in California. Marlowe was usually a secondary lead or supporting actor in the films he...
,
Barbara Bates
Barbara Bates
Barbara Bates was an American actress best known for her role as Phoebe in the 1950 drama All About Eve.-Early life:...
,
Gary Merrill
Gary Merrill
Gary Fred Merrill was an American film and television character actor whose credits included more than fifty feature films, a half-dozen mostly short-lived TV series, and dozens of television guest appearances....
and
Thelma Ritter
Thelma Ritter
Thelma Ritter was an American supporting and character actress from the 1940s until her death in 1969.-Early life:...
also appear, and the film provided one of
Marilyn Monroe
Marilyn Monroe
Marilyn Monroe was an American actress, singer, model and showgirl who became a major sex symbol, starring in a number of commercially successful motion pictures during the 1950s....
's earliest important roles.
Praised by critics at the time of its release,
All About Eve
was nominated for 14
Academy Awards
Academy Awards
An Academy Award, also known as an Oscar, is an accolade bestowed by the American Academy of Motion Picture Arts and Sciences to recognize excellence of professionals in the film industry, including directors, actors, and writers...
(a feat unmatched until the 1997 film
Titanic
Titanic (1997 film)
Titanic is a 1997 American epic romance and disaster film directed, written, co-produced, and co-edited by James Cameron. A fictionalized account of the sinking of the RMS Titanic, it stars Leonardo DiCaprio as Jack Dawson, Kate Winslet as Rose DeWitt Bukater and Billy Zane as Rose's fiancé, Cal...
) and won six, including
Best Picture
Academy Award for Best Picture
The Academy Award for Best Picture is one of the Academy Awards of Merit presented annually by the Academy of Motion Picture Arts and Sciences to artists working in the motion picture industry. The Best Picture category is the only category in which every member of the Academy is eligible not only...
.
Autograph fiends, they're not people. Those are little beasts that run around in packs like coyotes...They're nobody's fans. They're juvenile delinquent, they're mental defective, and nobody's audience. They never see a play or a movie even. They're never indoors long enough.

Suddenly, I've developed a big protective feeling for her. A lamb loose in our big stone jungle.

Fasten your seatbelts, it's going to be a bumpy night.

Note: ranked 9 in the AFI's 100 Years... 100 Movie Quotes|American Film Institute's list of the top 100 movie quotations in American cinema.
Funny business, a woman's career. The things you drop on your way up the ladder so you can move faster. You forget you'll need them again when you get back to being a woman.

Lloyd, I am not twenty-ish. I am not thirty-ish. Three months ago, I was forty years old. Forty. Four oh - That slipped out. I hadn't quite made up my mind to admit it. Now I suddenly feel as if I've taken all my clothes off.

Bill's thirty-two. He looks thirty-two. He looked it five years ago, he'll look it twenty years from now. I hate men.

[to Bill] This is my house, not a theater. In my house, you're a guest, not a director.

[responding to Karen's disbelief] In this rat race, everybody's guilty till they're proved innocent!

The little witch must have sent out Indian runners, snatching critics out of bars and steam rooms and museums, or wherever they holed up. Well, she won't get away with it, nor will Addison De Witt and his poison pen. If Equity or my lawyer can't or won't do anything about it, I shall personally stuff that pathetic little lost lamb down Mr. De Witt's ugly throat.