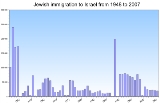 Aliyah
Aliyah
is the
immigration
Immigration
Immigration is the act of foreigners passing or coming into a country for the purpose of permanent residence...
of Jews to the
Land of Israel
Land of Israel
The Land of Israel is the Biblical name for the territory roughly corresponding to the area encompassed by the Southern Levant, also known as Canaan and Palestine, Promised Land and Holy Land. The belief that the area is a God-given homeland of the Jewish people is based on the narrative of the...
(
Eretz Yisrael
). It is a basic tenet of Zionist ideology. The opposite action,
emigration
Emigration
Emigration is the act of leaving one's country or region to settle in another. It is the same as immigration but from the perspective of the country of origin. Human movement before the establishment of political boundaries or within one state is termed migration. There are many reasons why people...
from Israel, is referred to as
yerida
Yerida
Yerida is a Hebrew term referring to emigration by Israeli Jews from the State of Israel. Yerida is the opposite of Aliyah , which is immigration to Israel...
("descent"). The return to the
Holy Land
Holy Land
The Holy Land is a term which in Judaism refers to the Kingdom of Israel as defined in the Tanakh. For Jews, the Land's identifiction of being Holy is defined in Judaism by its differentiation from other lands by virtue of the practice of Judaism often possible only in the Land of Israel...
has been a Jewish aspiration since the Babylonian exile. Large scale immigration to Eretz Israel and later
Israel
Israel
The State of Israel is a parliamentary republic located in the Middle East, along the eastern shore of the Mediterranean Sea...
began in 1882.
Aliyah is a Hebrew word that means "ascent," or "going up." According to Jewish tradition, traveling to the Land of Israel is an ascent, both geographically and metaphysically.