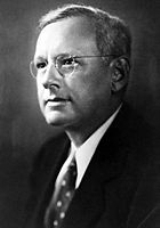 Alf Landon
Alfred Mossman "Alf" Landon
(September 9, 1887 – October 12, 1987) was an American
Republican
History of the United States Republican Party
The United States Republican Party is the second oldest currently existing political party in the United States after its great rival, the Democratic Party. It emerged in 1854 to combat the Kansas Nebraska Act which threatened to extend slavery into the territories, and to promote more vigorous...
politician, who served as the
26th
Governor of Kansas
Governor of Kansas
The Governor of the State of Kansas is the head of state for the State of Kansas, United States. Under the Kansas Constitution, the Governor is also the head of government, serving as the chief executive of the Kansas executive branch, of the government of Kansas. The Governor is the...
from 1933–1937. He was best known for being the
Republican Party
Republican Party (United States)
The Republican Party is one of the two major contemporary political parties in the United States, along with the Democratic Party. Founded by anti-slavery expansion activists in 1854, it is often called the GOP . The party's platform generally reflects American conservatism in the U.S...
's (GOP) nominee for President of the United States, defeated in a landslide by
Franklin D. Roosevelt
Franklin D. Roosevelt
Franklin Delano Roosevelt , also known by his initials, FDR, was the 32nd President of the United States and a central figure in world events during the mid-20th century, leading the United States during a time of worldwide economic crisis and world war...
in the
1936 presidential election
United States presidential election, 1936
The United States presidential election of 1936 was the most lopsided presidential election in the history of the United States in terms of electoral votes. In terms of the popular vote, it was the third biggest victory since the election of 1820, which was not seriously contested.The election took...
.
Born in 1887 in
West Middlesex, Pennsylvania
West Middlesex, Pennsylvania
West Middlesex is a borough in Mercer County, Pennsylvania, along the Shenango River. The population was 929 at the 2000 census. It is part of the Youngstown–Warren–Boardman, OH-PA Metropolitan Statistical Area.-Geography:...
, Landon grew up in
Marietta, Ohio
Marietta, Ohio
Marietta is a city in and the county seat of Washington County, Ohio, United States. During 1788, pioneers to the Ohio Country established Marietta as the first permanent American settlement of the new United States in the Northwest Territory. Marietta is located in southeastern Ohio at the mouth...
. He moved with his family to Kansas at age 17 and graduated from the
University of Kansas
University of Kansas
The University of Kansas is a public research university and the largest university in the state of Kansas. KU campuses are located in Lawrence, Wichita, Overland Park, and Kansas City, Kansas with the main campus being located in Lawrence on Mount Oread, the highest point in Lawrence. The...
in 1908.